Bermuda's junior mountain bikers had an outstanding showing at the New York MTB high school league race today [Apr 13] with all five making the podium.
Gabriella Arnold [Junior Varsity girls], Tristan Narraway [Freshman girls] and Deshi Smith [Junior Varsity boys] all won their respective races, while Shomari Steed and Christian Oatley finished second and third in the Freshman boys race.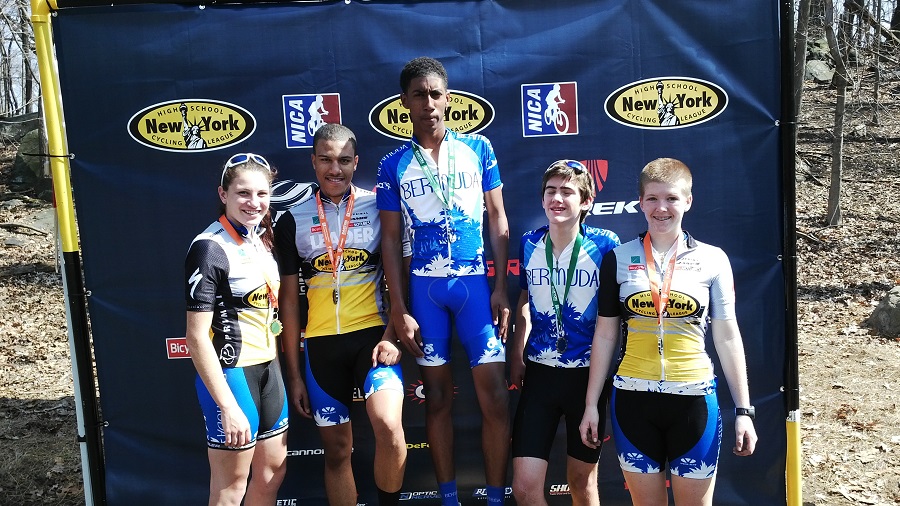 With over 80 students competing across five categories, the local cyclists showed their competitive spirit and fitness in this discipline. Oatley had been leading his race until a mechanical failure forced him to run almost the entirety of the second lap and we still able to manage a strong showing.
Arnold flatted twice and was able to swap her wheel both times after returning to the start/finish area where she made her own repairs. Her lead after the first lap of three was sufficient that the next rider never saw her servicing her bike. Narraway had a break through performance, quickly distancing herself from the rest of the field and even passing competitors in the JV race who had started several minutes before the Freshman race.
In the JV race, Smith was able to record the result he had been looking for when he raced the same course in 2013 but was slowed by mechanical issues. Today he had no such problems and lead from wire to wire.
BBA President Peter Dunne who is traveling with the team was overjoyed at the success of the entire team, saying: "It is fantastic when one athlete is able to shine at a competition such as this and when everyone is able to record exceptional performances it is so much sweeter.
"These athletes not only performed well in the competition but served as wonderful ambassadors for Bermuda. The other competitors, parents and organizers were all amazed at their abilities and expressed great interest in the team traveling from Bermuda for the race. The BBA and all of Bermuda should be pleased to know that we have such capable and enthusiastic representatives".
Athletes are scheduled to return home Monday.
Read More About