"In addition to the public relations crisis, Bermuda needs to move quickly and proactively to assure the world that we will take steps to discontinue pumping raw sewage to sea," former Opposition Leader Kim Swan said.
The issue has been in the headlines recently following the U.S. Consulate issuing a "Security Message" entitled "Contaminated Beaches," citing the "ongoing dumping of raw sewage off Bermuda's south coast."
Two weeks after that message was issued, "greaseballs" washed up on the South Shore, with small unpleasant smelling grayish lumps scattered over beaches including Grape Bay.
Minister of Health & Environment Trevor Moniz said that "the presence of greaseballs does not necessarily mean the water is contaminated," and released water sampling results saying that they "were all of a good quality."
Speaking on measures to deal with the situation, the Minister said in the short-term, the Corporation of Hamilton is "investigating the introduction of an enhanced primary treatment facility which will remove solids, fats, oils and grease from the waste stream…"
The Minister added, "Longer term options for physically extending the outfall, which has been in existence for almost 100 years, are being explored.
"This combination of enhanced primary treatment and extension of the outfall should provide even greater assurances for our water quality. The introduction of the sewage treatment system at King Edward will serve to enhance these improvements."
Lumps, which the Government said were "greaseballs", found on Grape Bay beach last week: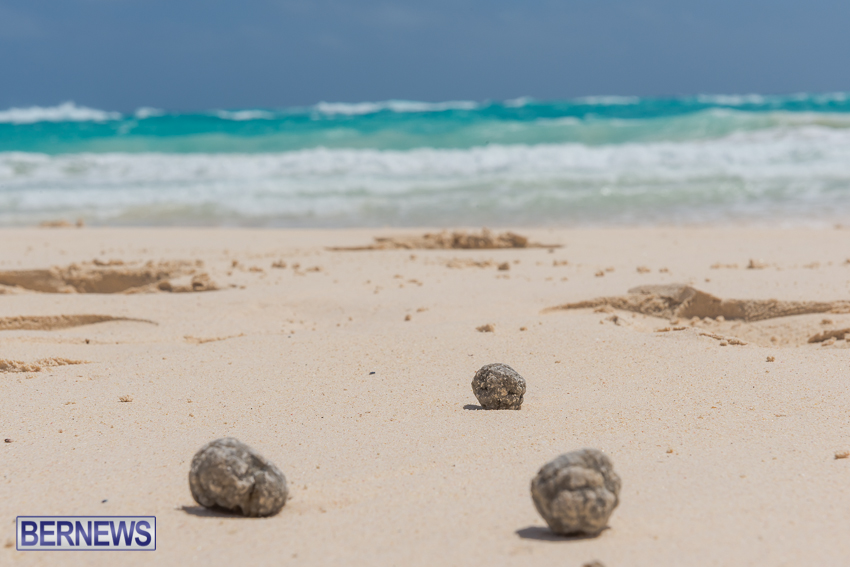 Mr. Swan said, "Notwithstanding the public relations nightmare confronting our Tourism Authority – the dumping of raw sewage to sea which now presents a problem confronting to Bermuda was avoidable, and the blame must be placed at the feet of the Corporation of Hamilton who are on record ridiculing my suggestions more than a decade ago for them to invest in an affluent plant which would have used raw sewage as a resource by converting it into reusable water for flushing and/or irrigation.
"This issue was first brought to my attention by east end fishermen who witnessed firsthand when a similar issue frequently impacted the St. George community, during the time when cruise ships were berthed in the town.
"Well known fisherman and former PLP candidate Danny Faries also was very vocal on this issue back in the 90′s when the UBP was in government. Ironically, the responsibility for this long neglected problem now falls on the shoulders on a Cabinet Minister who was a Member of Parliament in the 1990′s when this problem was often highlighted.
"Today, in addition to the public relations crisis, Bermuda needs to move quickly and proactively to assure the world that we will take steps to discontinue pumping raw sewage to sea – that is totally unacceptable with the technology available today. We need to lead by example when it comes to sustainable development and this is one area where we need to make an immediate shift."
Mr. Swan said that examples of large establishments that practice conservation are the Fairmont Southampton Golf Club which for decades has used the large pond to treatment facility, and also added that Wedco Chairman Ray Chalton came on talk radio to extol the virtues of its sewage treatment plant that converts waste to potable water which is used for flushing at the Westgate Correctional Facility.
"Future considerations for the Town of St. George to have a golf course, hotel and a boutique cruise ships must have provisions made now for sewage treatment for reuse for irrigation for the golf course," added Mr. Swan.
"This infrastructure must form part of the forward thinking as we look to the future. These considerations formed part of plans for a hotel in the past, and must be front and centre with present day consideration.
"Bermuda needs to be apologizing for pumping raw sewage into the ocean, and committing to the immediate installation of an affluent plant for Hamilton and guaranteeing that all future plans for the Town of St. George are environmentally acceptable."
Read More About
Category: All, Environment, News