[Updated] Bermuda's Flora Duffy continues to excel on the world stage, winning the 2014 XTERRA Nationals today [Sept 20] in Utah, adding yet another XTERRA win to her resume, with the Bermudian athlete having already claimed victories in South Africa, Nevada, Australia and Alabama this year.
The event attracted over 1,000 competitors from 45 states and 10 countries, and the race consisted of a 15000m swim course, 28km mountain bike portion, and a 10.4km trail run.
Photo courtesy of XTERRA: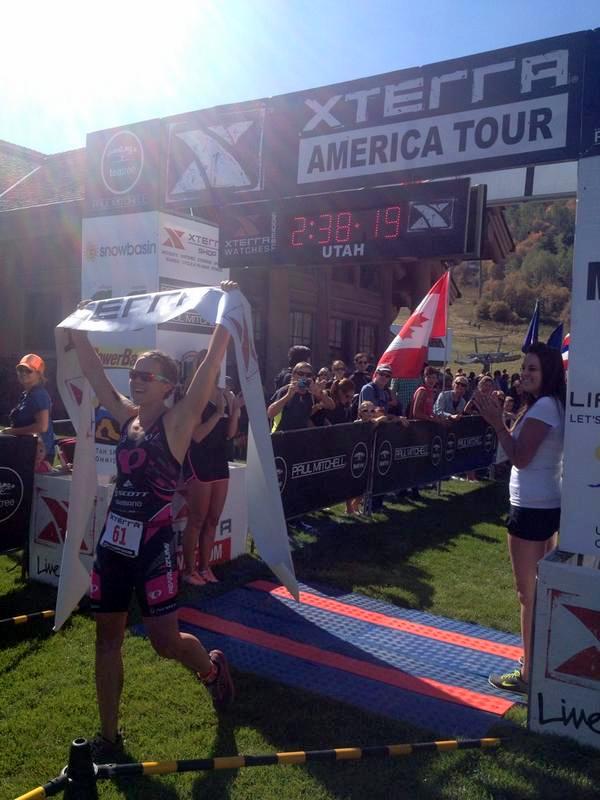 Duffy, who crossed the line in 2:38:18, tweeted afterwards, saying, "As an athlete it is so meaningful to set a goal, execute and accomplish it. Pleased to win the US @XTERRAoffroad series in Ogden, UT today."
The two-time Olympian has been extremely dominant throughout this year's XTERRA racing season, winning the XTERRA Championship in South Africa, the XTERRA West Championship in Nevada, the XTERRA Asia-Pacific Championship in Australia and the XTERRA Southeast Championship in Alabama.
Update: The official event report on the XTERRA website said Duffy posted the fastest swim [coming out of the water third overall behind only Ben Allen and Mauricio Mendez], had the fastest bike split [1:32:36] and the second-best run behind eventual runner-up Barbara Riveros from Chile to take the tape in 2:38:18, more than six-minutes in front of Riveros.
Photo courtesy of XTERRA: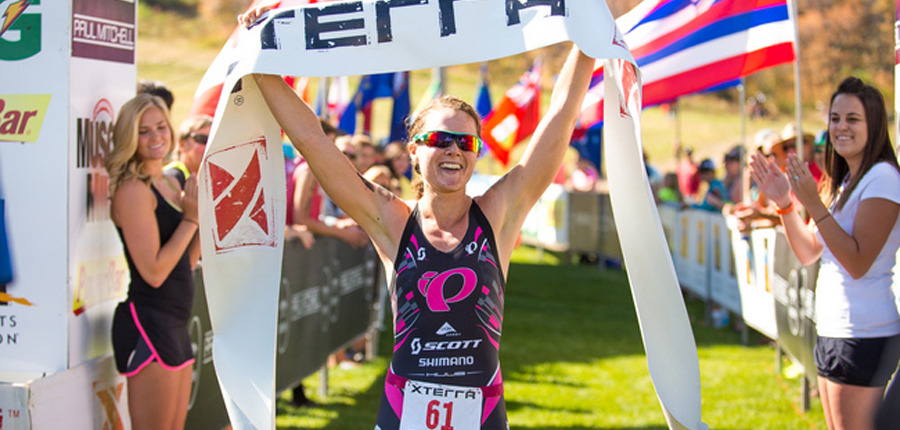 "It was a lot of fun, but it was hard. I never felt particularly stressed with my breathing but my legs were shot," said Duffy. "I was intimidated by this course, but apparently it suits me. The water was warm, but swimming at altitude is hard. I was redlining the entire swim trying to stay on feet."
Duffy, who finished third at XTERRA Worlds last year, said the pro series title was just the first part of the plan.
"After Las Vegas in April I made it a goal of mine to win the series, so it's pretty cool to do that. Now it's time to get to work and be faster for Maui."
Update: Shadow Sports Minister Michael Weeks said, "Bermudian athletes continue to inspire and thrill us with their success on the world stage. On behalf of the Bermuda Progressive Labour Party I would like congratulate Flora Duffy for her win at the Xterra US Championships in Utah. Her hard work, dedication and talent have brought her to victory and Bermuda is truly proud to see you represent us in such winning fashion."
Read More About