[Updated] Marking her third international win in recent weeks, Bermuda's Flora Duffy has captured yet another XTERRA title, racing to victory in the inaugural XTERRA Asia-Pacific Championship in Australia today [Apr 26].
"It all came together," said Duffy who finished the 1.5k swim, 28.2k mountain bike and 10k trail run course in a time of 2.33.07.
"I felt great coming into T2 after a really tough bike course and just hammered the first 2K of the run. I just focused on my turnover because I knew Nicky is a strong runner and I wasn't sure how far behind she was."
Duffy crossing the finish line: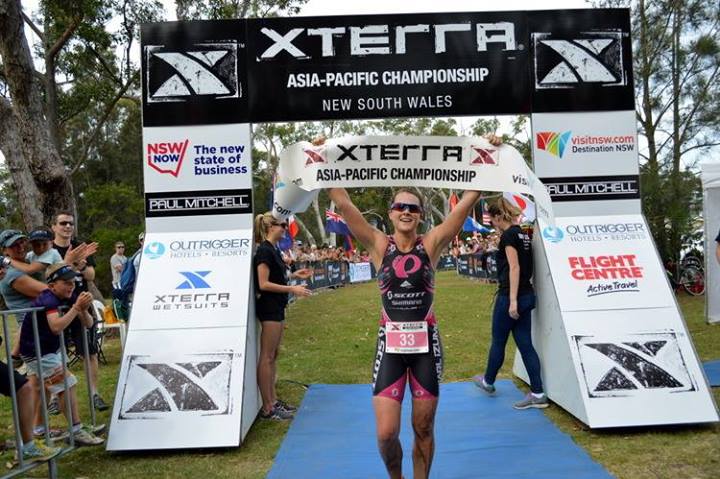 Duffy was up against an international field with athletes from New Zealand, Japan, Australia, Switzerland and Great Britain at the XTERRA Asia-Pacific Championship, which featured a $50,000 pro purse and two internationally distributed TV shows.
The two-time Olympian has been very dominant throughout this year's XTERRA racing season, winning the XTERRA South Africa Championship in February and also winning the XTERRA West Championship in Nevada earlier this month.
Duffy on the podium: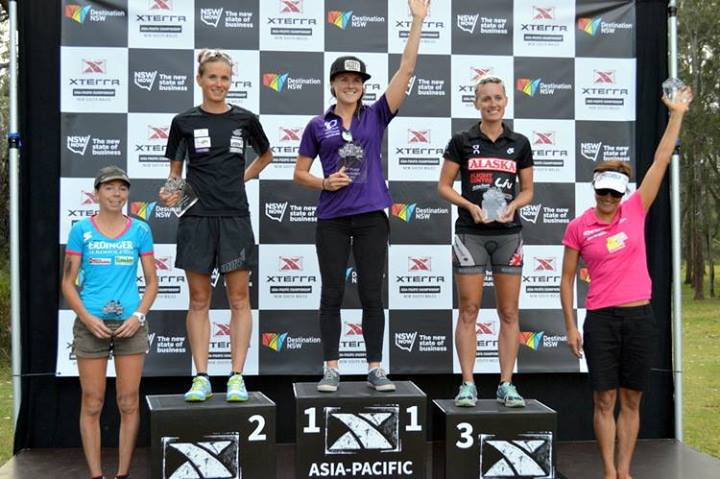 The XTERRA Asia-Pacific Championship was the 10th of 37 events where the fastest amateur athletes from around the globe could qualify to race at the 19th annual XTERRA World Championship at Kapalua, Maui on October 26, 2014.
Update Apr 27, 6.15pm: Shadow Sports Minister Michael Weeks said, "The Progressive Labour Party sends a heartfelt congratulations to triathlete Flora Duffy who won the XTERRA Asia Pacific Championship today in Australia.
"Added to her victories in South Africa in February and Nevada in April, Flora has shown herself to be a force to be reckoned with internationally.
"We are proud of her accomplishments and wish her well as she continues to compete for herself and as she represents Bermuda on the international stage."
- Photos courtesy of XTERRA
Read More About