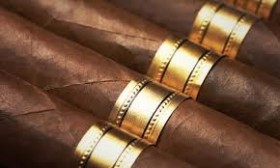 Beginning Thursday, September 11, cigar lovers will have a new spot to relax, sip and sample at Indulge – A Cigar Experience at The Fairmont Hamilton Princess.
Indulge, a new weekly event at The Fairmont Hamilton Princess, will take place on Thursday nights from 8pm to 10pm, starting on September 11. Featuring live jazz and set on the new Princess Marina, guests will experience luxury cigars paired with flights of choice single malts and sipping rums.
A specially-crafted tapas menu, featuring items such as smoked pork with a maple chipotle glaze; Cajun spiced scallops with grilled onions on a corn puree; and charred New York steak with a sweet balsamic onion jam, is set to complement the selection of fine cigars and spirits available each week.
Yelena Packwood, Marketing and Communications Manager, The Fairmont Hamilton Princess, says: "Cigars are experiencing a resurgent popularity world-wide, and the Princess Marina is the perfect location for Bermuda's cigar aficionados, and novices alike, to experience this unique cigar pairing event.
"Visitors and locals can kick back, have fun, or just relax and enjoy the simple luxury of trying great cigars paired with a variety of high-end spirits. Anyone looking for a cool, edgy night out should definitely 'Indulge'."
To reserve a place for Indulge at The Fairmont Hamilton Princess, please contact The Fairmont Hamilton Princess on 441-295-3000.
Read More About
Category: All, Entertainment