With Bermudian triathlete Tyler Butterfield hoping to improve on his seventh place finish at the 2013 Ironman World Championship, Triathlete.com has published a story detailing seven points that could work in his favour as he approaches the 2014 iteration of the competition, as well as one point that could work against him.
The 2014 Ironman World Championship will take place in Kailua-Kona, Hawaii on October 11.
The article says, "When Tyler Butterfield got off the bike in fourth position during the 2013 Ironman World Championship, practically everyone who knew him was thrilled for the gregarious Bermudian. Very few people expected him to be so close to the front of Ironman Hawaii. Three hours later he crossed the line in seventh.
"Butterfield has dedicated his entire 2014 season to improving his result on the Big Island."
The article goes on to detail seven points that could help Butterfield to a better finish in this year's event, including being physically refreshed, his racing experience, his wind tunnel tests, his use of paraffin wax, his cycling time trial improvements, his patience, and the fact that he'll have a special needs bag on hand.
Potentially working against him, the article says, is his swimming ability.
Butterfield finishes with the Bermuda flag during the 2013 competition [photo courtesy of FinisherPix]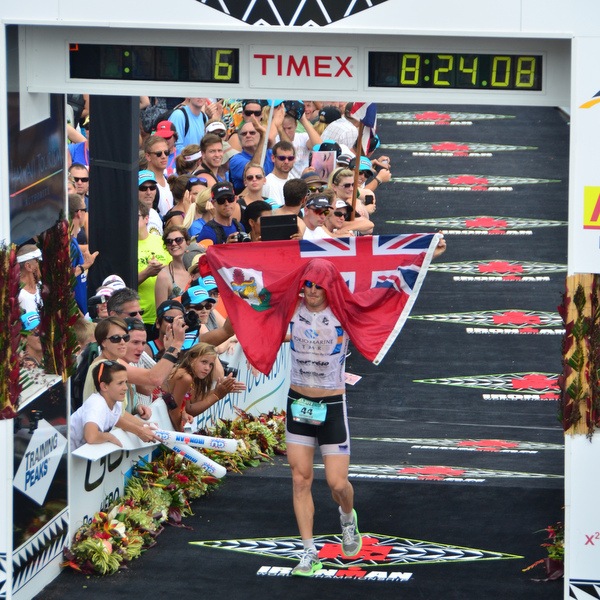 Regarding the points, the article says, "Three weeks before the 2013 Ironman World Championship, Butterfield undertook a test workout that may have sapped some of his strength on race day.
"The majority of wind tunnel testing conducted on pro triathletes is paid for by a sponsor. While athletes can get significant improvements from these tests, they are often not completely free to try any product. Financing a test can get a company status as a "favored nation."
"Twice this year, Butterfield ponied up his money to travel to the San Diego Low Speed Wind Tunnel and test his equipment and position.
"Like he did for the run, Butterfield used a cycling time trial to gauge his fitness before the race in 2013. He replicated that effort this year, riding 171K [skipping the first miles looping through town] in 4:20, significantly faster than he was able to ride a year earlier."
Of Butterfield's swimming ability and its potential to affect his race, the story says, "As more time passes after the 2012 Olympics, Butterfield's swim erodes evermore slightly. He isn't a super swimmer to begin with and just barely made the lead group out of T1 in 2013.
"With another year focused on long course racing [with a couple Olympic distance races sprinkled in], he may be forced to start the ride without the all-important benefit of pacing off other athletes. Missing the pack can have a huge impact on his entire day."
Click here to read the full story at Triathlete.com.
Read More About