Two Bermudian entrepreneurs are set to launch a new hydro-bike tourism business, and have been helped by an interest-free loan from the Bermuda Tourism Authority.
Entrepreneurs Iesha Castle, 30, and Aaron Williams, 34, expect ten hydro-bikes to arrive in Bermuda this month. The next step will be the public launch of their company Funworx Bermuda which will offer hydro-bikes to visitors on Bermuda's waters as early as this spring.
Hydro-bikes are pedal-powered bicycles attached to a pair of ten-foot catamaran floats capable of moving easily over any body of water. Funworx will offer the bikes as rentals or as part of a guided tour experience.
Entrepreneur Aaron Williams, 34, meets with members of the BTA's Product & Experiences team, Rasheeda Burgess [right] and Tashae Thompson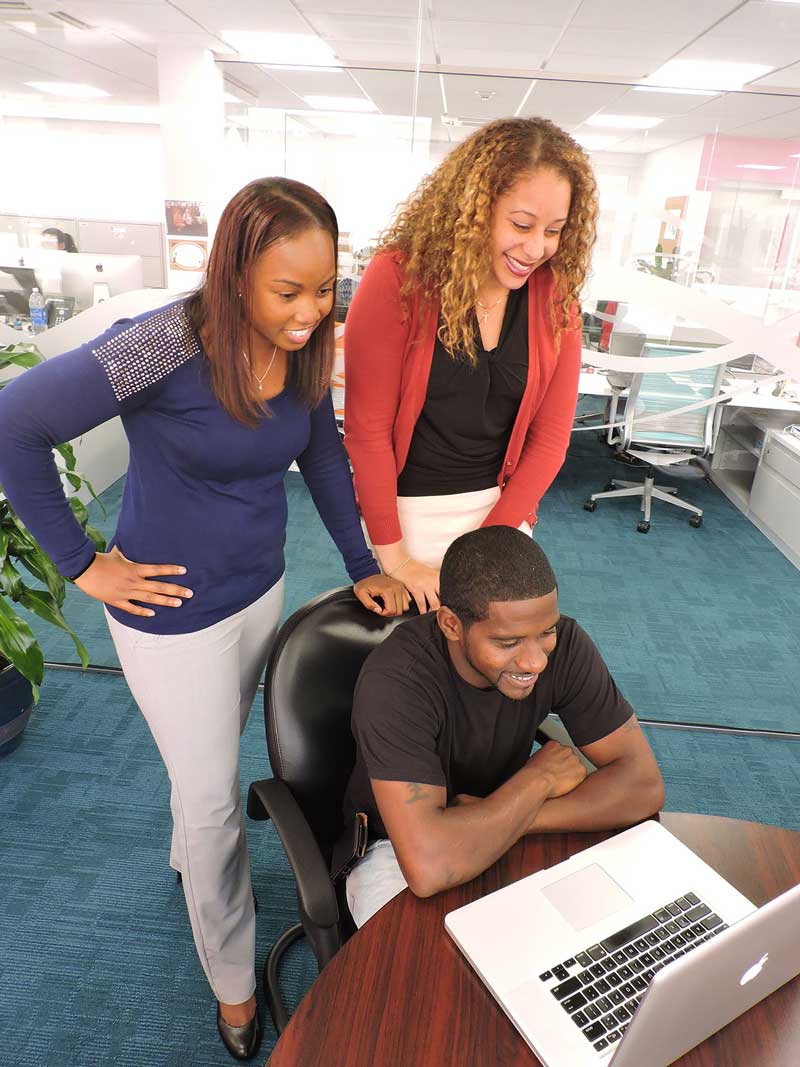 "It's so difficult for first-time entrepreneurs like us to get a start-up loan with lending as tight as it is these days," said Ms. Castle, who works in the international business sector. "If not for this interest-free loan from the Tourism Authority I'm not sure when we would have been able to get our idea off the ground."
The BTA said, "Last year, Ms. Castle and Mr. Williams submitted their idea in the BTA's Tourism Experiences investment process which provides an opportunity for tourism-minded entrepreneurs to get their ideas partially funded.
"Funworx submitted an articulate business plan that aligned with the BTA's overall strategies, but the partners did not have sufficient start-up capital. The BTA offered a $30,000 interest-free loan to Funworx that must be repaid in three installments over the next three years.
"In all, the BTA invested in four start-up ideas using interest-free loans in an effort to accelerate the execution of the ideas."
"We viewed these ideas as literally too good to pass up and we want to see them start-up quickly," said the BTA's Chief Product and Experiences Development Officer Pat Phillip-Fairn who oversees the Tourism Experiences process.
The Bermuda Tourism Authority Act [2013] permits the organization to issue loans, but currently the BTA does not have the regulatory permission to charge interest to loan recipients.
File photo of 'Hydrobikes' in action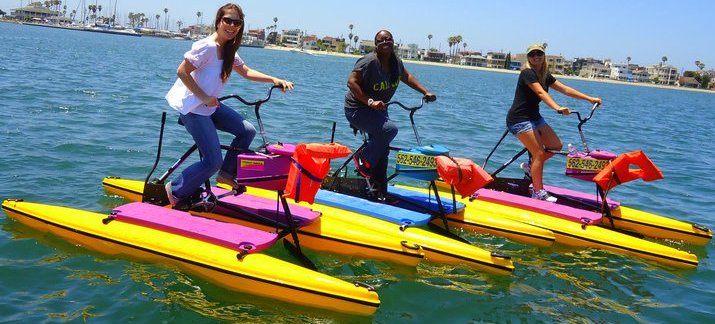 The BTA's CEO Bill Hanbury said, "In an opinion article last week I talked about our work to empower Bermudian entrepreneurs with the opportunity to own a piece of the local tourism economy. Aaron, Iesha and all the interest-free loan recipients exemplify the crop of entrepreneurial spirit we need now more than ever. They are critical to job creation and to our success as a destination."
The BTA said, "One of the BTA's strategic objectives is to increase the amount cruise visitors spend when they are in Bermuda.
"Developing a variety of new and unique visitor experiences that are available and accessible to cruise passengers is seen as an important strategy for increasing cruise visitor spending. The pop-up nature of the Funworx business makes it feasible to easily move from Dockyard to St. George or to beaches in between."
The company is finalizing locations, marketing and determining what, if any, permitting will be necessary and Mr. Williams, who is a trained social worker, believes Funworx can have a positive social impact on the community.
He said, "At first I thought hydro-bikes could be a fun and affordable activity for local teenage boys, particularly in the summer. We still can provide that option locally, but the Tourism Authority process has helped us realize we can also hire young men as employees. In the current climate providing a job – even on a part time basis – is probably the most beneficial thing we can do for our community."
The next Tourism Experiences application process is scheduled to begin in September of this year for investment in 2016 homegrown ideas. Information on the process will update on the BTA's corporate website. For 2015, the process is closed – 41 ideas are slated to receive funding, totaling more than $813,000 in investment. Four of the 41 investments are interest-free loans.
Read More About