The Bermuda Tourism Authority [BTA] is relaunching the Tourism Experience Investment Programme, allowing people to apply for funding to "support experiences that enhance the overall tourism product."
"Beginning this quarter, local entrepreneurs with actionable tourism concepts can apply for Experience Investment Programme [EIP] tourism funding to help get their ideas off the ground or find assistance with expanding existing operations," the BTA said.
"The application process begins with a virtual how-to workshop on February 25—helping set up entrepreneurs' submissions for success. Registration for the workshop is open now."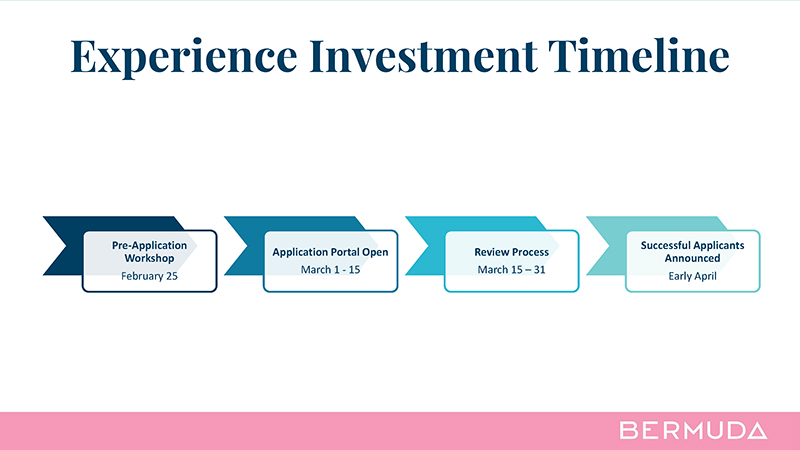 Glenn Jones, BTA interim CEO and chief experience development officer, said, "Following nine-months of pandemic-related losses, reduced airlift, and cruise cancellations the BTA is restarting this vital entrepreneur grant programme as part of tourism industry recovery plans for 2021. We hope to support fresh-thinking, visitor-focused initiatives from the minds of talented Bermudians."
The BTA added, "This round of the Experience Investment Programme seeks to attract innovators in the tourism sector who will create memorable, National Tourism Plan-aligned experiences for Bermuda visitors specifically for the third and fourth quarters of 2021.
" While submissions of all kinds are welcomed, ideas focused on food, water transportation, and the Black traveller experience will receive special consideration because these are strategic priorities for the BTA this year. Criteria for this process requires experiences be non-sports related because sports tourism is handled in a separate review process.
"The BTA will present a free entrepreneur workshop online on February 25 at 11am; the recording will be available afterward for anyone not able to attend live. The presentation is designed to show registrants how to navigate the application process, highlight ways to align their application with the National Tourism Plan and give guidance on next steps.
"After the workshop, the online application portal re-opens March 1 and runs through March 15.  Once all applications have been reviewed and finalists interviewed, successful submissions will be notified in early April.
"The Experience Investment Programme was originally slated to deliver funding for two cohorts in 2020. However, the global decline in travel impacted visitor demand and only a single cohort was conducted. With the rollout of the COVID-19 vaccine and Bermuda's pandemic management success, 2021 is expected to be a major step forward in the gradual tourism recovery."

Read More About