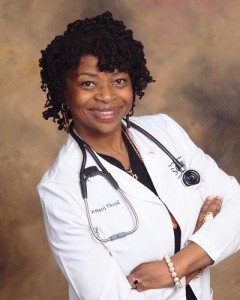 Northshore Medical Center has welcomed Dr. Amani Flood who holds a Doctorate in Naturopathic Medicine.
"Dr. Flood is a Board Certified Physician who provides a natural approach to Primary Care and is a graduate of Southwest College of Naturopathic Medicine in Tempe, Arizona," the company said.
"The medical curriculum emphasized diet, nutritional supplements, herbal medicine, Acupuncture, Homeopathy as well as Medical Pharmacology.
"Her main areas of Practice are General Medicine, Naturopathic Weight Loss, Medical Detoxification, Food Sensitivity Testing and Anti-Ageing. Dr. Flood's Special Interests are Diabetes, Gastroenterology, Cancer and Community Education. She is also certified in IV nutrition as treatment for immune enhancement, viral infections, substance abuse and supportive care for cancer patients.
"Blending evidence-based alternative therapies with conventional medical protocols, she provides the safest and most effective solution to each patient's needs. While battling cancer herself she used only naturopathic medicine to survive lymphoma. This experience motivated her to share the power of natural healing with others.
"Dr. Flood can be engaged for lectures on topics including Anti-Aging, Elder Care, Childhood Asthma, Autism and ADD. She enjoys participating in health fairs and conducting workshops. NMAC will soon launch cooking classes in our specially designed kitchen as Dr. Flood will demonstrate recipes for weight management, heart health and adopting a plant based diet."
Dr. Kyjuan Brown, Medical Director of NMAC has continuously grown his practice by listening to the needs of his patients, following the latest medical and aesthetic developments and trends and generally familiarizing himself with the community at large. "
I am pleased to have Dr. Flood join the team at NMAC. The expertise and wide ranging services she provides will be a benefit to those who look to complement or seek alternatives to their current health options" says Dr. Brown.

Read More About