Take Back Our Park campaigners are querying whether any reports into the impact of a new Parks department maintenance yard in the heart of the Botanical Gardens were ever done.
Take Back Our Park used the new Public Access to Information [PATI] legislation to ask for copies of an environmental impact report, a noise impact study and a visual impact study into the work.
It also asked for a financial analysis a well as documentation detailing alternative sites considered for the development.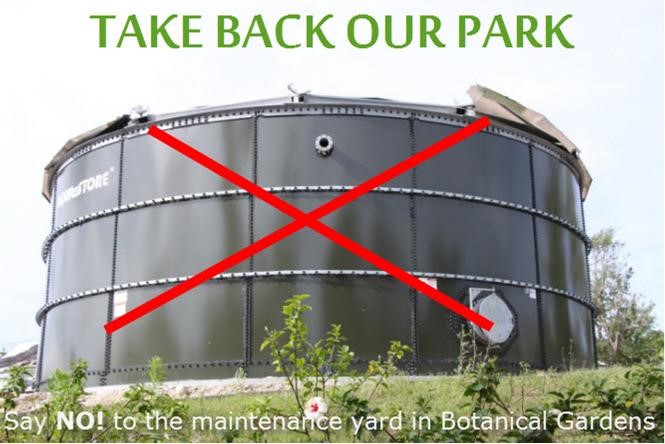 But a reply from the planning department said: "Further to my email of yesterday [Apr 15], I have reviewed both planning files referred to [P0347/09 & P0011/12] and none of the information you are seeking is on either of the files." The reply then suggested contacting Parks Director is Lisa T. Johnston.
Jennifer Flood, a spokeswoman for the group, said: "We were surprised by the answer as we would have expected that at least one, if not all those reports would have been done given that this is such as sensitive area.
"If they have been done, but not added to the planning files, I would ask that they be released for the public to see. I cannot believe that all those studies were deemed unnecessary."
The group wants to stop work on the new maintenance yard which includes a new water tower and two two-story buildings. Along with the vehicular maintenance work, the area will act as a mustering station for up to 120 Parks department staff.
It has received support from people signing its petition [link here] or signing up to the Facebook page [link here].
As well as the visual impact, campaigners are concerned about the effect cars and heavy trucks entering and leaving the site will have as well as noise and pollution of any maintenance work carried out on Parks vehicles.
The group filed the following request under PATI:
In regard to planning file number POO11/12 [original number P0347/09], 169 South Road,
I would like to request the following information:
A paper or electronic copy of the full environmental impact report, the noise impact study, the visual impact study and financial analysis.
Analysis and supporting documentation of alternative sites considered for this development
Documents on costs spent to date on the project as well as documents on future cost projections
Mrs Flood also questioned whether Government would be prepared to release details of studies into possible alternative locations for the yard.
She said: "Previously, a Ministry spokeswoman was quoted as saying 'while numerous studies have been conducted to find a more suitable location for the maintenance yard, the location at Botanical Gardens was determined to be the best choice'. So where are those studies?
"If they exist they should be in the planning files and available for the public to view. We should not have to make special requests for them."
Read More About
Category: All, Environment