Over $1.4 million has been granted over the past year to organisations working in the community, according to the Bermuda Community Foundation's [BCF] first annual report.
The BCF was launched in early 2014, with a mandate "to create an enduring source of funds forever dedicated to the good of Bermuda".
Since its founding it has facilitated the making of 62 grants to 11 different fields of nonprofit enterprise, including community development, education, the environment, human services and youth development.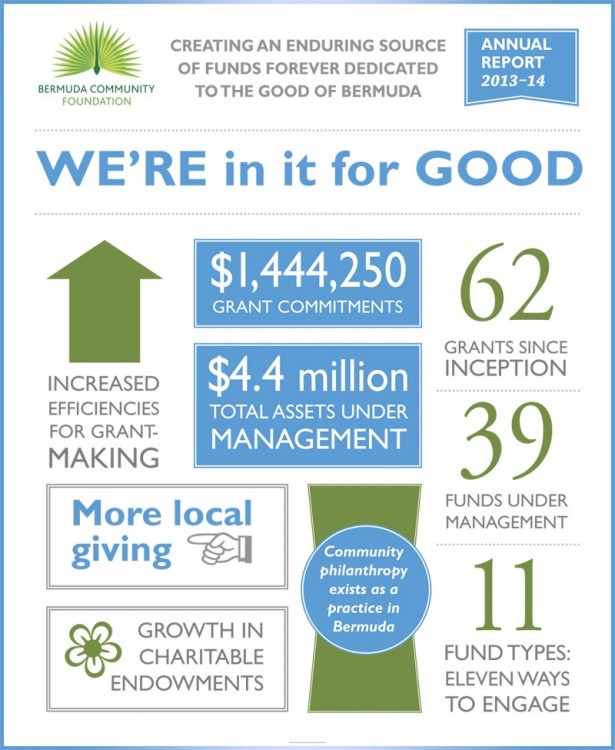 Founding Chairman Peter Durhager says "the BCF was launched out of a need for an additional philanthropic resource to facilitate giving and to grow a permanent charitable endowment to help sustain the sector in the long term".
The BCF enables grants in a number of different ways, including:
Development of an unrestricted endowment fund
Management of donor-advised funds
Management of organisational endowed funds
Analysis and evaluation of grant applications for third party determination.
Mr Durhager notes: "Bermuda depends on its nonprofit sector for human and community services, for the conservation of our lands and marine environment, for the proliferation of our arts, culture and heritage. BCF could be a vital part of ensuring that this work lives on long into the future."
In the area of education, over $400,000 in grants were awarded to high-performing nonprofits operating adult, early childhood; elementary and secondary school programming.
In addition, BCF is the hub of the Read*Write*Bermuda Campaign involving CedarBridge Academy, the Bermuda National Library, and the Reading Clinic. The Campaign, an initiative created and supported by the Buechner Society of Bermuda, had already invested over $250,000 this year in reading and writing programmes across the island.
Nonprofits will benefit from an endowment challenge match made possible by RenaissanceRe that provides $5,000 each to nonprofits starting their own endowment funds.
BCF now manages over 30 donor and community funds, some of which are endowed and some of which provide support for current programmes, like the Early Childhood Development Project and Research Fund, which is soon to release a report on the state of early childhood development programmes and services and how the public and private sector dollars could improve outcomes.
The BCF was established by founders The Atlantic Philanthropies, RenaissanceRe, the Buchanan Charitable Fund and Bloomberg Philanthropies, with a key contribution from the XL Foundation.
The BCF's first Annual Report follows below [PDF here]:
Read More About