Twenty teams took part in the Bermuda School Sports Federations [BSSF] Primary School Boys Super 8s Cricket Tournament at the National Sports Center, with Paget Primary eventually claiming the title.
Paget defeated Elliot Primary by just two runs in a tense final; Paget batted first and scored 64 runs in their allotted six overs. Tai Cariah was the top scorer, finishing with 25 runs before being forced to retire after scoring more than 20 runs.
Ajani Burchall added 13, while Deniche Hill scored 11. Kahzi Sealey had the best over for Elliot, giving up five runs.
In reply, Elliot could only manage to score 62 runs, with Josiah King scoring 24 before retiring. Sealey scored 15 for the runners up. J'kai Berkley gave up 7 runs in his over for Paget.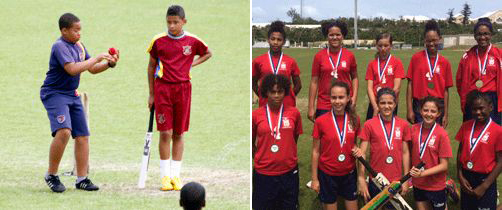 Paget knocked off West Pembroke Primary in their semi-final match. Again Paget batted first and scored 56 in their innings. Hill was top scorer on 22, while Kaydi Lambert scored 16. Paget held West Pembroke to 41 runs in their innings, sending them to the final.
West Pembroke got 10 runs from Malai Perott and 9 from Camaje Easton Smith.
Elliot defeated East End Primary in the other semi-final. East End batted first and scored 52 runs and Jahnico Wales was top scorer with 13 runs. Elliot reached their target in four overs behind 21 from Kahzi Sealey and 20 from Josiah King.
Saltus Grammar School defeated Sandys Secondary Middle School in the Finals of the BSSF Middle School Girls Super 8's Cricket Tournament at the National Sports Center.
Saltus batted first and scored 81 runs in their allotted seven overs. LeiLanni Nesbit was the top scorer with 23 runs not out. Sandys fell two runs short in their reply, as Trinae Edwards and Jazae Smith scored 20 runs each.
Read More About