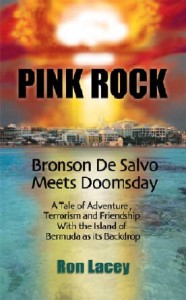 A book from author Ron Lacey, a self-professed "50 time visitor" to Bermuda, offers up a tale of adventure, terrorism, and friendship, with the island serving as the story's backdrop, even as a number of locals, both real and imagined, make appearances.
The author describes the book, titled Pink Rock, by saying, "If you enjoy being part of an exciting adventure or have visited the island of Bermuda, this book was written for you. You can follow the storyline from Africa to Long Island to Bermuda and feel like you're along side the colorful characters."
Mr. Lacey told Bernews, "My best friend for 33 years was an outdoorsman, outdoors writer, and the youngest member of the Explorers Club, among other things. While he was trying to sell some movie scripts to Hollywood and build a world class movie studio on Long Island, I had an idea for a script.
"Since I had been to Bermuda about 40 times, I had an idea that I thought he might like. I wrote a page and a half about two guys who go to Bermuda for fun, and get involved in an invasion by foreign powers who bring an atomic weapon and threaten America.
"I used many familiar Bermuda locations, as well as a few of my Sandys Rotary Club friends as characters, and most notably Joffre Pitman, the legendary snorkeling master, and Eric "Preacher" Davis, who was a long-time singing bartender at The Reefs, and my friend Sir John Swan.
"Since I had vacationed at Salt Kettle House 22 times, I used the location and characters similar to Hazel Lowe and one of her daughters."
Trailer for Pink Rock:
"My wife and I have visited Bermuda 50 times to date, staying at The Reefs, Salt Kettle House, Marley Beach [our favorite], The Sonesta,, Surf Side, and most recently Coco Reef. During the spring and/or autumn, we have stayed at a few cottages and apartments which we love.
"I came down by myself to The Reefs last February for the "Pink Sale." We took our kids to Willowbank when they were young. I took my daughter snorkeling at The Reefs when she was two and one half.
"Bermuda certainly changed my life, which revolves around my trips there.
"I hope you get a chance to read it. It's a fun story mostly about friendships and the beauty of Bermuda with an 'Indiana Jones' movie flavor. It's not a violent story like we see in today's entertainment; it's for all ages."
To learn more about Pink Rock, visit the website.
Read More About
Category: All, Entertainment