RUBiS Energy today [Aug 20] announced the winner of its Fuel For Life promotion, naming Lester Bradley as the prize winner.
The Fuel For Life promotion featured a prize of a lifetime of free fuel, subject to the promotion's terms, and RUBiS said the 2015 value of this prize is $112,500.
The promotion, which began mid-June and ended on August 10th, was available at all twelve RUBiS Service Stations. There were multiple opportunities during the eight week campaign to enable 36 additional customers to win free gas for periods ranging from one month to three months.
RUBiS' Managing Director David Rose said, "This is the first time that Bermuda has seen a fuel promotion of this magnitude. Given the current state of the Island's economy, winning $112,500.00 worth of fuel is historic.
"RUBiS is proud to have been able to offer residents the opportunity to win Free Fuel For Life, as well as thirty-six opportunities to win free fuel for one, two or three months."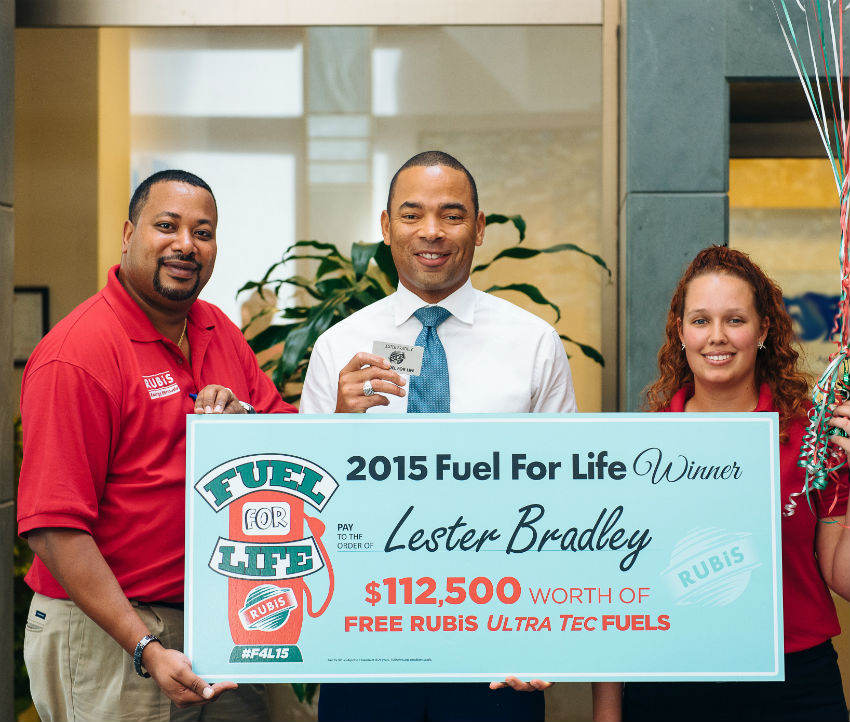 Jermaine Simons, Sales Manager, said, "Our intent was to design something truly epic to support our RUBiS Rewards programme. We wanted something that had never been done before in Bermuda. The Fuel For Life promotion was extremely successful and it had generated incredible intensity with over 100,000 entries.
"RUBiS Rewards members also enjoyed the benefit of doubling their chances to win. We found it was a great way to engage with our valued customers. Everyone at RUBiS was thrilled with the opportunities that this promotion enabled us to provide. We are extremely pleased with the results."
Prize winner Lester Bradley said "To win Fuel For Life is incredible. I'm still in shock, I can't believe this happened to me. With my wife and I commuting from Southampton to town everyday this couldn't come at a better time, and with gas prices so high, and everyday expenses for our daughter, this is definitely a bonus.
"I'm extremely grateful and humbled with this prize. Thank you RUBiS."
Jermaine Simons, Sales Manager, said, "We would like to say thank you to everyone who participated in the promotion, and extend our congratulations to all of the winners."
Read More About