Dandy Town Hornets are the 2015/16 Charity Cup Champions after defeating the Somerset Trojans 3-0 last night.
These two teams met in the Charity Cup a year ago with the Dandy Town Hornets defeating the Somerset Trojans 4 – 0, they also met in the Dudley Eve Final last season with Dandy Town Hornets winning 3 – 0.
The Somerset Trojans came into this game as the defending champions and they were along with their new coach looking for a good start.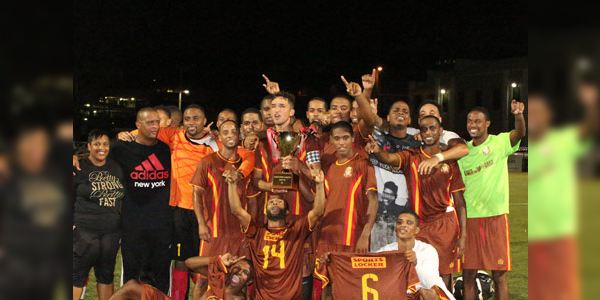 With it being the first game of the season, the match took a while for both teams to settle down. Neither team could break down the others defense as they went to the half-time break locked at 0 – 0.
Five minutes into the second half a cross was turned into the net by the Dandy Town Hornets captain Brandon Minors as they took a 1 – 0 lead.
Somerset Trojans goalkeeper Shaquille Bean was robbed outside the box by Jahnazae Swan, who calmly lobbed the ball over the goalkeeper who was trying to retreat and into the back of the net doubling the Dandy Town Hornets lead in the 69th minute.
In the 81st minute Angelo Simmons picked himself up after being fouled in the box and made it 3 – 0, Simmons went down the right side beat his marker before being brought down.
With no further goals, the Vice President of the Bermuda Football Association Mark Wade presented the Charity Cup to the winners the Dandy Town Hornets.

Read More About