Hurrion & Associates announced it has combined with international offshore law firm Harneys, and will establish a presence in Bermuda.
Sarah-Jane Hurrion will be Managing Partner of the resulting full-service legal and fiduciary services business, to be known as Harneys Bermuda.
Ms Hurrion said, "Hurrion & Associates is pleased to be joining forces with a firm of Harneys' calibre and reputation. Our firms have an outstanding cultural fit and a great deal to offer each other, to the benefit not only of our clients and staff, but also of the broader Bermuda legal market, economy and profile."
From left, Harneys chairman Peter Tarn; BDA CEO Ross Webber; Sarah-Jane Hurrion, managing director of Hurrion & Associates; Michael Burns; and Harneys partners Ian Mann and Phillip Kite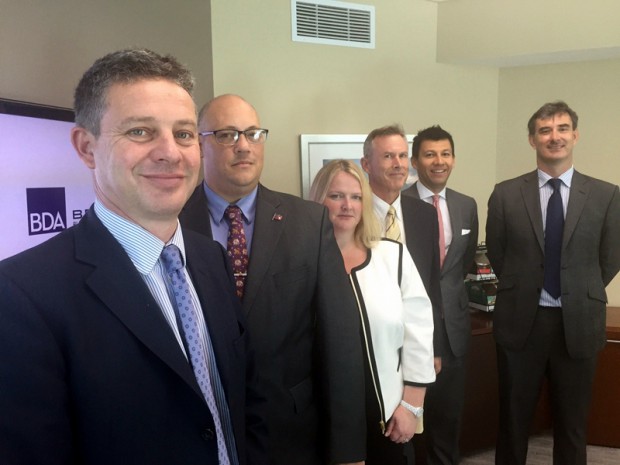 Harneys' Chairman Peter Tarn commented: "Harneys is committed to building a leading full-service Bermuda legal and fiduciary services practice and we are extremely pleased to be doing so in partnership with Sarah-Jane and Hurrion & Associates.
"For us, choosing to partner with Hurrion was not only about technical expertise but also a belief that Sarah-Jane shares our long term ambitions and vision of how lawyers should contribute to the society in which they operate; we consider ourselves lucky to have Sarah-Jane and her outstanding team joining us."
"Bermuda is a blue chip jurisdiction with a strong international reputation and diverse product range; clients have been telling us for some time that Bermuda is a place where Harneys needs to be.
"In particular, Harneys strength and deep roots in Latin America and Asia provide the perfect platform to grow Bermuda's presence into these key and emerging markets."
Hurrion also announced today the appointment of Michael Burns, a former Senior Equity Partner of Appleby, as Harneys' Global Group General Counsel. He will also serve as Managing Director of Fiduciary Services and Head of the Corporate Department in Bermuda.
Mr Hurrion said, "I am excited to welcome Michael Burns to Harneys. Mike brings 25 years of experience as a corporate lawyer to Harneys Bermuda and I am delighted that he will join the leadership team to drive this firm forward in the years to come.
In responding to the news, Bermuda Business Development Agency CEO Ross Webber said,  "The BDA has been in discussions with Harneys for several months and we look forward to welcoming the firm to Bermuda.
"It is encouraging the jurisdiction is being regarded as a place for growth and a centre that is open for business. We strongly believe this will result in healthy competition within the Bermuda marketplace, and that the presence of Harneys here will attract more business.
"With Harneys' international outreach, particularly in Asia and Latin America, Bermuda as a jurisdiction will be part of a wider conversation. The Harneys presence and commitment to Bermuda add more channels to both spread a positive Bermuda message and deliver new business to the Island.
"Hurrion & Associates is a well-respected Bermuda law firm, and it's pleasing to see Harneys enter the market with an established partnership."
The rebranding of Hurrion & Associates as Harneys Bermuda will take place in October 2015.
Read More About