Rolfe Commissiong, the Shadow Minister for Human Affairs with responsibility for Workforce Development, has congratulated 13-year-old Saltus Grammar School student Ethan Humphrey for creating the "Saltus Student" app.
The app, which allows students to organize their time, can now be downloaded from Google Play Store and Apple's App Store.
The young developer — who is thinking of adapting it for other schools in Bermuda – said the app can show the timetable for two weeks, what homework is due and when, and can also be set to give reminders and completed work can be checked off as completed.
13-year-old Ethan Humphrey pictured with the app he developed: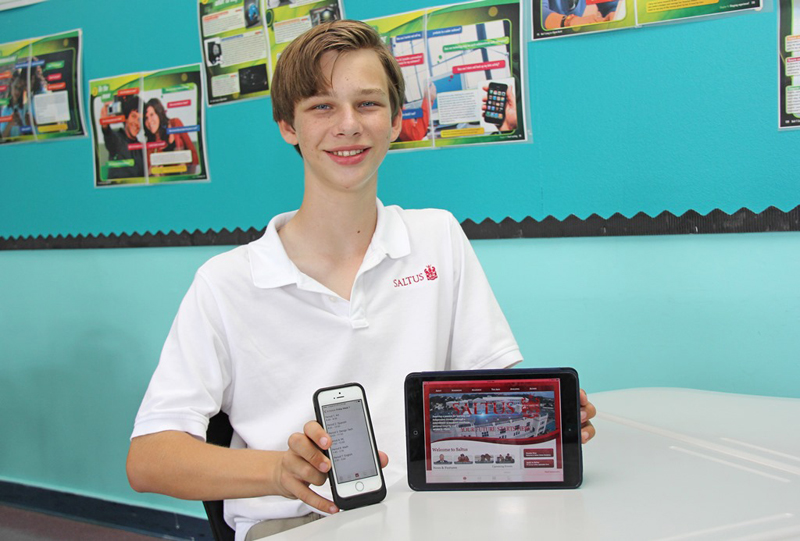 "We in the Progressive Labour Party celebrate innovation and young Mr. Humphrey has demonstrated it. We also note that Mr. Humphrey is just getting started as future iterations of the app are on his drawing board," the PLP said.
"In our Vision 2025 document [PDF], presented to the House in response to the 2015-16 Budget statement it noted that a future PLP government would promote app development in collaboration with the Bermuda College.
"These apps – largely developed, maintained and enhanced by the students themselves – would be utilized to make government and the dissemination of its services more accessible, and critically; more efficient. In addition, it will provide 'real world experience to our students'.
"Moreover, these apps can be monetized by way of licensing agreements with other governments throughout the world.
"But we will not stop there as we have also made a commitment to deliver on a pledge by way of the Shadow Minister's Outreach 2025 programme to ensure that a national target of 400 to 500 youngsters annually between the ages of 7 to 15 years of age are exposed to the wonders of computer coding.
"In addition, we are committed to establishing a Technology incubator at Southside that with the proper tax and regulatory incentives can attract cutting edge companies such as in the emerging Fin tech industry and beyond.
"We, in the PLP, believe that a focus on STEM with respect to education and training along with an immersion in Information and Communications technology, besides providing a global passport to relatively high paying jobs and great careers; can be a pathway to entrepreneurship and business ownership in the 21st century context, for our young people.
"We also believe that an investment in our people to prepare them for this brave new world should not be held hostage by misguided and counterproductive austerity measures by our government.
"If we are going to maintain our global competiveness we must continue to make these investments in education and training – the likes of which are included in our Vision 2025 document – and which similarly were highlighted in a presentation in June to the House of Assembly by the aforementioned Shadow Minister, Rolfe Commissiong."

Read More About
Category: All, News, Politics, technology