Students are using technology to help design and build parts for use by their own school. Last year students from Saltus Grammar School took part in a school trip to Boston to work with a company using 3D printers.
As soon as they were back, staff from the Design Technology and IT departments drew up a bid for funding to bring 3D printers to the school.
And thanks to a grant from the Saltus Association and the generosity of Tops Ltd which gave discounts on the machines, the school was able to buy six 3D printers.
"The students have been amazing," said Tina Fountain, the Head of Creative Digitial Technologies and Business Enterprise, at Saltus. "They have used the printers to make parts that they needed. It is obvious that we have some very talented students.
"Henry Durousseau, 15, designed a customised docking port for smart phones and Thomas Penruddocke, 16, used a printer to design and make a part for an America's Cup model boat that he is building."
Ms Fountain added: "Thomas also saw an opportunity to design and print a part that he had been trying to source locally for his optimist sailors and used his skills and knowledge to design the part to meet his own specification.
Thomas Penruddocke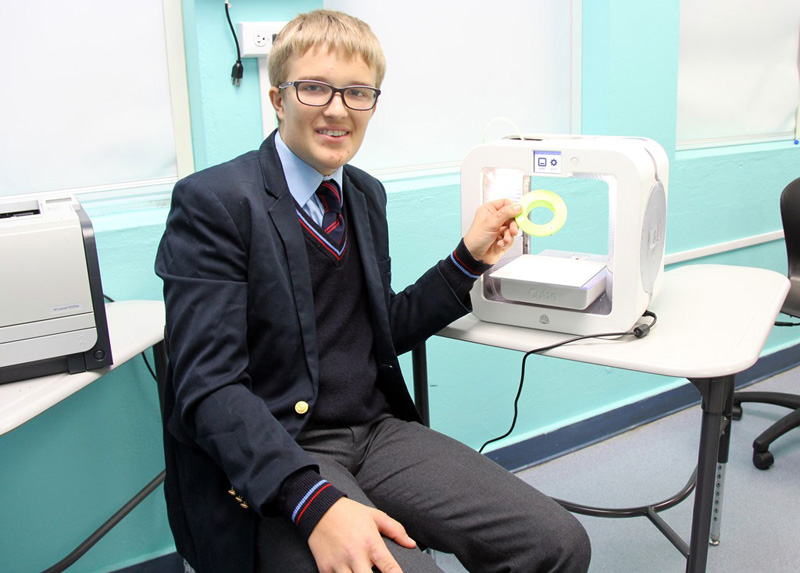 "He then approached me to print the prototype. Once printed he made some minor modifications to the part.
"As a member of the Royal Bermuda Yacht Club he recognised the potential to promote the 3D printing and is now working with the club to produce parts that are required by the club who are currently refurbishing all of their Club Optimists.
"Thomas hopes that his design skills will help the club and other sailors with any parts that are not available locally."
Ms Fountain said: "We are going to see what other uses the 3D printers might have for the school as well – we are looking whether we can make tags for students' bags for instance."
A spokesperson for TOPS Ltd said the firm was "proud to offer Saltus Senior Creative Digital Technologies Department our line of 3D Cube printers".
"The Cube will help bring the creative aspirations of the students to life! The Cube 3D printers are able to produce 3D prints in 23 vibrant different colours in both ABA and PLA materials up to a 6" by 6" by 6" format.
"The students will produce their creative design on demand. This will encourage them to keep their mind active by visualizing their concepts in 3D."

Read More About
Category: All, technology