The mother of a Bermudian who has officially applied to marry his partner on the Island says her son and his partner are "very courageous people," and said that she hopes to officiate at their wedding.
Pastor Sylvia Hayward-Harris hopes to marry Ijumo Hayward and his partner Clarence Williams, who currently live in the US, if they are legally cleared to be married.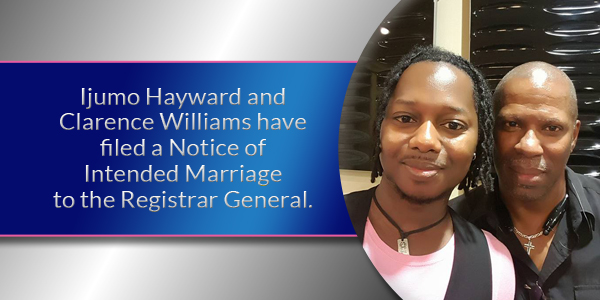 "I believe in equal rights, I believe in human rights and I think there is something a bit strange, or off, when we want rights for ourselves but we want to deny them to other people. That does not work for me very well," Pastor Hayward told Bernews.
Former Attorney General Mark Pettingill is representing Mr Hayward and Mr Williams and has submitted a Notice of Intended Marriage on their behalf to the Registrar General who has a limited time to advertise it in the Official Gazette.
Failure to do so will result in a legal challenge by Mr Pettingill who believes the Human Rights Act trumps any other legislation governing marriage. You can listen to a full podcast interview with Mr Pettingill speaking in detail about the legal aspects here.
Asked if she thought the Registrar General would approve the notice, Pastor Hayward said "no", although she said it would be the logical thing to do. "Really, there should be no question."
The Pastor added: "My son is a very courageous man. I would like my son to feel free about coming home. He decided quite a few years back that Bermuda was not a safe place for him. He decided he did not want to live here. But he wants to come home.
"I am part of an affirming church. I do not see that my position is controversial in terms of my belief system but it is in terms of the traditional system."
Pastor Hayward, who said her son won a basketball scholarship to Wilberforce University in the US, added. "I think the Government is close to making some sort of decision and have been working very hard on this.
"There does not seem to be any logical argument against it [same sex marriage]. There are lots of religious arguments and emotional arguments.
"In a world where there is so much hatred, division and so much violence, it seems to me that we ought to be encouraging people who love one another to live together in harmony."
The couple's "Notice of Intended Marriage" as filed with the Registrar General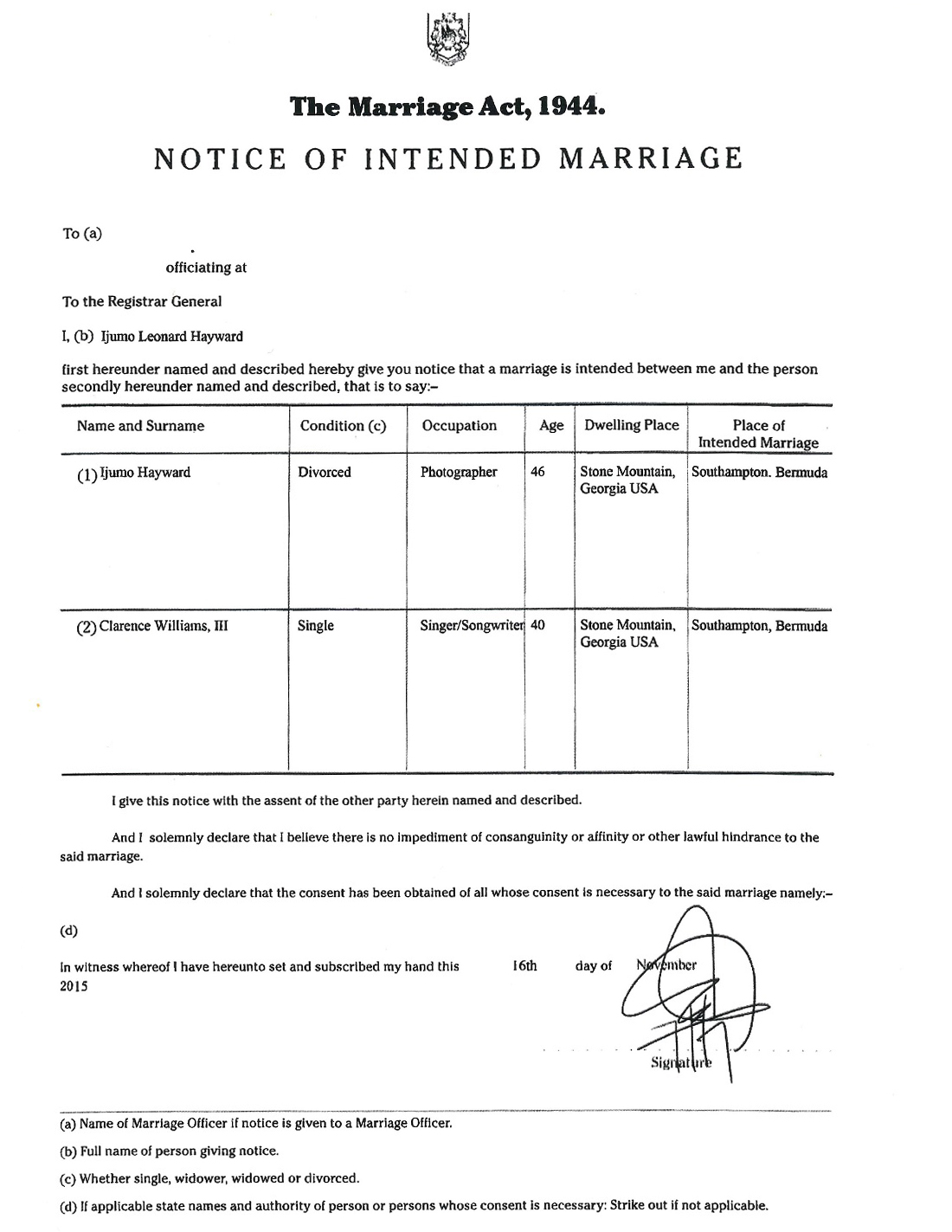 Following the application being filed, the Government said: "The Minister of Home Affairs is well aware of the application and is consulting with Chambers on the matter.
"A hearing is scheduled on Monday 7th December 2015 in respect of issues relating to the Bermuda Bred Company Ltd judgment last week which we believe will add clarity to the matter as a whole."
The Bermuda Bred judgment saw the Supreme Court rule that non-Bermudian same-sex partners of Bermudians, who are in committed relationships, are entitled to live and work in Bermuda, with the ruling saying as "same sex marriage was neither possible nor recognised under existing Bermudian law, the relevant statutory provisions discriminated against Bermudians in stable same-sex relationships in an indirect way."
Read More About