[Opinion column written by Donnie Martin]
There's a word that's being thrown around with increasing frequency in our discussions about the possible legalization of same sex marriage in Bermuda.
As nearly as I can tell, this word is being used solely by proponents of same sex marriage as they evaluate the persons and positions of those with whom they disagree.
The word is "bigot".
I'm not sure why this word is enjoying such an increase in popularity, but I suspect it has to do with its inflammatory nature. As we all know, once certain words are introduced into the conversation [for example: racist, intolerant, Nazi], discussion is effectively derailed.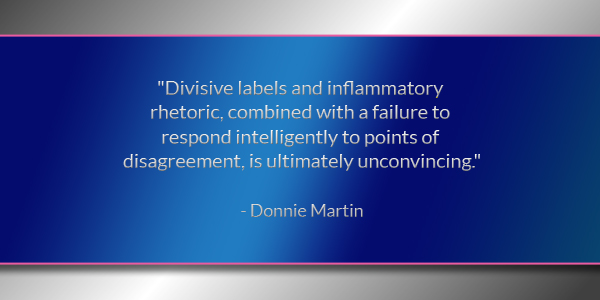 Time is often wasted defending against the charge, rather than talking about the issue. Or many of the other issues connected to such terms surface to cloud the discussion at hand. Either way, once such words are introduced, the person using the word has often sidestepped their responsibility to defend their position or respond to someone else's.
Does the opinion that marriage should be retained as a union applying uniquely to a man and a woman [a position that I hold] automatically mean the person holding the opinion is a bigot?
If you're willing to answer "yes" to that question, here's what you're implying.
You imply that all known societies over the face of the earth — ever — and the vast majority of people in those societies, though separated by time and geography, culture and ethics, and diverse in almost every way imaginable, have nonetheless been united in an opinion that is just plain wrong. Indeed, have colluded in this opinion because of their intolerance.
You imply that you are ready to jettison the combined historical and traditional weight of virtually all of human experience because you are sure of your moral goodness in comparison to the prejudice of pretty much everyone else.
You imply, in the words of US Supreme Court Justice Antonin Scalia, "that an institution as old as government itself, and accepted by every nation in history until 15 years ago, cannot possibly be supported by anything other than ignorance or bigotry".
You imply that you are ready to change an institution whose present form has for hundreds of years been upheld by the brightest minds of philosophical, sociological, legal, economic, and yes, religious thought — indeed that those minds were uniformly blinded by what you can clearly see as an unreasoning hatred.
Understand these points clearly. The label you apply to your faceless opponent is also applied to the vast majority of human beings who have ever lived.
Are you sure you're willing to say all this?
To everyone involved in this discussion — including those with whom I would agree in their desire to preserve marriage. The way we have this conversation matters. We must respect each other's personhood, even while disagreeing about positions. Divisive labels and inflammatory rhetoric, combined with a failure to respond intelligently to points of disagreement, is ultimately unconvincing.
- Donnie Martin

20 Most Recent Opinion Columns

Opinion columns reflect the views of the writer, and not those of Bernews Ltd. To submit an Opinion Column/Letter to the Editor, please email info@bernews.com. Bernews welcomes submissions, and while there are no length restrictions, all columns must be signed by the writer's real name.
-

Read More About