[Opinion column written by BPSU President Jason Hayward]
It is becoming undeniably clear that persons in our community are dissatisfied with many of the Government's current policy initiatives and are also equally frustrated with the method by which these policies are being rolled out.
The Government must take into consideration the socio-cultural impact that policies have on the very people that they have been empowered to represent and further develop a better appreciation for the fact that policies must be in alignment with the environment that they are set.
If population growth is the priority than let us start with retaining the Bermudians that we do have and welcome back those that have left our shores. The country is currently experiencing an unprecedented emigration crisis with many Bermudians leaving the Island because they can no longer see a future in their own country.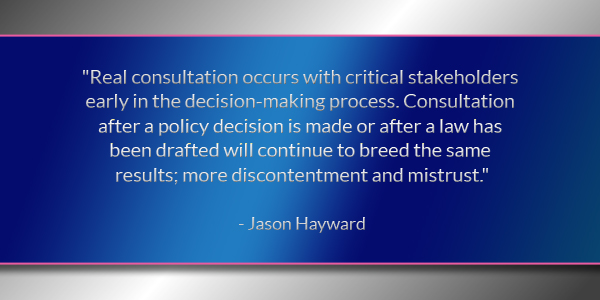 How long will we continue to allow students to go away to university, obtain a degree only to have them never return home? We cannot simply sit back silently and allow Bermudian families to leave the Island because they have lost hope.
In an environment where many Bermudians remain unemployed or underemployed, the Government must explain to the people of this Country how granting rights and status to non-Bermudians or discussing civil unions became their priority.
Did the Government not anticipate these proposals would not be welcomed with opened arms? Or is it simply that the Government doesn't care about the opinion of the people?
There is seemingly a disconnect that exists between what the Government thinks should be a priority versus what the people believe should take precedence. Perhaps this stems from the way in which the Government consults.
Real consultation occurs with critical stakeholders early in the decision-making process. Consultation after a policy decision is made or after a law has been drafted will continue to breed the same results; more discontentment and mistrust.
The Government repeatedly points to townhall meetings as proof that they have engaged in public consultation. However, these meeting have proven to be nothing more than the Government's attempt to sell their agendas to the people of Bermuda.
Instead of being a venue for real collaboration, these meetings are being used to persuade the people to accept the notion that what Government is doing is in their best interest. The level of dissatisfaction that exists in our community can be directly attributed to the fact that the Government has failed to provide the country with a clearly defined strategy or strategic plan.
The Government's failure to properly articulate their strategy to the Country has resulted with the people not understanding the genesis of these policy decisions.
The process should go as follows:
consult with the people and create a clear vision for the Country,
clearly articulate this strategic direction to the people,
design policies to support that direction using a collaborative approach, and,
deliver/implement. Note: establishing buy-in early is essential for successful implementation.
In order for consultation to be effective, it must occur in an atmosphere which contains and maintains a high degree of trust, honesty, and open communications.
To the average Bermudian, it is difficult to understand how a new policy or a Government initiative will directly help them or improve their quality of life. To address this, the Government must embrace real consultation, demonstrate to stakeholders that their input is valued and be receptive to feedback from stakeholders.
Real consultation must become the cornerstone for governing as it is only through collaboration that we will find solutions to the many serious issues that we now find ourselves faced both as a country and as a people.
- Jason Hayward

20 Most Recent Opinion Columns

Opinion columns reflect the views of the writer, and not those of Bernews Ltd. To submit an Opinion Column/Letter to the Editor, please email info@bernews.com. Bernews welcomes submissions, and while there are no length restrictions, all columns must be signed by the writer's real name.
-
Read More About