[Opinion column written by Glenn Fubler]
I write this Open Letter, with some regret that I have not taken a public stand affirming the rights of Gays and Lesbians, before now. For many years, I have seen myself as one who supports the basic rights of 'All God's Children', a passion which took some time to evolve within me.
Growing up in Bermuda, like many others, I engaged in the tribal practice of othering those who might be different. This would have been a by-product of the colonial legacy of othering.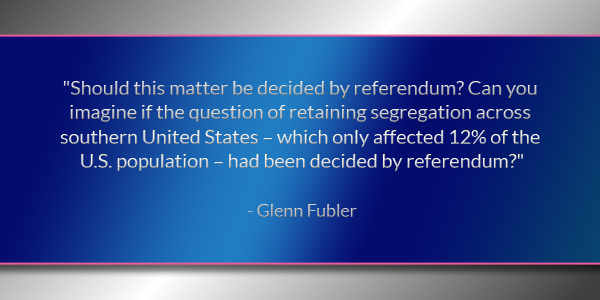 In my circles at that time, those who were considered near the bottom of the scale were Jamaicans and Portuguese. Those at the bottom of the hierarchy were Gays who were called Queers; a population whose circumstances forced them deep into the underground.
As I matured, I came to love learning in the context of diversity. This included an enthusiasm for biology, through which I explored how 'we are all wonderfully made'.
The research project that I decided on for my Master's at Howard University was intended to explore some of the genetics of how a single cell evolves into a Masterpiece. I never completed that grand project – although I learned much from that exercise.
'Buck' Burrows and Larry Tacklyn were sentenced to death a year after I had returned from school and I had developed a deep sense of reverence of all life. You will see in my opinion piece published on December 2nd 2015, that I was initially disappointed to find very limited community support for our anti-hanging campaign.
Since Buck and Larry were some of the most othered in our society, it took a substantial push by our small group, to turn the tide. This offers a lesson that notwithstanding appearances, a community can shift towards embracing caring for all.
Every human birth is a miracle. Through nature and nurture we are each so amazingly unique. Dr Rahmin of the Institute of Psychiatry at Kings' College – London pulls together a scientific perspective in his book "Born Gay? The Psychobiology of Sex Orientation"; concluding that about 10% of the population is born with a Gay orientation.
Bermuda's own Jean Howes made the point with Shirley Dill; "Who would choose to be Gay?" That common sense question puts things into perspective.
Should this matter be decided by referendum? Can you imagine if the question of retaining segregation across Southern United States – which only affected 12% of the U.S. population – had been decided by referendum?
The collective wisdom of a century of global progress suggests that matters concerning minorities within a population are best addressed using the guidelines of International Human Rights Standards and legal frameworks.
Fellow residents, as this current debate continues, let's reflect carefully. We just might experience another shift towards embracing caring for all.
- Glenn Fubler

20 Most Recent Opinion Columns

Opinion columns reflect the views of the writer, and not those of Bernews Ltd. To submit an Opinion Column/Letter to the Editor, please email info@bernews.com. Bernews welcomes submissions, and while there are no length restrictions, all columns must be signed by the writer's real name.
-
Read More About