More than 200 troops from the Royal Bermuda Regiment [RBR] started two weeks of intensive training in Jamaica.
The soldiers, together with officers from the Bermuda Police Service and St John Ambulance personnel, settled into unfamiliar surroundings on Sunday before starting the annual training exercise at the crack of dawn on Monday.
Private Showers Cassidy, who works at a watersports store in Tucker's Town and a former member of the Junior Leaders, said: "I'm looking forward to it.
"I want see better teamwork and get myself fitter."
The 18-year-old member of the Junior Non-Commissioned Officers Cadre [JNCO] added, from Warwick, added: "It's a bit of a culture shock.
"The way we live in Bermuda and we think we're struggling – a lot of people here have nothing."
Pte Vaughn Smith, 20, also from Warwick and in the JNCO Cadre, said: "Two weeks in the bush in a foreign country – it's an experience.
 Junior NCO cadre Privates Vaughn Smith and Showers Cassidy outside the makeshift shower block rigged at the Jamaican Constabulary Force's training school.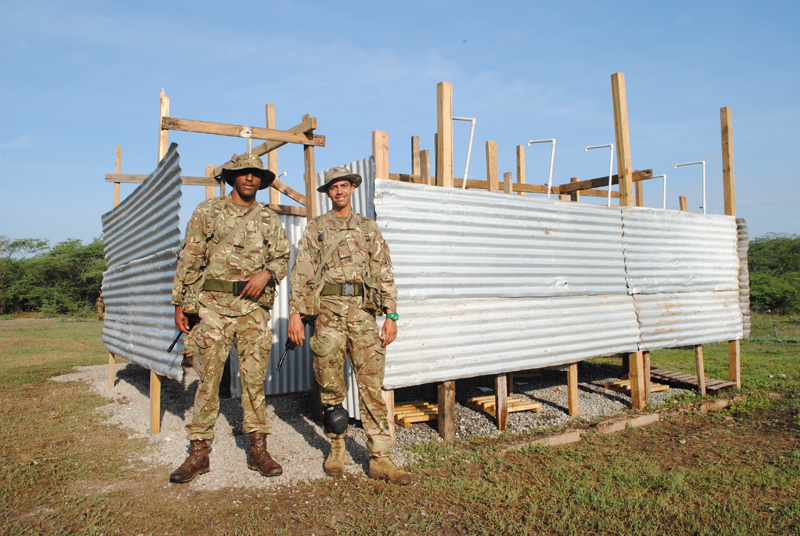 "But at least we have showers for the first day. We won't have them after that."
Pte Dijon Arruda, 27, from Pembroke, and also training to take up a junior command position in the RBR, said he had visited Jamaica last year to shoot a music video.
The Hamilton Princess beach club employee explained: "Because of that, I have some understanding of the country. It's good to be an ambassador for Bermuda."
He added: "I'm looking to learn several new skills, test my endurance and patience, hopefully increase them and increase my fitness too."
The RBR's A Company spent the first day on a firing range at Twickenham, the home of the Jamaican Constabulary Force's training school.
Pte Twaylia Ebbin-Wilson, 18, who only finished Recruit Camp in January, said: "I'm enjoying myself, even though it's very hot.
"I like it here – I just want to gou out and see more of it."
RBR A Company soldiers use their new SA-80 rifles on the ranges at Twickenham in Jamaica.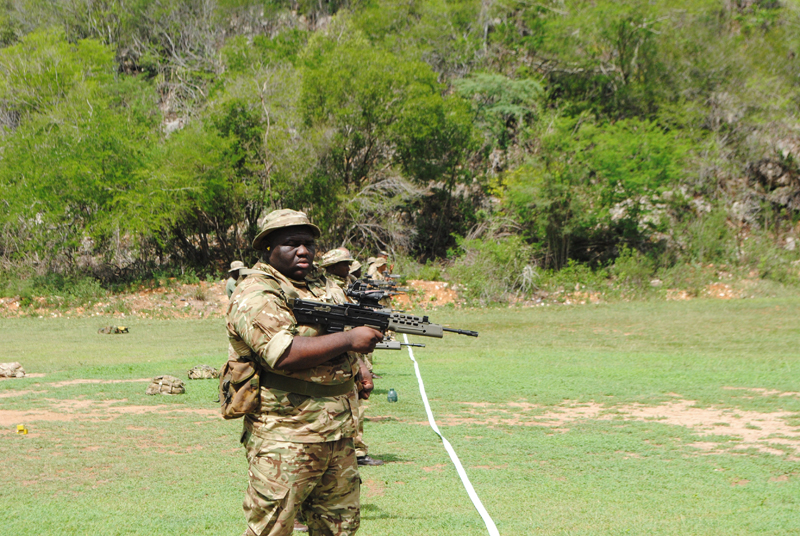 The 18-year-old, on her first trip to Jamaica and due to start a new job as a waitress when she returns to Bermuda, added: "I joined the Regiment to meet new people and for the experience.
"I want to do the training in the jungle – I'm certainly looking forward to that, but I know it's going to be tought."
And she added she was looking forward to using the Regiment's recently acquired SA-80 rifles on longer ranges than are available in Bermuda.
Lance Corporal Chris Hill, 25, a four-year veteran of the Regiment and second-in-command of a platoon, said A Company would spend three days on the firing ranges before heading into the field in the Blue Mountains.
The hardware store employee from St George's Parish added: "They've done well so far and the new recruits are enjoying themselves. The heat is taking a toll, but they're keeping at it."
RBR Commanding Officer Lieutenant Colonel David Curley, on his first overseas trip since taking command in February, said he had drawn up Jamaica programme in his previous role at RBR Training Officer.
He said: "The first couple of days is a bit of a shakeout – there's a lot of equipment, 213 soldiers and six police officers, as well as St John Ambulance personnel.
"It's about getting them used to this very hot weather. They have to drink plenty of fluids and eat properly"
Regiment soldiers get an early start for a day on the Twickenham firing ranges in Jamaica, one of which can be seen in the background.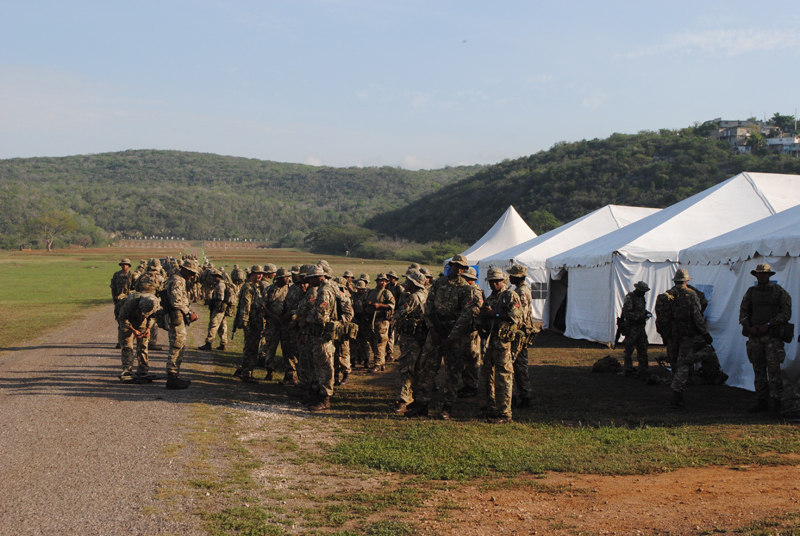 He added: "Everyone is very motivated right now to get the training and they're enjoying the new weapons system and we're using the first phase to get a lot of shooting in, which we can't do at home.
"When the range package is over, they will get jungle training from instructors and navigation is very important because it's very adverse terrain."
Col Curley added that the troops would get a day off mid-training for river rafting adventure training before a massive final exercise to put into practice what they had learned.
He said: "The morale seems very high and it's up to every officer and senior NCO to keep it that way.
"Some of the soldiers have said it's a rough place and hard-going. Absolutely and it also makes them think about things back home.
"But they're open to it and I'm confident they are are going to get on with it. This is my first tour overseas as CO and it's a good camp to do.
"It's physical, it's hard and the terrain is rough. If I can get them through it, I will know the calibre of my troops at the end.
"And once you operate in Jamaica, you can operate in any of the Caribbean countries in terms of humanitarian work and hurricane disaster relief."

Read More About