Former Member of Parliament and Cabinet Minister Neletha Butterfield recently attended the PNP Women's Movement 2017 Annual Conference in Kingston, Jamaica to honour former Prime Minister Portia Simpson
U.S. Congresswoman Maxine Waters was the keynote guest speaker, along with other international speakers in attendance to give thanks for the part that former Prime Minister Portia Simpson played in their lives both professionally and politically.
Ms. Butterfield was introduced to the former Prime Minster in 1990 by the late Dame Lois Browne Evans and was selected to be their keynote speaker on the topic, "Women Facing the Challenges with Unity and Strength". She returned in 1993, three years later as their keynote speaker again.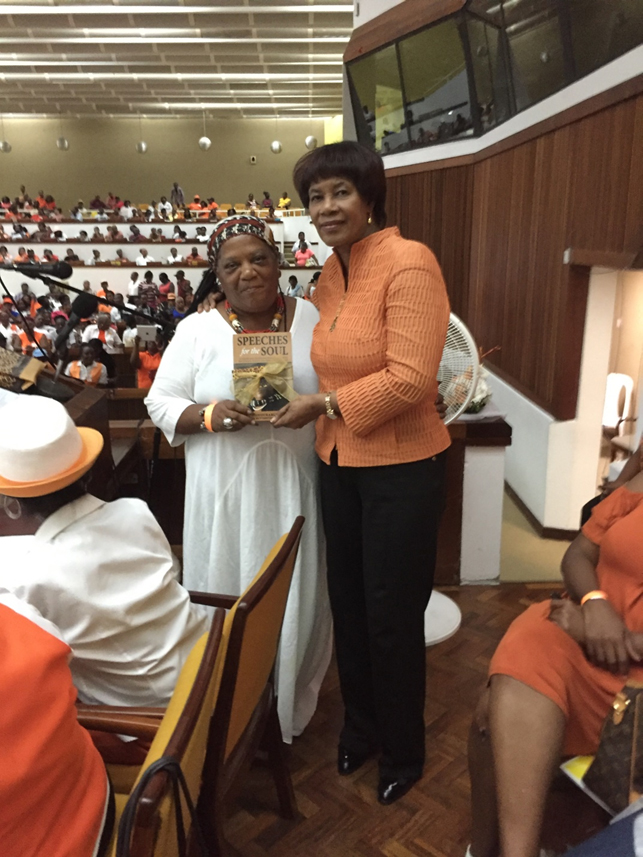 The Conference, held on July 16,with the theme "Be Bold for Change; Empowering Women in Politics", was the PNP's largest event for women, attracting over 1000 attendees who came together to discuss national gender equality, how to empower women in politics and for individual professional development that is political and gender-focused.
Mrs. Simpson Miller received a special Woman in Politics Award for her decades of service to the PNP and to Jamaica.
"We are thrilled to honour Comrade Simpson Miller and engage Congresswoman Waters and other bold inspiring women at this year's conference," said Jennifer Edwards, President of the Women's Movement.
"These women are activists, innovators and leaders in the political arena. Their experience challenges us to do more with our collective voice and to dare to say what we believe even if it unpopular!"
"What Jamaica needs is fearless leadership and political will! We the women of the party and the women of Jamaica need empowerment to speak up for change. That was the focus of this year's Conference."
Ms. Butterfield stated, "It was such a moving and exciting conference with songs and dance in celebration for a woman of fortitude and strength, a past president of the PNP Women's Movement, a former Prime Minister, Member of Parliament for 41 years, my friend and my sister in the diaspora.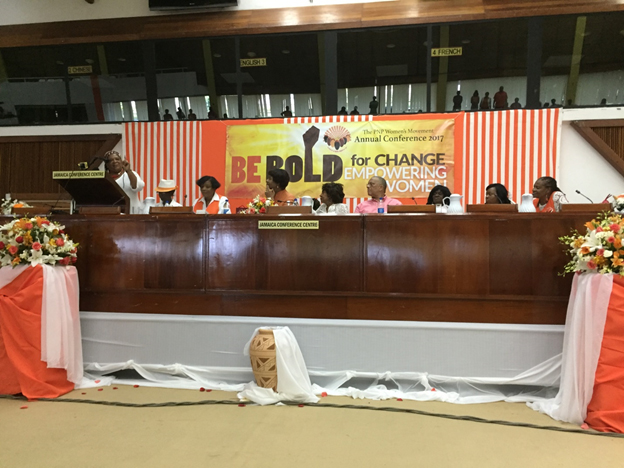 "I was honoured to be there to witness the movement thanking her for her many years of service and the love for her people and country. In a part of my speech to her I dedicated some of the words of the song "It's Your Time" that my brother Roger sang to me when I completed my role in politics.
"I personally know what it feels like to retire from decades of serving the people and your constituency and as difficult as it was for me I personally know what you are feeling."
"Mrs. Portia Simpson was presented a copy of my book "Speeches for the Soul" and on page 123 she would recall and remember on 12th July, 1996 at their 23rd Annual Conference as your guest speaker the speech entitled "It's Time, It's Time, It's Your Turn Now".
"How fitting today and I look forward to presenting another book to be released in August entitled "My Political Beginning's for the Soul" that also includes speeches and greetings to the PNP Women's Movement.
"Thank you for being a part of my political journey especially in 1997 when I assisted in the 1997 election in Jamaica and witnessed how to get people out to vote that helped me to win my seat in 1998. Let us pass the baton on and continue to Be Bold for Change Empowering Women as you did and will continue to do."
The PNP Women's Movement is a movement of women activists who seek to further the empowerment and protection of women and children in Jamaica.
Read More About