Following the release of Oxfam's report which names Bermuda as one of the world's "worst corporate tax havens," Deputy Premier and Minister of Finance Bob Richards said the Government "notes with surprise and disappointment statements by Oxfam concerning tax and transparency in which Bermuda has been wrongly included," and added that "Oxfam has made substantial errors in its claims."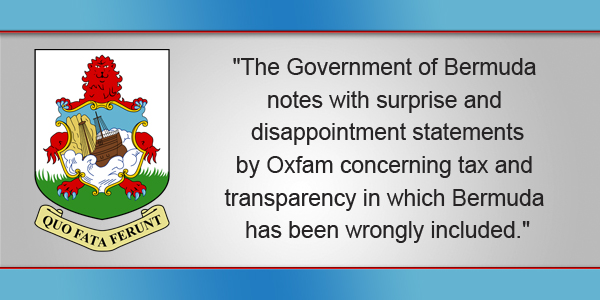 Minister Richards said, "The Government of Bermuda notes with surprise and disappointment statements by Oxfam concerning tax and transparency in which Bermuda has been wrongly included.
"Oxfam has made substantial errors in its claims, as far at least as they intend to encompass Bermuda. Specifically it refers to:
a] A ranking of jurisdictions based wholly on volume of assets, not on any recognised criteria of transparency or compliance, on which measures Bermuda always scores very well. It should be emphasised too that the right to set a corporate tax rate is recognised by the UN as a sovereign right and is considered by Bermuda to be an essential contributor to its world-leading reinsurance centre, along with political stability, regulatory excellence and geographic independence.
b] 'Anonymous shell corporations'; these simply do not exist on the island, nor elsewhere in relation to corporations registered in Bermuda where continually updated beneficial ownership information is fully available to relevant international authorities on request, which is a leading position on disclosure by all international standards. In fact, Bermuda's register has been in existence for 70 years.
c] 'Failure to cooperate with international process to combat tax avoidance…and transparency'; Bermuda is fully committed to all of the relevant OECD and other global initiatives, including on BEPs [Base Erosion and Profit Shifting], and scores extremely well on all internationally recognised tables. Until recently, it was the only Overseas Territory or Crown Dependency to have signed up to the country-by-country reporting standards. The island is barely mentioned in the Panama papers for instance, and ranks better than the UK and the US in the Tax Justice Network's Financial Secrecy Index.
"More generally, Oxfam, directly and indirectly, appears simply to have ignored Bermuda's internationally recognised role as a centre of corporate and tax transparency and compliance, a key ally in the fight against money-laundering and all criminal activities, and a committed partner in the initiatives of the OECD on tax reform under the BEPs initiative.
"We have benefitted in recent years from a flight to quality, as companies have begun to respond to global transparency initiatives.
"We have a leading role in supporting global property/catastrophe and other insurance, which directly benefits many of the 'poorest people' to which Oxfam refers, as well as providing employment in many economies beyond our shores, including the UK.
"Bermuda provides one third of global property/catastrophe reinsurance, and around 14% of the aggregate global reinsurance premium is written out of Bermuda, employing 39,000 people worldwide," the Minister concluded.
Bermuda Business Development Agency CEO Ross Webber previously said, "Unfortunately, many of the Oxfam assertions are based on flawed economics and lack of understanding."
"We consider it an inaccurate, ill-informed and disturbingly prejudiced attack on a small north-Atlantic archipelago that exerts an enormously positive impact globally — including on the very regions and populations Oxfam wrongly accuses us of threatening.
We have long been at the forefront of transparency, cooperation and compliance with the highest international standards. That is more than evident in Bermuda's numerous treaty partnerships with nations around the world and our leadership on guiding the evolution of regulatory best practices," he said.
"Oxfam's assertions may make great headlines, but they just don't reflect economic reality. Cross-border trade via multi-national enterprises is the fuel that keeps global financial systems running smoothly," Mr Webber added.
Read More About