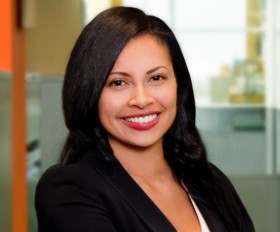 BeesMont Law announced the appointment of Gretchen Tucker as Litigation Attorney.
Practiced in all areas of general civil litigation, Ms. Tucker has a focus on contentious and non-contentious employment, immigration and human rights issues involving international commercial institutions, local businesses and professional service organisations.
"I am thrilled to join BeesMont and look forward to the opportunity to work closely with Saul Froomkin O.B.E., Q.C. and Allan Doughty," Ms. Tucker explained.
"Saul is one of Bermuda's most experienced lawyers and has a formidable knowledge of criminal law, while Allan is a leading Human Rights and Medical Law advocate, possessing an extraordinary eye for detail and invaluable insight on ethical and privacy issues.
"I further look forward to working with the members of BeesMont's experienced corporate team in their complex and varied transactional matters."
She praised the Directors of BeesMont, Sharon Beesley and Marco Montarsolo, for creating an innovative and progressive legal environment at the firm.
"Ms. Beesley and Mr. Montarsolo have balanced their commitment to the highest professional standards with a genuine dedication to corporate social responsibility," Ms. Tucker said.
"These firm-centric values are encapsulated by the sound advice provided to clients and BeesMont's service in the Bermuda and international community."
Ms. Tucker advises on claims involving employment, immigration, human rights and informational privacy law, focusing on data regulation and regulatory reform.
After completing her law degree at the University of Buckingham and receiving a Masters of Laws degree in International Commercial Law with Distinction at University of Nottingham, she was called to the Bar of England & Wales, as well as the Bermuda Bar in 2013.
An advocate for the participation of young professionals in matters of community and social importance, she has provided pro-bono representation and currently sits on the Smiths Parish Council and the Architects Registration Council.
Prior to joining BeesMont, Ms. Tucker completed her pupillage at Appleby [Bermuda] Limited and was employed as an Associate in their Dispute Resolution department for three years. She is also a Member of the Chartered Institute of Arbitrators, Associate Level [ACIArb].
According to Ms. Beesley, BeesMont Law CEO, Ms. Tucker will be a tremendous addition to the litigation team and the firm generally.
"Since joining us in January, Gretchen has consistently strived to make her mark at BeesMont. Well respected by clients and colleagues alike, she is ready to take her practice in employment, immigration, human rights and informational privacy law to the next level. We are really delighted that Gretchen decided to join BeesMont and we look forward to her continued success at our firm in the coming years."
Read More About