Marshall Diel & Myers said they have hired three attorneys and offered pupillages to two recent graduates as the firm continues to grow its business in Bermuda.
Sean Dunleavy and Tashae Trott are the firm's newest associates whilst Changez Khan has been hired as a senior associate. Shayla Hassell and Matthew Hollis-Smith have secured pupillages and will continue their legal training with the firm. Additionally, Kimonea Pitt is being recognised as a rising star in the Property and Estate Planning Team.
Marshall Diel & Myers' Managing Director Adam Richards says: "These latest hires represent the continuation of our significant growth in the past few years. Marshall Diel and Myers Limited is extremely proud to be one of the largest local firms on the island with 39 employees who are almost exclusively Bermudian.
"The latest additions continue our recent expansion with plans for further growth. All of the new additions are exceptional professionals with solid academic backgrounds and each will assist us with continuing to offer the excellent service our clients expect."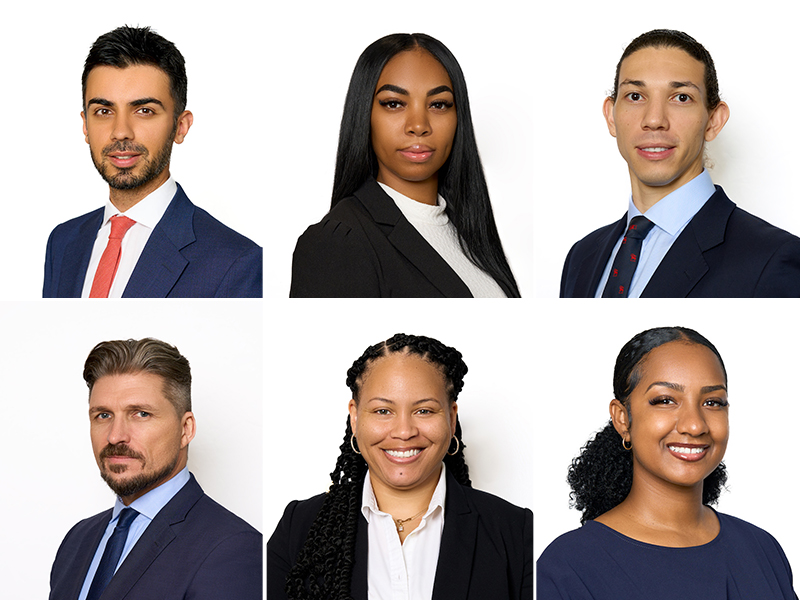 "Mr Khan joins the firm's commercial litigation team having previously been in private practice as a barrister in London for 14 years. He holds degrees in English law from King's College and French law from the Sorbonne University, Paris. His litigation experience includes representing clients in the High Court, Court of Appeal and various tribunals in England and Wales. He has a special interest in disputes involving senior executives, directors' and officers' liability, shareholder claims, non-compete covenants and the misuse of confidential information.
"Mr Dunleavy also joins the firm's Litigation & Advice team. After obtaining his Bachelor of Laws from the University of London, Mr Dunleavy completed his academic training at BPP and was called to the Bermuda Bar in 2020. Both during and after his legal studies, Mr Dunleavy has worked in a wide range of areas of Public law and Commercial litigation, from the Magistrates' Court to the Privy Council. From 2017-2023, he was integral to the same-sex marriage cases whilst also working on several cross jurisdictional commercial cases.
"Ms Trott is an Associate in the Litigation & Advice Team. She obtained a Bachelor of Science in Psychology before completing the Graduate Diploma in Law in 2020 followed by the Legal Practice Course with Distinction in 2021. Prior to joining Marshall Diel & Myers, she completed her pupillage at another firm on island, gaining experience in the corporate, litigation and private client departments before being called to the Bermuda Bar in October 2022. Ms Trott maintains a diverse and growing practice encompassing all aspects of civil and commercial litigation.
"Ms Hassell joined the firm last October as a pupil after obtaining her LLB at the University of Buckingham and Legal Practice Course at BPP University Leeds.
"Mr Hollis-Smith graduated from the University of Law after obtaining an LPC with a Master of Laws in Professional Legal Practice. He holds both a Graduate Diploma in Law from City, University of London and a Master in Science in the field of Chemistry from Queen Mary, University of London.
"Ms Kimonea Pitt is an Associate who joined the Property and Estate Planning Team in June 2020 having been called to the Bermuda Bar in 2018. She undertakes all aspects of property law including residential and commercial property transactions, landlord and tenant matters, property secured lending and various security matters affecting property in Bermuda.
"Mr Darren Donnithorne, a director in the Property and Estate Planning Team, adds "Kimonea's work ethic and determination to succeed are a real benefit to this firm, and her personable and approachable attitude is much appreciated by the clients of this firm To learn more about Marshall Diel & Myers, visit www.law.bm."
Read More About