As this month marks the second anniversary of XL Catlin, its employees around the world, including here in Bermuda, spent on Friday working with non-profit organizations in their local communities.
Thousands of XL Catlin employees participated in more than 250 Global Day of Giving projects in more than 60 locations around the world, with efforts starting in Australia and carrying on throughout the day in various countries and time zones.
XL Catlin's Robert Gillies is pictured at work at Trunk Island during the company's Global Day of Giving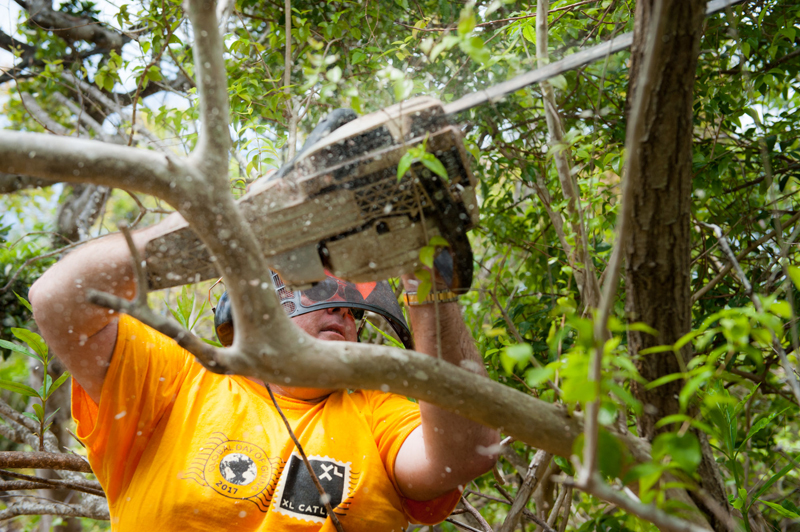 Here in Bermuda, approximately 150 XL Catlin colleagues worked on 15 projects across the island. They included:
National Museum of Bermuda: Painting cannons, gun carriages, gun rails and historic metal fittings at the Museum to protect them from the harsh elements.
Meals on Wheels: Preparing meals, delivering them to seniors in need and cleaning up the Meals on Wheels facility.
The Family Centre: Doing some gardening at the old Sunshine League building to prepare it for use by The Family Centre.
Eliza DoLittle Society: Cooking and preparing large quantities of meals for distribution to families and individuals in need
Dame Marjorie Bean Hope Academy: Power washing the playground and equipment as well as assisting with the making of teaching aids.
Impact Mentoring Academy: Using the "Amazing Race" theme some XL Catlin colleagues teamed up with students from the school who were required to use math, language, social and other educational skills to make their way through fun-filled events.
Trunk Island: Removing invasive trees and plants as well as assisting one of the Kids on the Reef classes with their studies on local corals
Keep Bermuda Beautiful ["KBB"]: Taking part in the "Clean Up for the Cup" initiative of cleaning up the island in preparation for the 35th America's Cup of which XL Catlin is the Official Insurance Partner.
AC Endeavour Program: Repainting sailboats used in the America's Cup Endeavour Program which introduces youngsters fromdiverse socioeconomic backgrounds across the island to the sport of sailing in a uniquely designed, fun and interactive educational training.
A team of volunteers from XL Catlin strip sailboats, used in the AC Endeavour program, of the old artwork and re-paint the vessels with the new branding in preparation for the America's Cup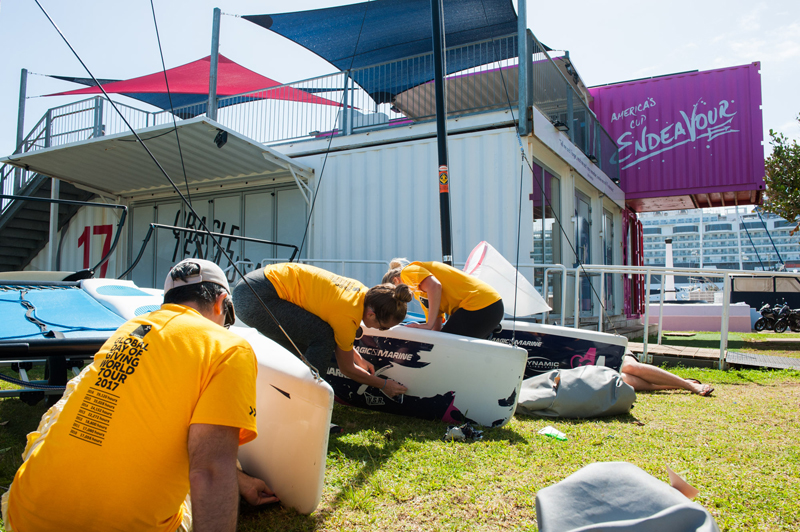 "Every year we at XL Catlin look forward to this Global Day of Giving as much as the charities involved," said Patrick Tannock who chairs XL Catlin's Bermuda-based philanthropic unit, the XL Foundation.
"In addition to being an opportunity for us to collaborate as colleagues on causes that are near and dear to our hearts, this day gives us the chance to show our appreciation and learn more about these non-profit organizations that despite being asked to do more with less are passionately working all year round to improve the communities in which we all live and work."
XL Catlin's Patrick Tannock is pictured with a student from Impact Mentoring Academy during the Global Day of Giving project at O'Hara House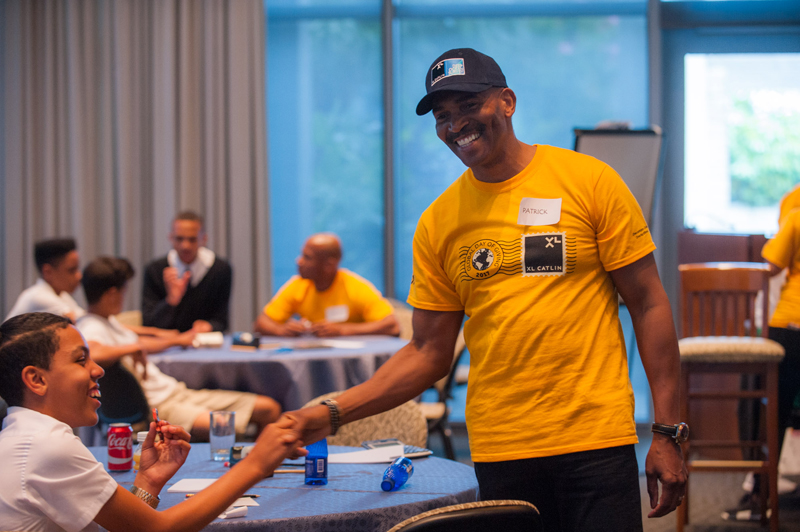 Read More About