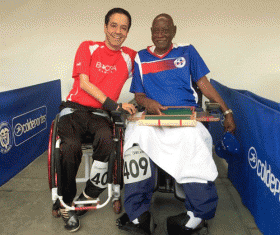 Bermuda's Boccia team of Paralympian Yushae Desilva-Andrade, Steve Wilson, Omar Hayward and Rechai Young continued taking part in the Individual Competition of the 2017 Bisfed America's Boccia Team Championship in Cali, Colombia.
Desilva Andrade went down 4 – 0 to Denisse Padilla Martin from Mexico, while Hayward defeated Anderson Ruiz from Columbia 17 – 0.
Young drew 4 – 4 with Guillermo Salamanca from Venezuela, before Wilson fell 3 – 1 to Adolfo Diosdado Soledad from Mexico.
Hayward went down 8 – 2 to José Carlos Chagas from Brazil, while Desilva Andrade went down to Benoit Ostiguy from Canada 12 – 0 and Young went down 4 – 3 to Mauro Santoro from Brazil.

Read More About