Ophelia — the 15th named storm of the 2017 Atlantic Season — has strengthened into a hurricane, becoming the 10th consecutive Atlantic named storm to reach hurricane status, matching the all-time record which last occurred over 120 years ago – in 1893.
This is according to Dr Phil Klotzbach, a storm researcher at Colorado State University, who said, "Ophelia is 10th consecutive Atlantic named storm to reach hurricane – tying the all-time record set in 1878 and equaled in 1886 & 1893."
"I am not quite sure what to make of it," Dr Klotzbach told Bloomberg. "It is a 'gee-whiz' record."
Hurricane Ophelia is "not a threat to Bermuda", the Bermuda Weather Service said, with its closest point of approach to Bermuda within 72 hrs having passed.
Graphic courtesy of the BWS: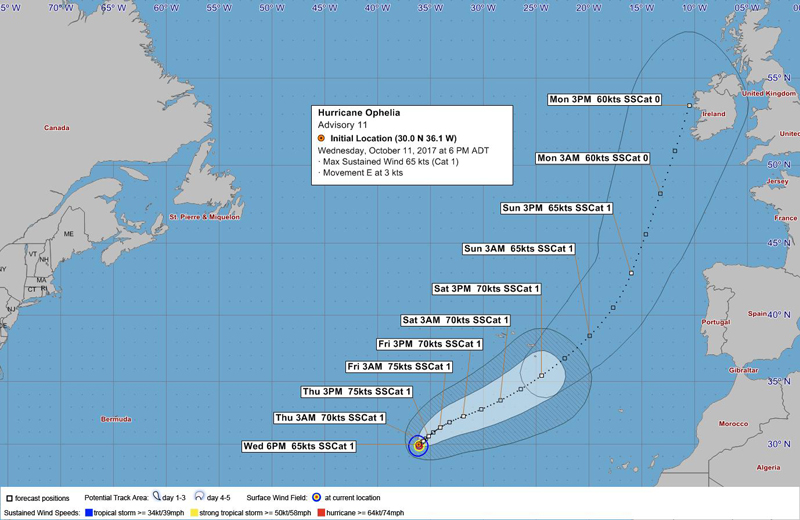 The latest forecast from the U.S. National Hurricane Center said, "at 500 PM AST, the center of Hurricane Ophelia was located near latitude 30.0 North, longitude 36.1 West. Ophelia is moving toward the east near 3 mph [6 km/h]. A slow northeast drift is expected tonight and tomorrow, followed by an acceleration toward the east-northeast or northeast.
Graphic courtesy of the NHC: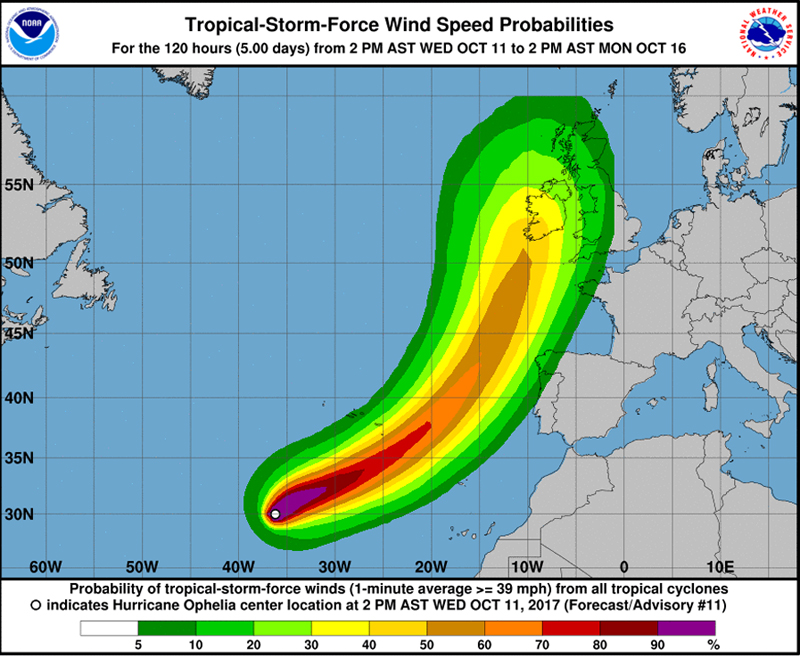 "Maximum sustained winds are near 75 mph [120 km/h] with higher gusts. Some strengthening is possible over the next 48 hours. Hurricane-force winds extend outward up to 25 miles [35 km] from the center and tropical-storm-force winds extend outward up to 70 miles [110 km]."

Read More About