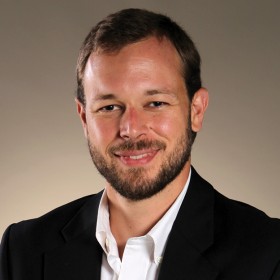 [Updated] After being elected to the position this past weekend, Nick Kempe has resigned as Chairman of the One Bermuda Alliance.
Five days ago, Mr Kempe was elected the OBA Chairman after earning 177 votes [73.4%] to defeat Simone Barton who received 65 votes [26.7%].
The OBA confirmed his resignation this evening, stating, "We confirm that Mr. Nick Kempe has, today, resigned his position as Chairman of the One Bermuda Alliance.
"We are sorry that Nick has decided to take this step, but we would like to thank him for his service and dedication, as well as his valuable contributions to the Party as an Officer and an OBA Senator.
"The One Bermuda Alliance is a diverse party and at times, with diversity, come differences of opinion, which we respect.
"We are sorry that a resolution could not be achieved, but hope that there may be opportunities for Mr. Kempe to serve the One Bermuda Alliance in the future."
Mr Kempe, who stood as a candidate for the party in the last two general elections, also served in the Senate for the OBA until yesterday, when he was replaced by Justin Mathias.
Update 6.31pm: The OBA confirm that the interim Chairperson will be Senator Nandi Outerbridge.
Senator Outerbridge, along with newly appointed Senator Mathias, were named the Party Deputy Co-Chairpersons by acclamation at the OBA conference this past weekend.
Update: In his letter sent to members, Mr Kempe said, "Unfortunately, my position as Chair has become untenable.
"After having a number of conversations with the Leader, it has become clear that my vision for the future of the OBA relative to its rebuilding is diametrically opposed to that of the Leader.
"I joined and stood for the OBA because I believed in their principles and accordingly I became a passionate advocate of those principles.
"My mandate was to bring change but recent events demonstrate to me that the Executive will not be able to function with the fundamental political and policy discordance between its Chair and Leader during this key period of rebuilding.
"To remain and attempt to drive change without the necessary support would be an exercise in futility. It is my belief that this will hamper the Party's ability to attract the necessary new talent in the immediate and long term. As such, I have decided to resign as Chair with immediate effect.
"I am grateful for the backing I received on Saturday and the support of my vision for change. I am sadly convinced that the Leadership is the embodiment of a mindset that has failed the electorate in the past. When that mindset has changed I will be more than prepared to serve the OBA again."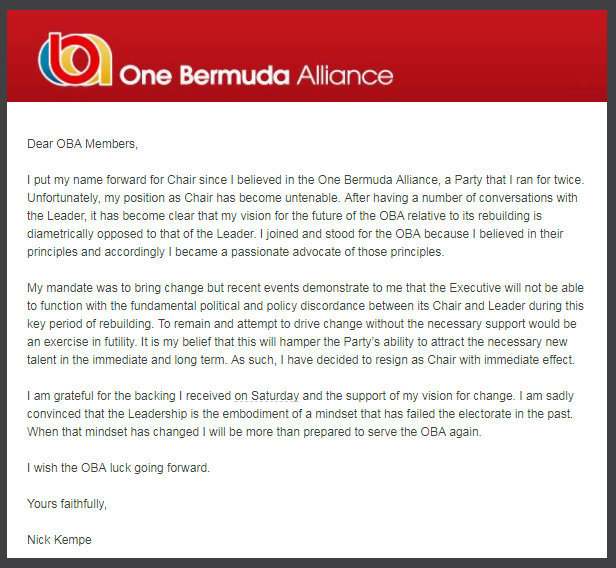 Read More About