Day 4 of racing at the 2018 Bacardi Moth World Championship Bermuda has been postponed due to light winds today [March 29].
A high-pressure system has replaced the low that buffeted the island earlier in the week. While it has brought sunshine and warm temperatures, it has also strangled the wind.
"We haven't had an average of more than 5 knots so far today and we're expecting it to continue to drop, so we've postponed today's racing," said David Campbell-James, the principal race officer.
Tomorrow is a scheduled lay day for the regatta because of the Good Friday holiday in Bermuda. Campbell-James said that the race committee would reconvene in the morning and if there is a promise of wind the fleet will take to the racecourse.
The Bacardi Moth World Championship is being run at the Royal Naval Dockyard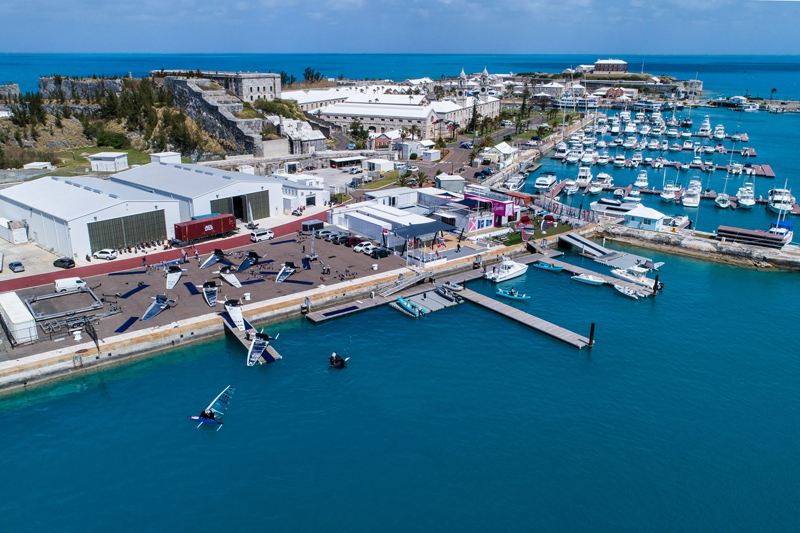 British sailor Paul Goodison, the reigning two-time world champion, leads the regatta with six points. Francesco Bruni of Italy holds second with 19 points and Rome Kirby of the U.S. is third with 23 points.
The 77th Moth World Championship is scheduled to conclude on Sunday.
Bacardi Moth World Championship Bermuda Provisional Standings [After 6 races, with one discard]
1. Paul Goodison [GBR] 1-1-[DNC-45]-1-2-1 – 6 points
2. Francesco Bruni [ITA] [13]-7-3-3-3-3 – 19
3. Rome Kirby [USA] [7]-2-6-5-5-5 – 23
4. Brad Funk [USA] 3-3-[7]-7-6-6 – 25
5. Victor Diaz de Leon [USA] 4-6-5-8-9-[10] – 32
6. Ted Hackney [AUS] 14-[15]-2-6-11-2 – 35
7. Benoit Marie [FRA] 8-4-9-10-8-[11] – 39
8. Dan Ward [GBR] 6-5-[12]-11-12-9 – 43
9. Ben Paton [GBR] [45-DNF]-24-8-9-4-7 – 52
10. Iain Jensen [AUS] 5-[45-DNC]-1-2-1-45 DNF – 54
- Photo courtesy of ©John Singleton

Read More About