OUTBermuda's Zakiya Johnson Lord recently appeared on the CNN programme 'Quest Means Business', discussing the organisation's lawsuit challenging the Domestic Partnership Act.
OUTBermuda and Maryellen Jackson filed legal action in the Bermuda Supreme Court seeking an order declaring that provisions that "have the effect of revoking same-sex marriage" are in contravention of the Bermuda Constitution, with the lawsuit marking the second legal challenge filed in relation to the matter.
"OUTBermuda and Ms. Jackson strongly oppose any measure to revoke the right to marry by the Bermuda Government and believe that the ruling originally handed down by the Supreme Court of Bermuda in May 2017 permitting same-sex marriage is good law," the Bermudian LGBTQ support organisation said earlier this week.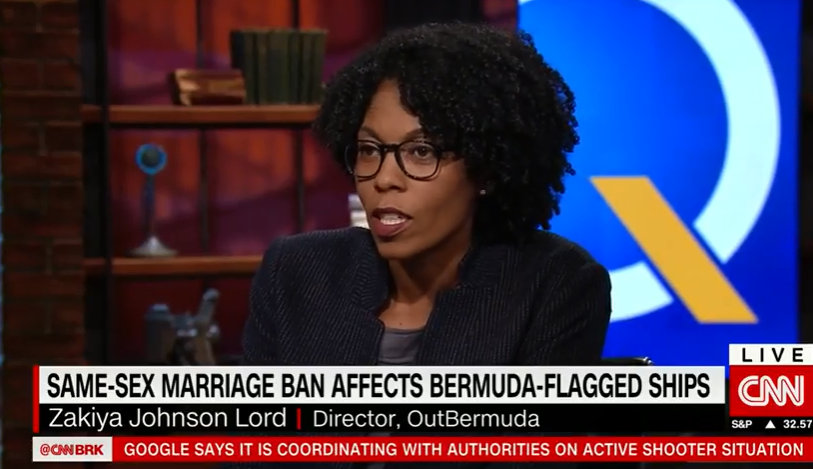 The Domestic Partnership Act will also impact cruise ships registered in Bermuda, as they must adhere to Bermuda law, and there had been some calls from campaigners overseas for ships to 'boycott' the island.
Whilst the lawsuit by a Bermuda LGBTQ charity and a Bermudian, it has the support of the Carnival, who said they are "actively supporting OUTBermuda" which includes providing "financial, civic and public relations support," with the cruise line saying they "believe it is important to stand by the LGBTQ community in Bermuda and its many allies to oppose any actions that restrict travel and tourism."
CNN's Richard Quest started the segment by saying, "Carnival cruises is joining the legal fight against Bermuda's ban on same-sex marriage. Now, Carnival's partnering with OUTBermuda to oppose the law.
"The law, changed just a few weeks ago, means two major Carnival divisions registered in Bermuda can no longer conduct same-sex marriages on their ships. Joining me now is the director of OUTBermuda, Zakiya Johnson Lord."
Mr Quest noted some have been calling for a boycott of Bermuda, which is something that OUTBermuda is not in favour of, and asked why.
"We're not in favour of a boycott," Ms. Johnson Lord replied. "It definitely doesn't support the very people we want to. LGBT Bermudians are working in hospitality. Our businesses, all these people depend on it. And we are still moving forward, so it's important to remember that.
"I think there are jurisdictions that are worthy of a boycott," she added. "Bermuda just doesn't fall into that category. What we need is backing and support. That's what we need."
"We're taking it to the courts," Ms. Johnson Lord added. "We think it's unconstitutional. To revoke same-sex marriage under the current domestic partnership, it's unconstitutional."
OUTBermuda and Maryellen Jackson are represented by Rod Attride-Stirling of ASW Law, and they are "actively preparing evidence for submission this week and an application to join their case to the Ferguson v Attorney General case so both cases can be heard together."
The Domestic Partnerships Act is set to take effect on June 1st of this year, which means same sex couples can get married in Bermuda until May 31, 2018.
"The Registry General will continue to accept applications for same sex marriages until May 12, 2018," the Government previously said.
"Any applications submitted by a same sex couple after that date must be for a domestic partnership under the new Act, not a marriage under the Marriage Act 1944 or the Maritime Marriage Act 1999."
The Originating Summons follow below [PDF here]:

Read More About