Attorneys and leaders for OUTBermuda confirmed that the "long-awaited, final stage of appeal for Bermuda's historic marriage equality decision will take place in London on December 7 and 8, 2020."
"This final judicial appeal will be heard by the Judicial Committee of the Privy Council. When the UK Supreme Court sits as the final court of appeal for British Overseas Territories and Commonwealth countries, that Court is referred to as the Privy Council. After the case is argued in December, the decision is likely to be made public in the first quarter of 2021, and no more appeals are possible," a spokesperson said.
"We've long known that our pursuit of marriage equality would be a marathon, not a sprint," said OUTBermuda director Adrian Hartnett-Beasley. "We are united to make this final push to preserve our equal rights under the law for all Bermudians and all families. We deserve no less."
"Love ultimately must win," declared OUTBermuda director Zakiya Lord. "Since our first court victory and despite every obstacle put in our path, Bermuda's loving same-sex couples have celebrated their vows under Bermuda law. It's time for all of us to have certainty, protection and equal dignity that marriage rights will ensure."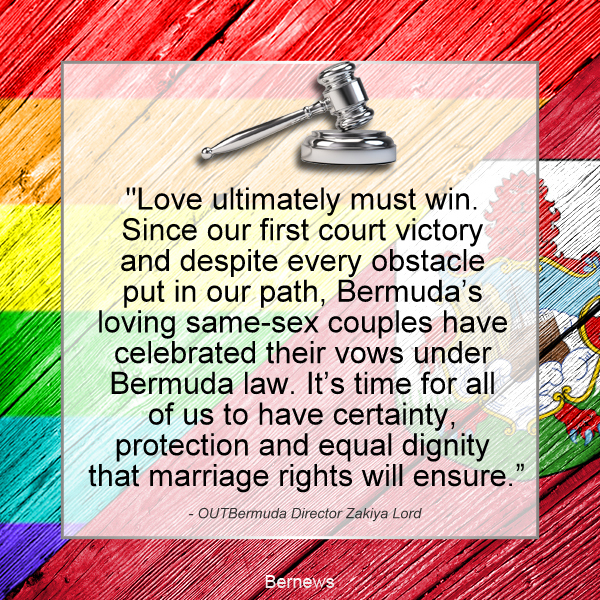 Co-plaintiff Roderick Ferguson, whose lawsuit spawned the original Supreme Court victory in this matter in 2018, said: "We always knew this road might take us all the way to the Privy Council in London.
"Over the past three years, LGBTQ Bermudians and their supporters have shown their strength and their numbers like never before. The popular support for marriage equality and for the LGBTQ community is stronger than ever and growing among Commonwealth nations. With three judicial victories behind us, we could not have more faith in the fairness of the courts and our ultimate victory."
OUTBermuda said points that are 'Important to Know' include:
"Marriage equality for Bermuda's same-sex couples has been legal since the May 2017 decision in Godwin and DeRoche. Since then, it has been upheld by Bermuda's Supreme Court on 17 May 2019 and the Court of Appeal's decision on 23 November 2019.
"Since May 2017, Bermuda same-sex couples have had their marriages celebrated and recognized in Bermuda and around the world. There is no precise estimate of their number however.
"The ongoing legal battle and final hearing on December 7 and 8 in the Privy Council, however, is necessary to retain this basic human right and make it permanent and lasting for all Bermuda citizens.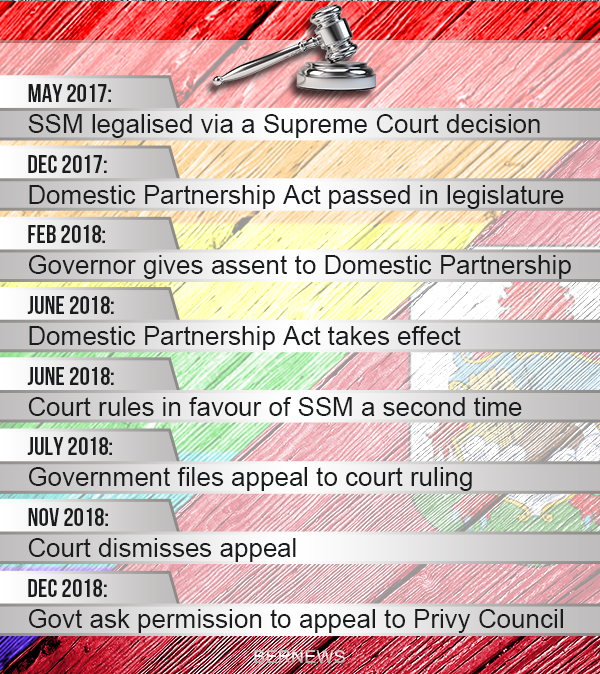 "OUTBermuda and fellow Bermudian plaintiffs Roderick Ferguson, Maryellen Jackson, Dr Gordon Campbell, the Parlour Tabernacle of the Vision Church of Bermuda and Sylvia Hayward, are delighted to announce that Lord David Pannick, Queen's Counsel, has agreed to represent them in their case in the Privy Council. Lord Pannick is considered the pre-eminent human rights and constitutional advocate in the United Kingdom, with extensive global experience. See here.
"OUTBermuda as well as Rod Ferguson and the other successful plaintiffs are seeking to enforce the Court of Appeal's Order against the Government for legal costs incurred. Once the plaintiffs succeed in December at the Privy Council, it is estimated that the Bermuda Government will incur more than $3 million in covering their own legal expenses as well as the successful plaintiffs [including OUTBermuda].
"Human rights advocates and leaders across the British Commonwealth of nations are watching these developments closely. Some legal experts believe these decisions will set favourable legal precedent on the marriage rights for same-sex couples in many other jurisdictions within the Commonwealth."

Read More About