The hearing about Bermuda's marriage laws at the Privy Council in London was held over eight months ago — in February 2021 — and the island continues to await the Court's decision.
The Privy Council is the highest court of appeal for Bermuda and this appeal marks the final step in what has been a protracted legal matter, spanning back more than four years.
Same sex marriage was initially legalised following a Court decision in May 2017, the Court ruled in favour of it again in June 2018 when a challenge was brought to the Domestic Partnership Act, in November 2018 the Court of Appeal dismissed the Government's appeal, and the Government subsequently appealed to the Privy Council.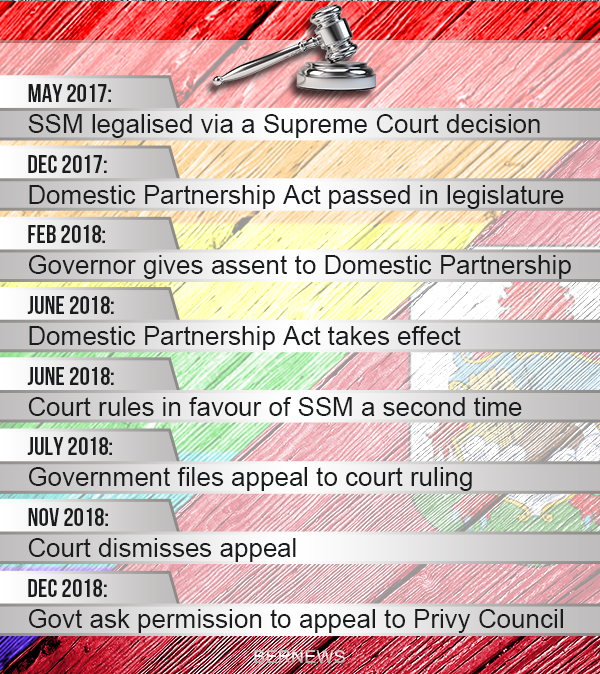 We asked OUTBermuda for an update and a spokesperson told Bernews, "OutBermuda and all parties to the case of Attorney General of Bermuda v. Ferguson [and others], still await the final verdict in this matter.
"The final hearing was held in London on February 3 and 4, 2021 in the Privy Council, and we do not yet have any indications when the verdict will be made public. This is the final stage for judicial determination of Bermuda's status extending marriage equality to same-sex couples."
The spokesperson added, "Bermuda Timeline on Same-Sex Marriage:
"Bermuda awaits the final review and decision by the Judicial Committee of the Privy Council [JCPC]. This final hearing was held on February 3 and 4, 2021 in the Privy Council. The Judicial Committee of the Privy Council [JCPC] is the highest court of appeal for certain British territories, some Commonwealth countries and a few UK bodies. The Judicial Committee consists of senior judges who are Privy Councillors: they are predominantly Justices of the Supreme Court of the United Kingdom and senior judges from the Commonwealth. This judicial body is often referred to as the Privy Council.
"Marriage equality for Bermuda's same-sex couples has been legal since the May 2017 decision in Godwin and DeRoche. Since then, the Bermuda Government sought to remove that right through the Domestic Partnership Act 2018, however both the Supreme Court [6 June 2018] and the Court of Appeal [23 November 2018] found this action to be unconstitutional and marriage equality has been upheld.
"Since May 2017, therefore, Bermuda same-sex couples have had their marriages celebrated and recognized in Bermuda and around the world. There is no precise estimate of their number however."

Read More About