Bermuda began hosting the Caribbean Union of Teachers [CUT] 17th Biennial Student Athletic Championships at the National Sports Center, which are being hosted on the island as part of the 100th anniversary celebrations of the Bermuda Union of Teachers.
Sports Minister Michael Weeks welcomed the teams saying, "I am looking forward to the competition, thank you to the BUT for bringing these Games here."
Bermuda's team during the opening ceremony: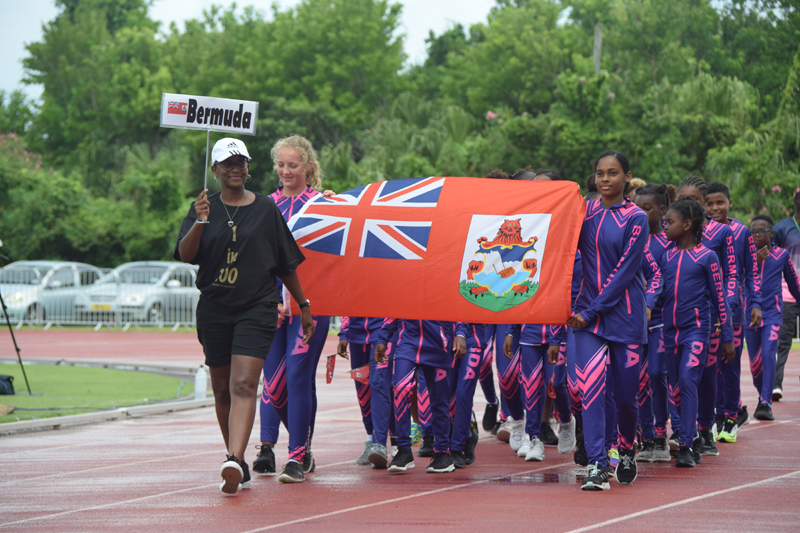 The meet was slightly held up as Trishanie Warner from St. Kitts arrived at the stadium from the airport, and after a few minutes of stretching Warner would run to victory clocking a time of 59.02 in the Under 15 Girls 400m. Bermuda's Sanaa Ra Morris was second in 59.82 and Layla Haynes finished third with a time of 1:00.75.
Bermuda's Kesay Bell won the Under 15 Girls Shot Put 3kg with a top toss of 9.39m, Ya'Neli Dawkins from Cayman Islands was second with a toss of 9.03m and Oricia Williams from Antigua was third in 7.62m.
The Under 15 Boys 100m was won by Bermuda's Chayse Tanner who stopped the clock in a time of 11.57, Jamarco Gill from Barbados was second in 11.74 and Ajani Daley from Antigua was third in 12.00.
Bermuda's Sancho Smith won the Under 15 Boys 400 Meter Dash clocking 52.37, Rafique Morson from St. Kitts was second in 53.80 and Kobe Hutson from Barbados was third in a time of 53.81.
The CUT Student Athletic Championships Day 1 Results follows below [PDF here]:

Read More About