[Opinion column written by Jessica Riederer]
This Saturday, my aunt Carol Mullan and I visited a few West End beaches to clean up the trash that was washing in. There was a lot of it. On the way home, I was telling my aunt that I had visited the public dock at Ely's Harbour a few weeks ago and had been horrified by the amount of rubbish that was piled there.
Both huge metal waste bins were overflowing and around them were huge piles of bags. We swung by to take a look. What a mess. The bins had been emptied and the bags collected, but look at the mess left behind. Debris stretched all the way out to main road below Fort Scaur.
Carol suggested we return the next day [Oct 14] to clean up the area. I spend a lot of time cleaning rubbish off of Bermuda's beautiful beaches, but admittedly, I would never have taken on this task had she not suggested it.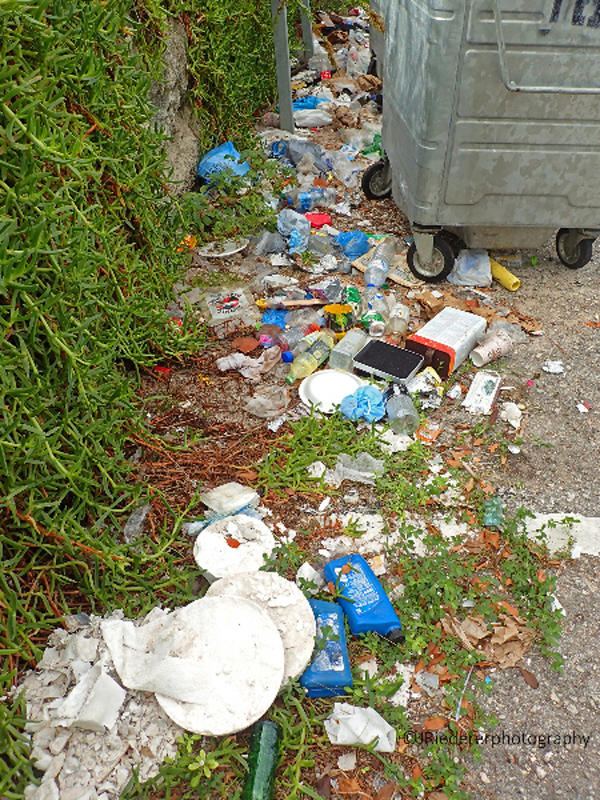 These images show the area before and after we cleaned up the mess. How long did it take two ladies with gloves, a shovel and a rake? Ten minutes. Just ten minutes to leave an area much better off than the way we found it.
As I was cleaning up the disgusting mess and screaming every time a cockroach emerged and scuttled about, many thoughts flashed through my mind. I am not an expert in trash removal, but clearly, for a public area to end up looking like this, there is a problem. What are your thoughts? Here are some of mine.
These bins were not emptied for a very long time. I do not know the length of time, but the accumulated trash would indicate it had been many weeks. Ely's Harbour is one of Bermuda's most beautiful bays. Every day, islanders use the public dock.
Every day fishermen and other boaters walk by the piles of trash, and I guess maybe it doesn't bother them, or maybe it does bother them but they don't do anything about it. Maybe someone, or lots of people have tried to do something about it.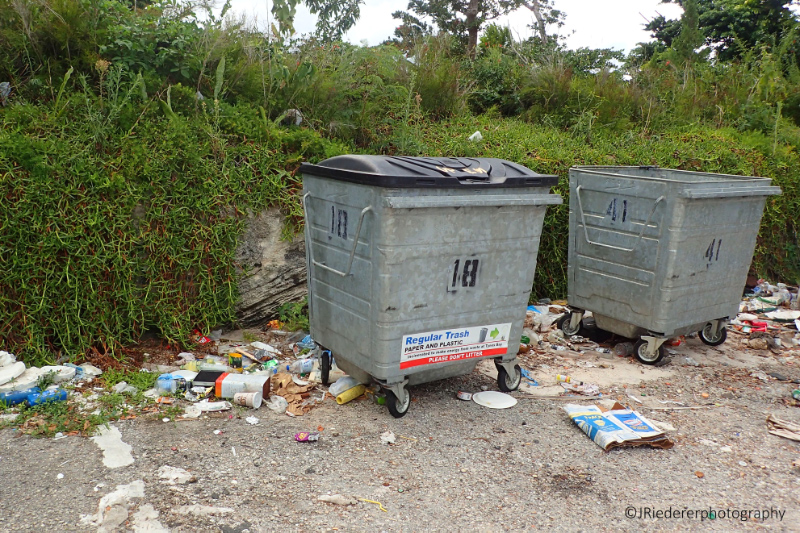 Whatever people thought, they continued to add trash to the area. Eventually there was so much trash that people just started dumping stuff there.
Soda cans, batteries, cans of paint, metal, old tools, plastic bottles, foam containers, beer bottles, fishing line, fishing poles, bait bags and piles more of pretty vile stuff was just continually added. Does this seem like an intelligent thing to do? If you keep adding trash to an area that is overflowing with trash, you are just adding to the problem.
I hate to have to repeatedly use the word 'problem,' but the problem with trash disposal is that many people seem to think it is not their problem. Put the trash out in bags, or even not in bags, and someone will deal with it. I would say that this is way of thinking is a big problem.
Yes, people are employed to collect our trash, but they are not employed to clean up the mess left around the bins. Should they be? Regardless of what we think, it is our responsibility to ensure that our trash is properly disposed of in a way that garbage collection is as straight forward as possible for those collecting it.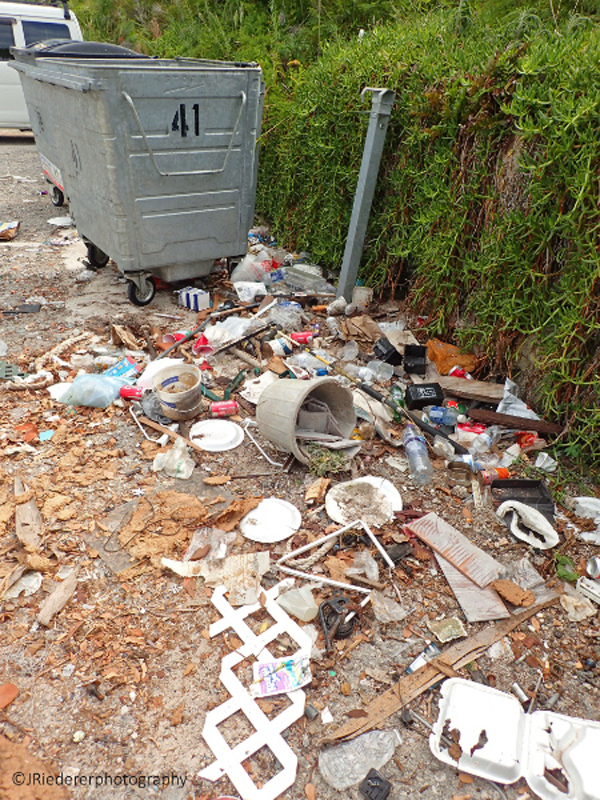 I am not sure who is responsible for collecting the trash at Ely's Harbour, but I do know that the accumulation of trash at docks and ferry terminals has become an island wide problem. I have heard so many times that our Government does not have the funds to employ people to regularly [or even occasionally] keep these areas clean.
How can this not be a priority? How can keeping our public docks and ferry terminals clean and tidy, not be a priority? We just had a world class sailing event here. How is this world class?
Here is another way of thinking. How about not depending on others to solve our trash problems? How about taking pride in ourselves and our island and especially in places that we regularly visit. How about keeping these places clean by not leaving our trash there and by picking up and properly disposing of trash we find before it accumulates? We have a dump in Bermuda. Everyone must know this right?
I visit the dump every week with all of the trash I regularly collect from beaches – and my trash as well. Do we really need to dump our trash in public spaces when we have a dump that is so easily accessible to us [and even open on Saturdays]?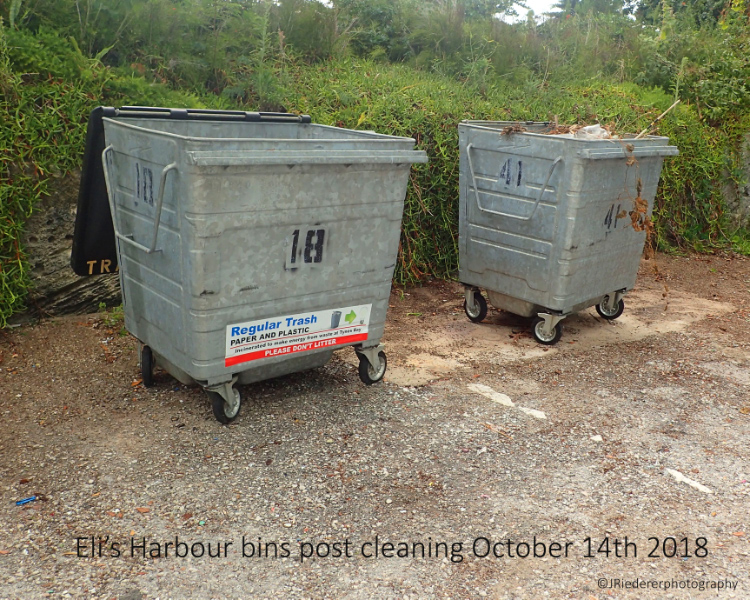 Did you know that more than half of our world's population does not have the 'luxury' of regular trash collection? Many Islanders were outraged when our trash collection days were reduced. You would think this would provide us with the motivation to watch what we are purchasing and try to reduce the amount of waste, especially plastic, that we are creating. Instead, the dumping in public places seems to have increased.
I run the Southampton railway tracks a lot. I have noticed more and more dumping in the foliage bordering the tracks. I pulled a microwave out of the bushes the other day. It seems that if someone throws a can or bottle into the bushes, others see that can or bottle and then assume they can throw their trash there as well. Does this seem like sensible behavior?
Illegal dumping is occurring all over our island. I see it in our parks, our docks, ferry terminals and even piled under signs that say 'Please do Not Dump here.' All over our world, our mounting waste problem is one of the biggest issues facing our planet today.
We need to stop assuming the waste problem is someone else's problem and do what we can to reduce the amount of waste we are producing. We need to start [or continue] to make smart choices when it comes to purchasing.
We need to reduce the amount of single use plastic we are bringing into our lives. We need to keep our public areas tidy, not just for our benefit but for our visitors as well. Bermuda is supposed to be one of the most beautiful islands on our planet. If we continue with our wasteful practices it will not be for long.
A huge shout out to everyone who does what they can to keep Bermuda beautiful.
- Jessica Riederer

20 Most Recent Opinion Columns

Opinion columns reflect the views of the writer, and not those of Bernews Ltd. To submit an Opinion Column/Letter to the Editor, please email info@bernews.com. Bernews welcomes submissions, and while there are no length restrictions, all columns must be signed by the writer's real name.
-

Read More About
Category: All, Environment, News