[Written by OBA Senate Leader Nick Kempe]
When the One Bermuda Alliance was elected to be the Government in 2012, Bermuda was staring into the abyss of financial ruin. Our national debt was spiraling, jobs were disappearing and without swift and focused intervention the only economic direction was down.
Six years later, it feels that once again, the economy is teetering on the edge. One slip and Bermuda could once again enter into a recession.
The business community does not require GDP reports to know what direction the economy is moving and it's telling that business confidence has fallen dramatically – to the lowest levels since the Bermuda Business Confidence Index was started in 2014. It has actually plunged by almost 20 points in just 12 months.
This is what the report says: "The majority of businesses [six in ten] are pessimistic about Bermuda's economy, with almost half saying it is not moving at all, and more than one in ten saying it is moving in a negative direction. Fewer than four in ten – half the number from two years ago – say it is moving in a positive direction." I'll repeat this: 'half the number from two years ago'.
Another part of the report says: "Four in ten businesses say the economy is in worse shape today than a year ago. Another four in ten say the economy is the same, while only two in ten consider it in better shape – a considerable drop from 2016, when three-quarters said the economy was better than 12 months previously." In 2016, we had a different government.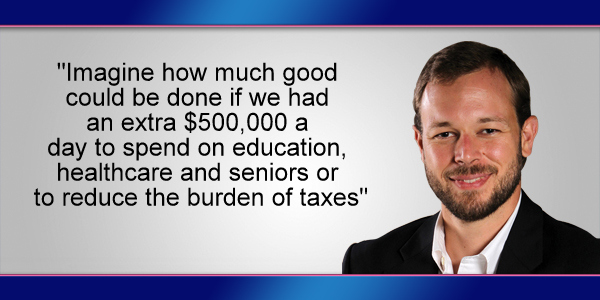 Along with business confidence, the volume of retail sales in June also fell, almost back to pre-2015 levels. Employment income has fallen by more than $15m, despite a rise of more than $7 million in civil service income, and at the same time the cost of living for Bermudian consumers will be driven ever higher by new taxes like the Sugar Tax and the commercial land tax.
Our cost of living – despite Government promises to the contrary – shows no sign of coming down, nor does the cost of health care, another broken PLP promise.
Despite all this, the Premier seemingly does not have the time or interest to proactively reach out to the business community. A dismissive "my door is open" is all that is offered. Perhaps the Premier should hand over the reins to someone who can focus exclusively on this critical Ministry while he travels the world chasing the Fintech dragon.
This PLP Government has broken its election platform promise to balance the budget by 2019 having budgeted for a deficit again this fiscal year. Time will tell if even the budgeted target of a modest deficit reduction will be achieved given the increase in Government spending and the retail sales slump.
Meanwhile our national debt continues to rise and the repayment costs are currently our second largest 'Ministry'. Bermuda is now paying over $500,000 a day to service its debt. Yes, you read that right: half a million dollars every day is sucked out of our economy to pay back mostly foreign creditors.
Imagine how much good could be done if we had an extra $500,000 a day to spend on education, healthcare and seniors or to reduce the burden of taxes. Despite this daily financial hole we have to fill, despite seniors suffering and charities shuttering, this Government diverts taxpayer money to fund attacks on LGBTQ rights and to subsidise politically connected private businesses. Talk about priorities.
I am sure that nobody is surprised that no gold bullion has arrived either. All the jobs and investment promised during a succession of Memorandum of Understanding announcements rolled out in a blaze of publicity have come to nothing. It appears there has also been no investment in training programmes that Bermudians were promised. Fool's gold, perhaps…
I also have concerns that all the new taxes added in the last year to our already high cost of living will drive the touted compliance jobs in this globally-fluid, digital industry to other jurisdictions and we will simply get some crumbs in the form of company registration fees.
It is also ironic that Burt's Billionaires are somehow more palatable than the billionaires behind the America's Cup given the racial undertones behind the political criticism of the Cup when the PLP was in Opposition.
Depressing, isn't it? I find it depressing and even more so because of the opportunities and inherited economic momentum this Government had – which it has, for its own selfish reasons, decided to ignore.
While the Premier is pursuing a one-track policy on business development and job creation – and don't misunderstand me, I and the OBA support any initiative that will help bring new jobs, opportunities and wealth to this Island – other job creating opportunities have been lost.
Remember the promise to create an Events Authority to replace the ACBDA? Remember the Bermuda Tourism Authority's plea to bring in super yacht legislation to encourage more superyachts to come to Bermuda? Remember who the Minister of Tourism and Economic Development is? I can't.
Because they used it as a tool to bash the OBA, the PLP simply cannot bring themselves to build on the impetus of an event that injected $350 million into the economy. They have let slip a golden opportunity to create jobs over the last 18 months.
What else has failed to materialize? Gaming. Do I have to say more? No regulations and not one chip cashed, not one dice rolled. No jackpots have been won, unless you happen to run a certain health clinic, that is.
Zero construction projects have been announced. Fortunately, however, some of the ones started under the OBA are still on-going, providing much need jobs. Others that have been completed, such as the Loren which is also providing jobs as well as more beds for visitors.
Speaking of jobs, figures released earlier this year showed that the number of Bermudians in the workforce increased under the last year of the OBA Government after 11 years of a shrinking Bermudian presence in the workforce. Remember, the PLP was in power from 1998 to 2012. It has been in power for 15 of the last 20 years – what we are seeing now is a direct result of their poor economic policies.
Dismissive attitude towards the business community's concerns, lost job creation opportunities related to America's Cup legacy and diversion of taxpayer money to political insiders all typifies this Government's arrogant approach to our economy. Bermuda deserves better.
- Nick Kempe

20 Most Recent Opinion Columns

Opinion columns reflect the views of the writer, and not those of Bernews Ltd. To submit an Opinion Column/Letter to the Editor, please email info@bernews.com. Bernews welcomes submissions, and while there are no length restrictions, all columns must be signed by the writer's real name.
-
Read More About