[Opinion column written by Shadow Minister of Education Cole Simons]
There is a continuous debate over education – and rightly so as it is one of the biggest single issues facing Bermuda today.
But improving our education system should begin and end with the quality of teaching and consistent and ongoing efforts to improve that quality.
Our education system should prepare our students to be productive, well rounded global citizens which can be done by teaching and demonstrating what it means to be lifelong learners who are critical thinkers and good citizens, equipped for the 21st century economies and supporting industries.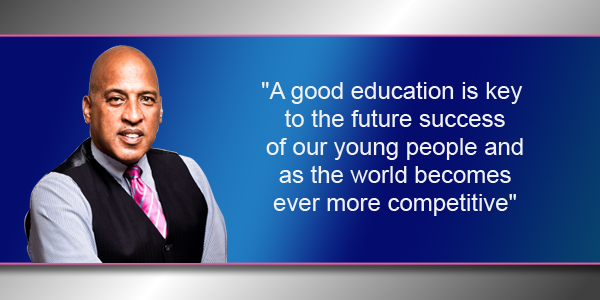 When learning new concepts and skills, children must have the opportunity to work with different tools – tools which will encourage student creativity – while working on new material which will help them grasp new concepts and ideas that will help them gain a deeper understanding of the subjects being studied. Children learn through the hands-on method, and there is a real place in our classrooms for project-based learning.
In light of the above, I believe that it is important for teachers to make the classroom subject matter relevant to the lives of our students. Only then will they become more curious for further academic exploration.
It is the Principal's responsibility to ensure that teachers are given the time to plan and that they are provided with the materials to deliver positive learning experiences and outcomes. Teachers must then demonstrate the need for continuous learning and continuous improvement in students' skills.
Teachers are at the core of our children's educational experiences. The quality of our teachers forms the cornerstone to our students' academic success. In order to achieve academic success teachers should be adaptable and flexible. They also need to have an excellent relationship with students, the community the school serves and the parents.
There needs to be an aggressive recruitment campaign to attract suitably qualified professionals. This can involve participating in job fairs, advertising in educational and teachers journals, getting involved with recruiters from leading universities as well as using social media outlets such as LinkedIn and Facebook. We could also have a more robust intern programme.
On a more sensitive matter, the leadership of the Ministry should do more to mitigate the impact of missed instructional time. This include time lost from walk outs and any work to rule.
We have had walk outs at TN Tatem, Dellwood, Harrrington School and Somerset Primary because of mold, and the state of the school campuses. We have had water challenges which led to the closure of Prospect Primary, Dame Marjorie Bean, Dellwood and Prospect Preschool.
In conjunction with the Bermuda Union Teachers, these matters should be seriously examined and resolved.
More should also be done to create a vision and culture for each school which should be led by the principal. The ability of principals to cultivate this type of culture should be at the heart of our vision for Bermuda's principals, and should form a crucial part of the principal's evaluation process.
The Department of Education should also establish a robust parent complaints management system which could provide opportunities for improvements – which, in turn, will impact the delivery of education in Bermuda.
Lastly, succession planning. The 2016/17 succession planning framework should be concluded and brought to life. This is crucial in that it will provide a strategy which will ensure the development of pools of qualified professionals will be available to fill key and critical roles in our education system as they arise.
The programme will help identify talent gaps and can be used as a means of identifying training and development needs. It will eliminate the current staff shortage challenges that we have with our mathematics and science teachers. It will also help to ensure that the right people are at the right place at the right time.
We need, also, to provide support for family and community engagement and we should consider establishing a subsidised parent academy, which will be open all year, to help our parents become full partners in our children's education.
This academy could create an infrastructure which will help align the services provided by the community and increase the number of partnerships with community based organizations, in order to create opportunities for parents to utilize community resources.
The centre could provide parent workshops, computer literacy courses, and child care applications, along with continuing education and career counseling services.
As we know, a good education is key to the future success of our young people and as the world becomes ever more competitive. The issues outlined here, while not a solution in themselves, could go some way to improving the overall culture of our education system and thus aid future success.

20 Most Recent Opinion Columns

Opinion columns reflect the views of the writer, and not those of Bernews Ltd. To submit an Opinion Column/Letter to the Editor, please email info@bernews.com. Bernews welcomes submissions, and while there are no length restrictions, all columns must be signed by the writer's real name.
-


Read More About