[Updating] Bermuda's Court of Appeal handed down their ruling this morning [Nov 23], with loud applause and cheers heard in the room as the ruling was read out, with the Court dismissing the Government's appeal.
In effect, this means the Court has upheld the previous ruling which allowed for same sex marriage.
Same sex marriage was initially legalised in Bermuda following a Supreme Court decision in May 2017, however the Domestic Partnership Act  passed in Bermuda's legislature later that year, which created domestic partnerships and restricted marriage as between a man and woman.
A challenge to the Domestic Partnership Act was brought and the Court ruled in favour of it on June 6, 2018, with the judgement saying that the provisions of the Domestic Partnership Act that serve to revoke same sex marriage rights are invalid.
The court granted a six week stay to allow time for appeal, and the Government appealed the ruling, being represented by QC James Guthrie, with that appeal dismissed this morning.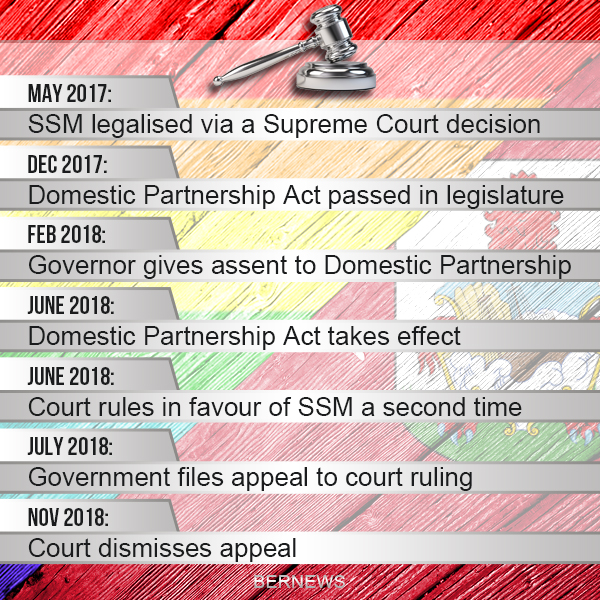 That was the second court ruling in favour of same sex marriage, meaning same sex marriage has been legal in Bermuda, then restricted, then had a court ruling to make it legal again, with that second court ruling appealed, and the court then affirming the second ruling.
OUTBermuda said, "Bermuda's Court of Appeal today affirmed the equal right of same-sex couples to marry, effectively concurring with the Bermuda Supreme Court decision reached on June 6.
Successful Appeals Court Applicants, Maryellen Jackson and Roderick Ferguson said, in a joint statement: "Speaking for ourselves and on behalf of gay and lesbian Bermudians, we are grateful for the Court's decision, and its recognition of the significance of marriage in supporting and protecting our families.
"Equality under the law is every Bermudian's birthright. Bermuda's LGBTQ community is strong and proud. When our voices join together, we will be heard, and we will continue to make progress."
OUTBermuda spokesperson Zakiya Johnson Lord said, "Today's ruling makes history for Bermuda and our nation's dedication to equality and fairness for all citizens, including our LGBTQ families.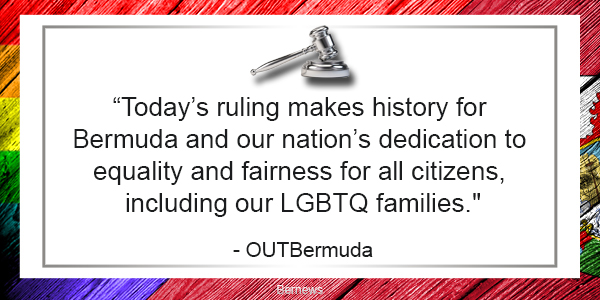 "We believe there is nothing more fundamental than the right to marry the one we love. Ms Jackson and Mr Ferguson are Bermudians who personally took a brave public stand to fight for the right to marry for all gay and lesbian Bermudians and we are proud to work with them and the countless others who have made today a reality."
The court proceedings are actually still ongoing at this time, arguments are being heard over a possible 21 day stay, and we will have additional coverage as able.
Update 10.58am: The Court has just ruled against the Government's request for a 21-day stay of the decision while they decide whether or not to appeal to the Privy Council. There was another loud cheer and round of applause.
Having been through the Supreme Court and Appeals Court, the final possible place of appeal is now the Privy Council in England, and at this time it remains unclear if the Government will launch that final appeal.
Update: The live broadcast has concluded and the 4-minute replay is below
Update 11.32am: Photos of supporters and those involved in the case outside, among those shown are Winston Godwin-Deroche, who brought the first legal challenge last year, and Maryellen Jackson, who was one of those who brought the challenge this year.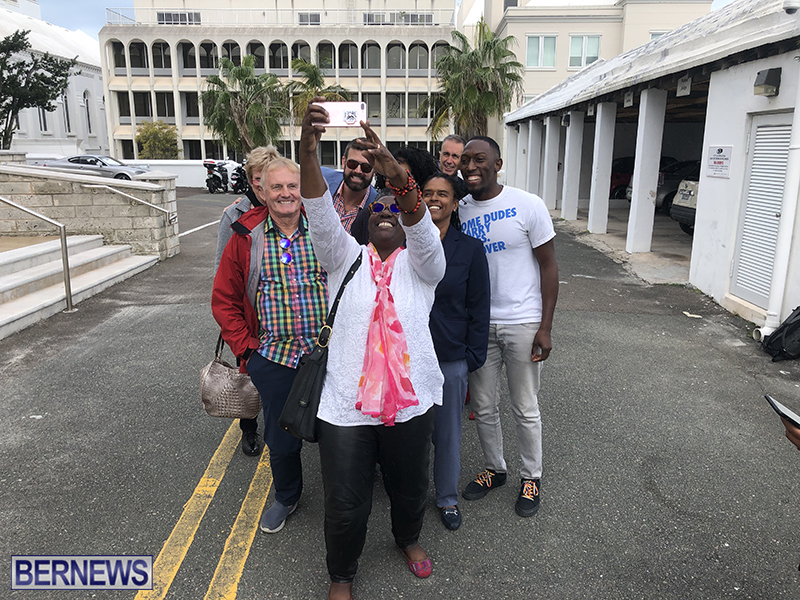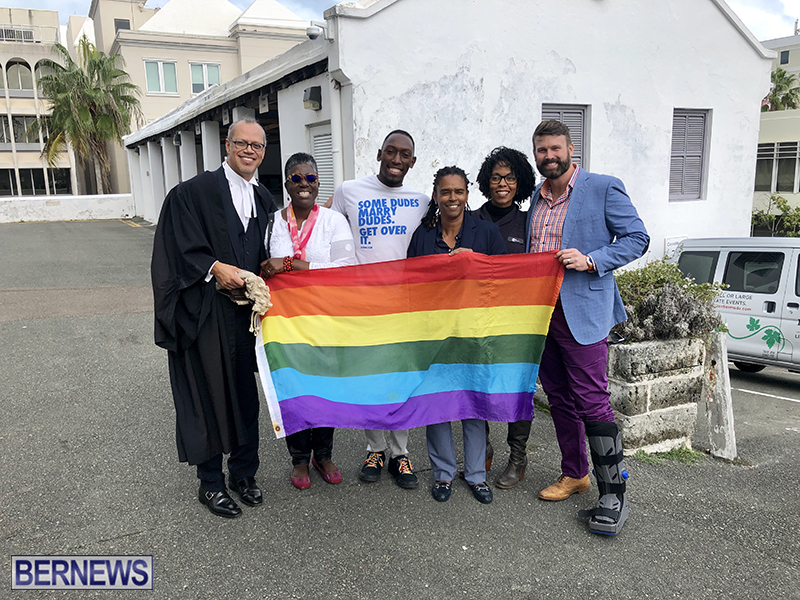 Update 11.39am: Maryellen Jackson told Bernews, "It's been a long haul and it's been worth it to be able to represent all Bermudians in such an amazing case. I feel honoured."
"I think it's amazing, especially when you consider the amount of money that was put out to have a QC come in fight against something that was not even worth it.
When asked about the possibility that Government might continue the appeal process, she said, "Stop it. It's time for this foolishness to just stop and allow Bermudians – all Bermudians, the LGBT community – to feel like they are part of a community that gladly accepts them."
Update 1.55pm: Recalling the court ruling earlier this year allowed same sex marriage, however the Government were granted a stay while they appealed. They lost the appeal today, and the court rejected their request for a stay. So we checked with lawyer Mark Pettingill if this means same sex couples can get married now, and he confirmed that – yes, same sex couples can now marry again.
Update 2.48pm: Attorney General Kathy-Lynn Simmons said, "The judgment of the Court is being considered and the Government will determine its next steps within the prescribed period of 21 days in which any application for leave to appeal must be made."
Minister of Home Affairs Walter Roban added: "In preparing the Domestic Partnership Act, the Government invited and took into account a wide range of views, including submissions from OUTBermuda.
"The Government enacted the DPA to achieve a balance between passionately held different beliefs within Bermuda and to provide a comprehensive legal framework to accommodate such beliefs. Bermuda is the first English speaking country in the Region to do so.
"As the Court of Appeal observed, this case was not about the differing views on same sex marriage but about a law, properly passed in the Legislature and whether it offends the Constitution.
"In considering whether to appeal this case, we must weigh the significant implications for the expectation of Bermudians that laws passed by their elected representatives and that reflect their democratically expressed views will be upheld.
"There are important issues at stake in this case and this Government will fully consider the legal position and the fundamental Constitutional issues in coming to a decision on next steps."
The full judgement follows below [PDF here]:

Read More About