[Updating | Summary]
Court ruled in favour of same sex marriage, said aspects of the Domestic Partnership Act that revoked same sex marriage rights are invalid.
Court ordered a 6 week stay, so the ruling will not take effect immediately
Following the ruling, the Minister of Home Affairs said the "Government will be appealing subject to any legal advice that we receive. As a result we are pleased that the Chief Justice has stayed the decision until an appeal can be submitted."

The judgment is expected to be handed down in the legal case challenging the same sex marriage laws today [June 6], with the legal action seeking to declare the provisions in the Domestic Partnership Act that have the effect of revoking same sex marriage as invalid.
Same sex marriage was initially legalised in Bermuda following a Supreme Court decision in May 2017, with Greg DeRoche and Winston Godwin successfully challenging the law, with the court ruling in their favour, saying that "common law discriminates against same-sex couples by excluding them from marriage."
The court ruling paved the way for same sex couples to get married, however did not automatically extend all the same legal benefits opposite sex couples receive. The Domestic Partnership Act then passed in Bermuda's legislature last year which created domestic partnerships with benefits, however the law also restricted marriage as being between a man and woman, in effect 'overturning' the court ruling, and the DPA took effect on June 1st.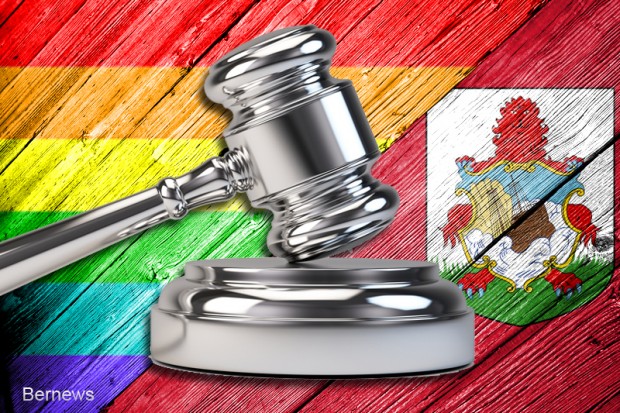 Earlier this year, lawyer Mark Pettingill — who represented Greg DeRoche and Winston Godwin in 2017 — filed a motion on behalf of a client challenging the constitutional aspects of the Domestic Partnership Act. Mr Pettingill told Bernews that Roderick Ferguson, a Bermudian man living in the United States, filed the lawsuit because "the right to have a same-sex marriage has been taken away."
Following that, OUTBermuda and Maryellen Jackson also filed legal action in the Bermuda Supreme Court seeking an order declaring that provisions that "have the effect of revoking same-sex marriage" are in contravention of the Bermuda Constitution, and the two cases were heard together.
The judgment is expected to be announced today and we will update as able.
Update 11.07am: We are in court now, as are many other people, with many supporters present.
Update 11.21am: The Court has ruled in favour of the case, with the Chief Justice ruling that the applicants can be granted the declaration they sought that the aspects of the Domestic Partnership Act that revoked same sex marriage rights that were recognized in Goodwin DeRoche case are invalid.
Update 11.31am: OUTBermuda tweeted, "#LoveWinsAgain for @OUTBermuda and all Bermudians. Thank you to Maryellen Jackson and @RodFerguson for joining us in our firm belief that all Bermuda residents deserve the #FreedomToMarry."
Update 11.32am: The matter is still being heard, and there has been discussion of costs and about whether to allow time for any appeal. The actual judgment is quite long, and we are trying to access a digital copy of it, and will continue to update as able.
Update 11.37am: A statement from OUTBermuda — one of the applicants in the case — said, "Today, the Supreme Court of Bermuda agreed to overturn the nation's same-sex marriage ban and decided in favor of OUTBermuda and its co-litigants.
"Speaking for the successful Applicants, Zakiya Johnson Lord and Adrian Hartnett-Beasley of OUTBermuda said, "Love wins again! Our hearts and hopes are full, thanks to this historic decision by our Supreme Court and its recognition that all Bermuda families matter. Equality under the law is our birthright, and we begin by making every marriage equal."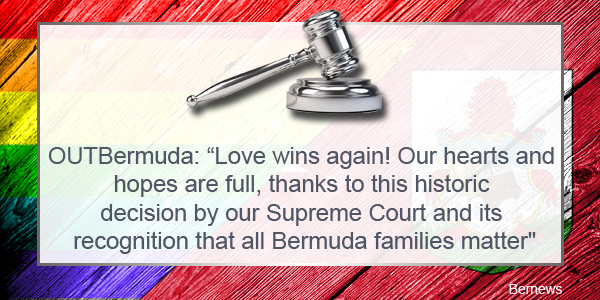 "Johnson Lord and Hartnett-Beasley are Directors of OUTBermuda, one of the successful litigants in joint lawsuits brought by Roderick Ferguson and Maryellen Jackson with an aim to revoke sections of the recently enacted Domestic Partnership Act that removed marriage rights for same-sex couples. They were joined in their statement by Sylvia Hayward Harris and Dr. Gordon Campbell.
Ferguson and Jackson offered a joint statement: "We all came to the court with one purpose. That was to overturn the unfair provisions of the Domestic Partnership Act that tried to take away the rights of same-sex couples to marry. Revoking same-sex marriage is not merely unjust, but regressive and unconstitutional; the Court has now agreed that our belief in same-sex marriage as an institution is deserving of legal protection and that belief was treated by the Act in a discriminatory way under Bermuda's Constitution. We continue to support domestic partnership rights for all Bermudians to choose, but not at the expense of denying marriage to some."
The lawyers and applicants after court today: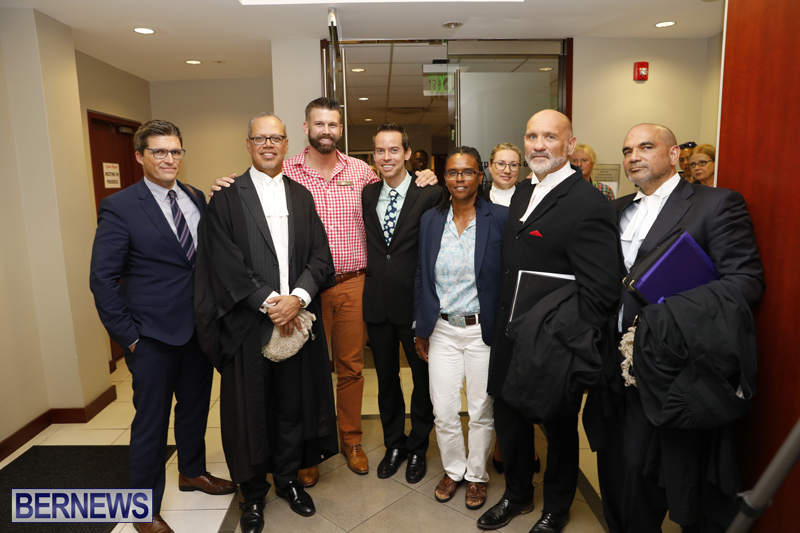 "The Applicants expressed deep thanks to their attorneys Rod S. Attride-Stirling [ASW Law Limited] and Mark Pettingill [Chancery Legal], for their outstanding and expert work in the Court. They also expressed gratitude to Carnival Corporation for its leadership supporting their cause and for the affidavits in support of the litigation provided by Julia and Judith Aidoo-Saltus, Chai T, Wesley Methodist Church, Syliva Hayward-Harris, Douglas NeJaime and by Carnival Corporation executive Roger Frizzell."
Update 11.42am: The ruling has been made, however the subsequent legal discussion is still ongoing. The current discussion is on whether a stay should be in place, while its decided whether to appeal or not. Once the legal arguments are over, we hope to speak with the lawyers and get clarification on everything.
Update 11.50am: A stay has been granted, with 6 weeks allowed for a decision on whether to appeal, meaning the decision will not take effect immediately.
Update 11.56am: The lawyers are out of court, and comments from the lawyers and applicants are below.
Update 2.31pm: A summary provided to assist in understanding the court judgment stated, "Bermuda's Constitution is a secular one designed to require the State to give maximum protection for freedom of conscience.
"It only permits interference with such freedoms in the public interest for rational and secular grounds which are permitted by the Constitution. The present decision vindicates the principle that Parliament cannot impose the religious preferences of any one group on the society as a whole through legislation of general application."
The summary is below [PDF here]:
Update 2.47pm: The 52-page judgment follows below [PDF here]:
Update 3.58pm: The Rainbow Alliance of Bermuda said they are "proud to celebrate the landmark decision by Chief Justice Ian Kawaley. Once again, we have seen the courts affirm that love always wins.
"The Rainbow Alliance of Bermuda [RAoB] would like to thank Rod Ferguson, Maryellen Jackson, OUTBermuda, Dr. Gordon Campbell of Wesley Methodist Church, and Pastor Sylvia Hayward-Harris of Vision Ministries for their courage in pursuing this case.
"We applaud their respective legal teams and the financial support from Carnival Cruise Lines to their case. We would also like to acknowledge Winston and Greg Godwin-DeRoche, Two Words and a Comma, the Bermuda Human Rights Commission, and the countless other campaigners over the years that have fought for equity for the LGBTQ community. This legal outcome is not just a win for the successful applicants, but also for all same-gender-loving couples in Bermuda.
"RAoB remains, however, committed to creating safer spaces for the LGBTQ community in Bermuda. As Minister Walton Brown succinctly said during our 'Speak Out' Event in 2012, 'We need to create a society which the consciousness of people is changed in which we respect differences. Because you can change laws, but those laws in and of themselves won't change attitudes. And we probably will have an easier time changing legislation then we will changing attitudes."
"RAoB look forward to continuing to champion recognition, respect, and equity between all members of Bermuda's society, and hope that now that this legal matter has concluded, we can heal some of the wounds created by the divisive and often-hurtful campaigning over the past few years, including homophobic and transphobic attacks on the humanity of LGBTQ people through intellectually dishonest and sometimes hateful propaganda.
"This fight has been long and may not yet be over but we know that ultimately, love will continue to win. Happy Pride, Bermuda!"
Update 4.23pm: Minister of Home Affairs Walton Brown said, "The Government has been informed of the decision of the Chief Justice. The Government will be appealing subject to any legal advice that we receive. As a result we are pleased that the Chief Justice has stayed the decision until an appeal can be submitted."'
As the statement used the term "will be appealing subject to any legal advice that we receive" we sought clarification, as in a yes/no response to will there be an appeal, and Government responded, "Yes they will appeal."
Read More About