[Written by Vejay Steede]
First thing's first; Chaka Khan is a Goddess. She is a criminally underrated vocalist whose voice can deliver primal screams with the same unflinching mastery as it delivers melodic lullaby hums. She is, in a word, magnificent.
Now don't get me wrong; those of us who know her power certainly consider Chaka a legend. The underrated piece appears when conversations about the greatest female vocalists of all time begin; and she is somehow left off the list. Chaka is, in my opinion, right up there with Aretha, Nina, and Whitney on the Mount Rushmore of American female vocalists.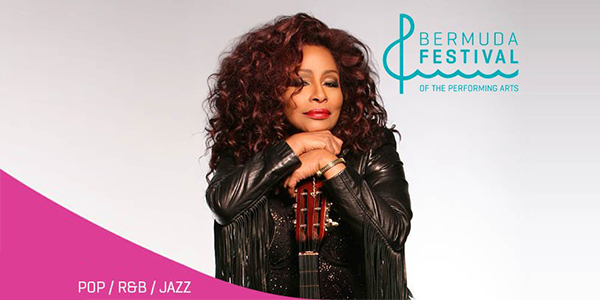 So … I'm a fan, which makes this opportunity to shower praises upon this Goddess amongst men a delicious prospect for me. Actually seeing her perform live for the first time on Saturday night was a special bonus … writing this article is my real treat!
The Bermuda Festival doesn't skylark when it comes to efficiency, so once the clock turned to 8.00pm, the always elegant Poinciana Ballroom at the Fairmont Southampton began to fill up fast. Hundreds of glowing grown and sexy patrons found their pre-assigned seats and settled in to enjoy this highly anticipated concert event.
The theme of the 2019 Bermuda Festival is, She is Art: Empowerment of Women, which makes Chaka Khan the pitch perfect feature artist for this year's Festival. Always strong, always defiant, Chaka Khan has made a career of flaunting an unabashedly feminine freedom of expression that has rarely given a single hoot about what anybody thought. She's a hero for women in general and strong black women in particular. The ladies love her for it too, and the audience on Saturday night did not hide that love one bit!
The show started around 8.20pm with a welcome by Festival Director TJ Armand followed by a brief video introduction of the fabulous Ms. Khan. A few minutes later the pint-sized powerhouse was unassumingly walking down the aisle toward the stage, stirring up more and more excitement with each step.
We'll settle this early; the crowd assembled in the Poinciana Room on Saturday night absolutely adored Chaka Khan from the moment she entered the room until the moment she exited the stage. Standing was not rare on the night, nor was singing along to timeless hits, or calling out declarations of love to the legend standing on stage. There was dancing too, as one would expect at a concert-formatted love fest.
Ms. Khan was stunning as usual on Saturday night. Adorned in a mid-thigh length black dress which was generously accented with gold tassels, and armed with her signature huge crinkly hairdo and glowing smile; suffice it to say she was more than equipped to conquer the packed house she had so humbly walked into. To be fair, we had probably been conquered by this woman decades before Saturday night.
The performance was exquisite throughout, with highlights coming by way of spectacular renditions of the majestic 'Tell Me Something Good,' the saucy 'What'cha Gonna Do For Me?' the super sensual 'Sweet Thing,' and the enchanting 'Do You Love Me Still?'
'Like Sugar' was delivered after an audience member shouted out a special request to which Ms. Khan, who had been on stage for over an hour by then, instantly responded, "I don't know the friggin' words!" Well this response revealed a delightful level of comfort the superstar had developed with this doting audience, and we loved her even more for it. She laughed at her unexpected confession, and we all laughed with her; it was a wonderful moment of human interaction that made the event feel like an intimate encounter with an old friend.
The band and backup singers – who were all brilliant throughout – stepped up to the plate and helped Chaka deliver an unrehearsed, but awesome rendition of the request. There was dancing in the aisle for this one.
The massive international hits followed, bringing the show to a close after a generous 100 plus minutes. 'I Feel For You,' and 'I'm Every Woman' simply brought the house down. Standing, dancing, singing, smiling, adoring, and thanking God for sending this Goddess to Earth 65 years ago occurred in abundance during this part of the show, and when she waved goodbye after the latter piece was done, the screams for an encore were emphatic!
Now this is where my heart broke a little bit. I had been eagerly awaiting one song all evening, but there were two classic Chaka Khan Hits left. I comforted myself by saying that she must be planning to do two encores. She did one.
The encore was the wonderful 'Ain't Nobody.' The crowd went wild one more time. Dancing, singing along, and generally reveling in the glory of this amazing woman's voice. Then it was over.
The show was outstanding. But I very definitely missed the simply superb 'Through the Fire.' It's my favorite Chaka Khan song, and its absence was the only blemish on this magical night with the legendary, self-described 'Alpha Chick.'
The audience exited with a distinct air of satisfaction. I heard one patron near me mention the missing hit before the encore came, but then settled after the opening chords to 'Ain't Nobody' rang out. So my heartbreak was not universal, and the show was more than generous, so, yeah … Chaka Khan is a Goddess.

Read More About
Category: All, Entertainment, Music, News