[Written by Vejay Steede]
Improv is the type of entertainment that can be downright irresistible if it's done right. Sharp, quick, and full of wit, top shelf improvisational comedy is always impressive.
The next event featured on the 2019 Bermuda Festival calendar is the improv sensation 'Broadway's Next Hit Musical'; a show that has garnered praise from all corners of New York City, and beyond. Full of scenes, songs, and twists that will be created before the audiences very eyes, this show promises to offer the kind of top shelf improv that will entertain, astonish, and amaze.
Described as a hilarious romp, Broadway's Next Hit Musical is the only unscripted theatrical awards show. Master improvisers gather random song suggestions from the audience and create a spontaneous evening of music, humor, and laughter.
The audience votes for its favorite song and watches as the cast turns it into a full-blown improvised musical – complete with memorable characters, witty dialogue and plot twists galore.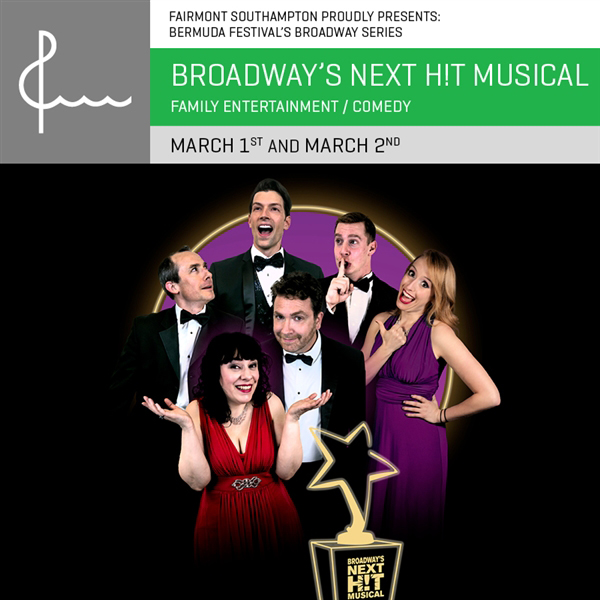 The New York Times calls Broadway's Next Hit Musical "Hilarious!" Time Out New York says "At last! A musical of, for, and by the people." Broadway's Next Hit Musical has recently played at The Triad, Tribeca Film Festival, and at the New York Musical Theater Festival, and is now set to raise the roof off the Mid Ocean Amphitheatre at the Fairmont Southampton.
Under the direction of improv veterans Rob Schiffmann and Deb Rabbai, TheaterWeek hailed the show as "brilliant," and The New York Post called Broadway's Next Hit Musical "remarkable."
This show will run twice; once on Friday, March 1, and once on Saturday, March 2. Each show will start at 7.30 pm, and each show promises to be a genuinely unique experience. Tickets are available on www.ptix.bm. Don't miss the next great American musical – it could be written by you!

Read More About
Category: All, Entertainment, News