Soldiers swung into action yesterday [April 28] to help an international triathlon competition go without a hitch.
A total of 35 troops from the Royal Bermuda Regiment provided security and acted as marshals around the MS Amlin World Triathlon competition based in Hamilton.
The RBR also provided extra safety on the water with two vessels from Boat Troop which carried rescue divers for the swimming section of the event.
Pte Thomas Patterson on marshal duty on Hamilton's Queen Street.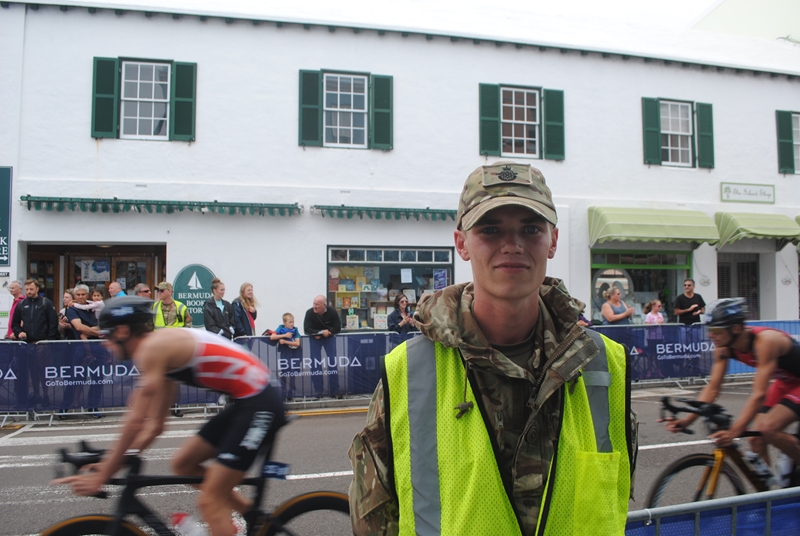 Private Kleche Burgess was a marshal at a road junction in Hamilton, which had several streets closed to form part of the course, along with civilian volunteer Dustin Luck.
Pte Burgess, 27, of Devonshire, said, "My job is to make sure people stay off the track so it's clear for the riders and runners. It's keeping everyone safe – pedestrians and racers."
He added, "It's been absolutely trouble-free. You do have to explain to people sometimes why they can't use the road. But a good explanation calms everybody down."
RBR Boat Troop personnel on station in Hamilton Harbour for the triathlon swim section.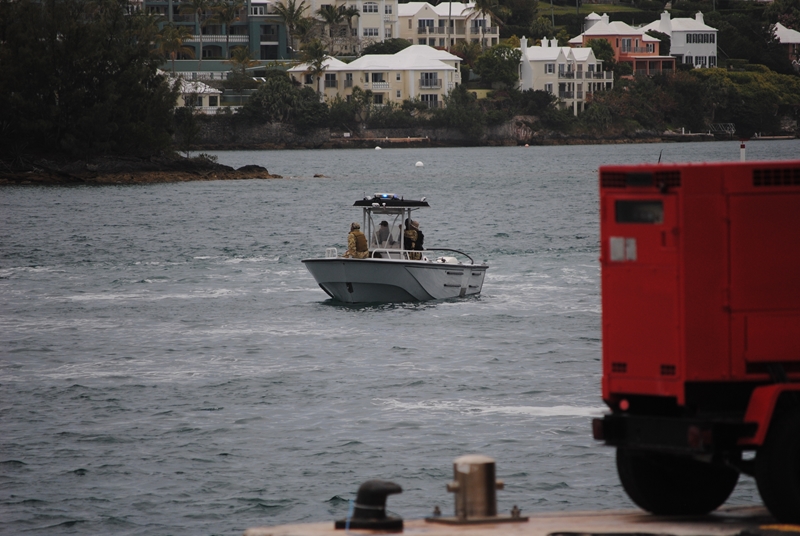 Mr Luck, who had competed in an amateur section of the competition earlier in the day, changed into a volunteer marshal's shirt for the rest of the competition.
The 28-year-old employee at reinsurance firm Renaissance Re said, "The Regiment are all really nice guys and I really like working with them. They are very professional."
Private Thomas Patterson, 23, manned a crossing point on the city's Queen Street alongside other troops.
The Bermuda College student from Hamilton Parish said, "We need to make sure pedestrians don't get hit. We make sure they cross when it's safe to do so."
RBR Major Preston Gill and Anton Gilbert, triathlon control centre manager at the temporary HQ in the Chamber of Commerce building in Hamilton.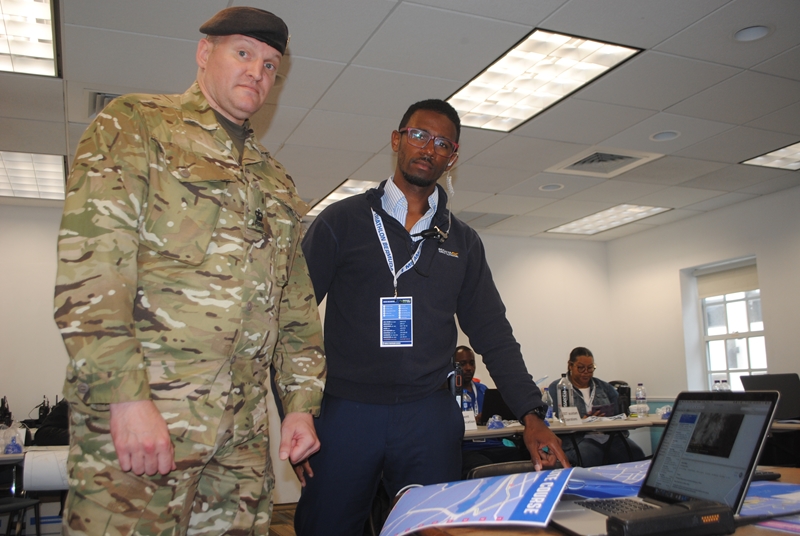 He added, "Everybody seems happy and everybody's been very polite."
Other soldiers, including Colour Sergeant Julian Simmons and Lance Corporal O'Neil Nelson, provided back up to the troops on the ground, including the delivery of meals to stations around the course, as well as marshalling duties.
Clr Sgt Simmons, 38, a compliance consultant from Pembroke, said, "After we do the lunches, we'll get into different positions around the race course."
Governor John Rankin talks to Bermuda Fire & Rescue Service Divisional Officer Mark Taylor and RBR Major Preston Gill at the triathlon control centre.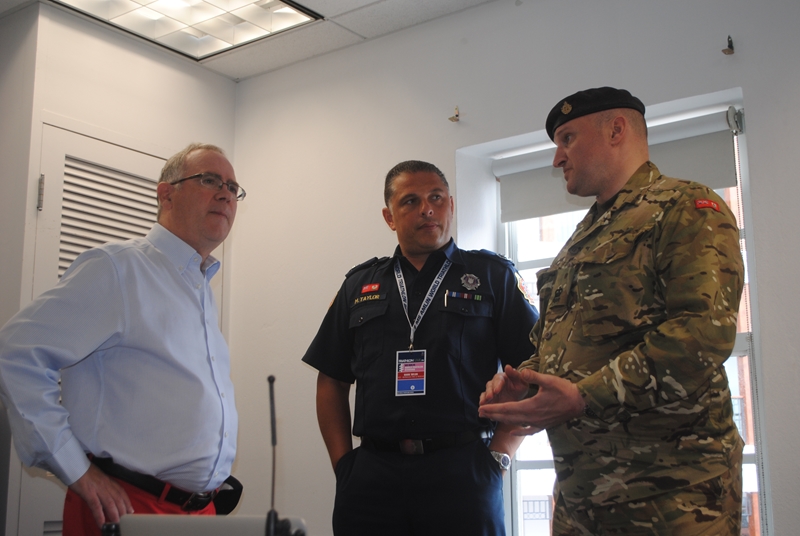 Major Preston Gill, the senior RBR officer at the competition's control centre set up in the Chamber of Commerce building at Albuoy's Point and which featured representatives from emergency services, Government, race organisers and the City of Hamilton, said, "There's been good coordination among all the agencies.
"A lot of the people here did the America's Cup in 2017 and last year's triathlon, so they're very skilled."
He added, "Our troops are glad to support the event and it's also useful in helping us test out communications systems, procedures and logistics, like the movement of equipment.
RBR Private Kleche Burgess and volunteer marshal Dustin Luck on duty at the triathlon race course in Hamilton.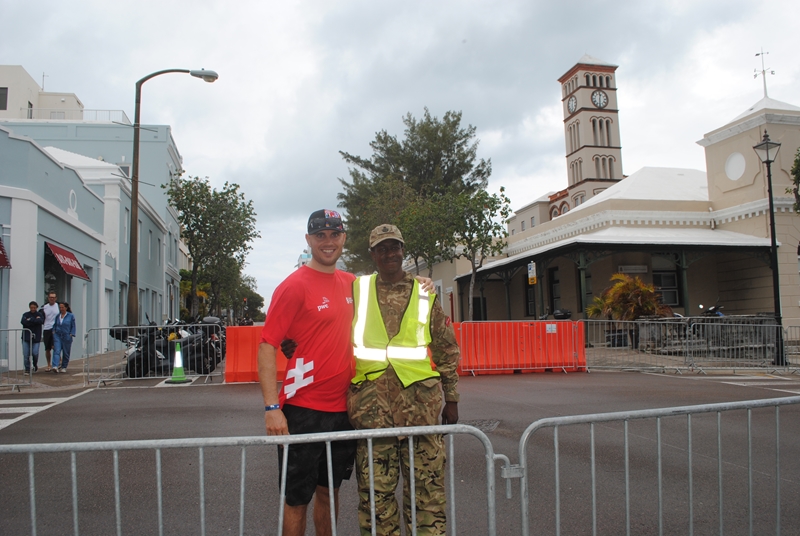 "It's also a joint effort, so the networking and being able to work well with the other agencies is great. It's good to get out and put into practice what we have learned.
"It's a different environment, but it's good to be able to operate in real-life conditions and test the procedures we would use for things like hurricanes or other emergencies."
Anton Gilbert, the control centre manager, said, "The Regiment is a good link between us the community, without having a very large police presence. They're accepted by the community, trusted, very tourist-friendly and reliable."
Left to Right Clr Sgt Julian Simmons and L/Cpl O'Neil Nelson prepare to collect meals for the 35 soldiers on triathlon race track duty in Hamilton.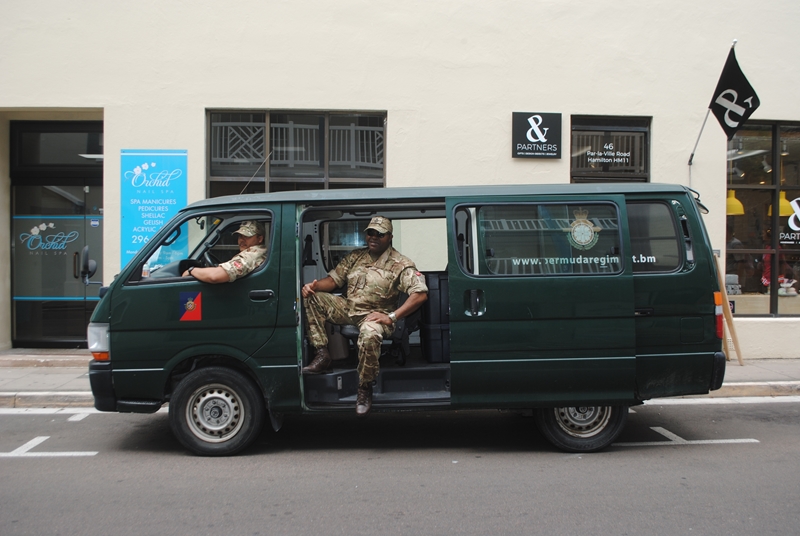 Mr Gilbert, a veteran police officer who volunteered for the event on his own time, added, "The RBR are also very well-organised, especially on the water. It's made our job much easier."
Governor John Rankin, who toured the event hub before watching the competition, said, "I'm grateful to everyone working in the control centre."
Mr Rankin added that the joint services nature of the control centre team ensured the island had a pool of qualified and experienced people "which means they can work successfully together on the day."

Read More About