The World Triathlon organisation has just announced that Bermuda will host a World Triathlon Championship event in November of this year.
The Triathlon website said, "World Triathlon is pleased to announce that Bermuda will once again host a leg of the World Triathlon Championship Series in 2022, with the best triathletes in the world competing on the beautiful island on 5-6 November.
"World Triathlon's Executive Board approved the proposal from Bermuda to once again host an event of triathlon's top-tier racing, the World Triathlon Championship Series, after the huge success of those held on the island in 2018 and 2019 and following the disappointment of the country having to cancel the planned 2021 World Triathlon Sprint & Relay Championships due to the impact of the pandemic last October.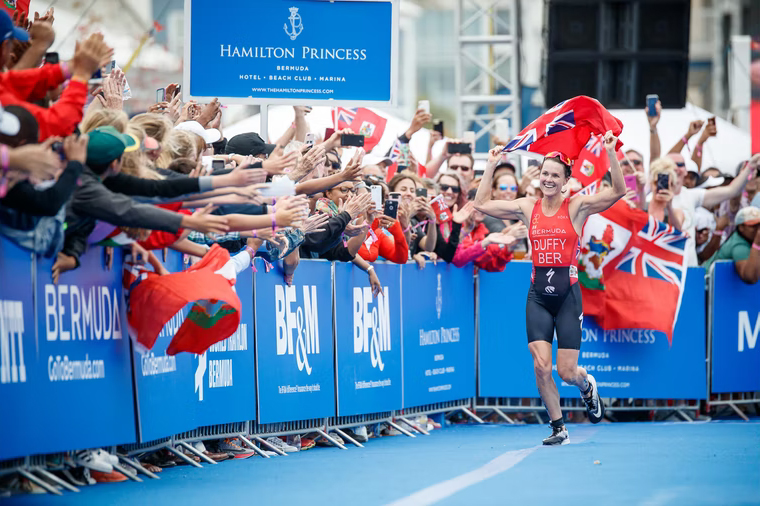 "Both the 2018 and 2019 MS Amlin World Triathlon Series [WTS] events generated overall economic impacts of $4.4 million and $4.7 million respectively for the Bermuda economy, along with double those amounts in projected future tourism, according to PwC. Local participation in children's and national triathlons also proved legacy benefits of the events."
Marisol Casado, World Triathlon President and IOC member, said: "We are delighted to return to Bermuda in 2022, and I am sure that the races will be even more special than the ones we have held there before, with the current – and Bermuda's first ever – Olympic Champion, Flora Duffy, having the opportunity of racing at home, cheered on by all the Bermudian people who have always been so connected and supportive of triathlon.
"To host a race of this level again on the island shows the dedication and commitment of the National Federation, the local government, the organisers and all the sponsors with growing the sport of triathlon, and I am sure that all the triathletes will love being back in Bermuda next Autumn".

Read More About