A father and daughter team from the UK who entered this year's MS Amlin World Triathlon Bermuda, continue to inspire the Bermuda community.
Stephan and Chloe Couture, who race as 'Team Ladybugs' as a disabled team, competed in the Sprint Distance individual triathlon event. Chloe, at 13 has severe Cerebral Palsy and her dad, Stephan pulls her through the water for the swim, tows her in a customised racing wheelchair behind his bike and pushes her in the same wheelchair for the run portion of the race.
A spokesperson said, "In the first lap of the Bermuda race on April 27, Team Ladybugs suffered a puncture and crashed out of the race, experiencing their first ever DNF [did not finish].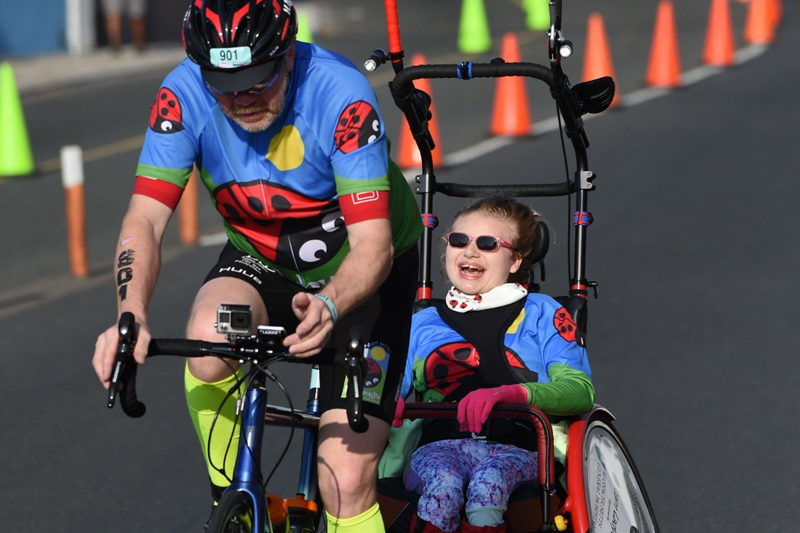 "The accident left Chloe with minor facial injuries that have since healed, and Stephan with broken ribs, and their $18,000 customised racing bike was written off as it could not be repaired safely.
"Since their crash, Team Ladybugs has been overcome with an outpouring of support from the Bermuda community with people and organisations asking how they could donate toward a new bike and wheelchair to get Chloe back on the road and racing."
"We're touched by the kindness we've experienced from so many people in Bermuda", said Stephan Couture. "Several people have asked us to set up a fundraising web page so that they can contribute to Chloe's new racing chair.
"It's unexpected and heart warming, we're humbled. We would love Bermuda's help, thank you, we are most grateful."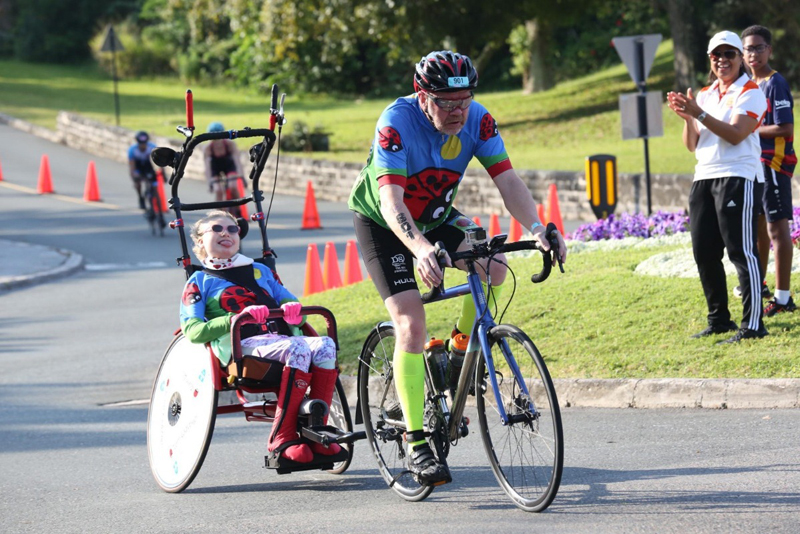 The spokesperson said, "Anyone wishing to contribute to Team Ladybugs can show their support with a donation of any amount. The online donation is processed in British pounds although donations are accepted from any country. The web page is here
"Chloe has a passion for the sport, the racing, the training, the speed and the outdoors. It is her life."
Stephan said, "Regardless of the time or the weather, she asks to go out in her racing chair DD1 [Daddy, Daughter One] as she calls it. She just wants to be out, and it warms our hearts that after every outing she comes home singing and smiling."
The spokesperson said, "Team Ladybugs mission is to raise awareness for severely disabled people so that they can race in events safely with the right equipment, to experience the excitement of participation. They help other families take part in events and they personally fund all of their equipment.
Stephan explained, "We receive no funding from national sporting bodies because of our very specialised needs, and we lack the high profile races that usually attract media coverage." "It is a wonderful feeling knowing that we have made a difference in Chloe and other people's lives."

Read More About