The International Triathlon Union [ITU] announced the 2020 ITU World Triathlon Series calendar, with the event in Bermuda set to be held on April 18-19th.
The story said, "ITU is pleased to announce the 2020 ITU World Triathlon Series [WTS] calendar, in a year that will be marked by the Tokyo 2020 Olympic Games, with eyes of the top triathletes in the world set on both goals.
"The World Triathlon Series is the pinnacle of elite triathlon racing," said ITU President and IOC Member Marisol Casado. "The WTS has been paramount in bringing international attention to triathlon by holding races in iconic locations that are broadcast to a global audience. And in 2020 we will be once more delivering top tier events around the world to give our top elite athletes the opportunity to shine and earn really valuable points in the race to the Olympics".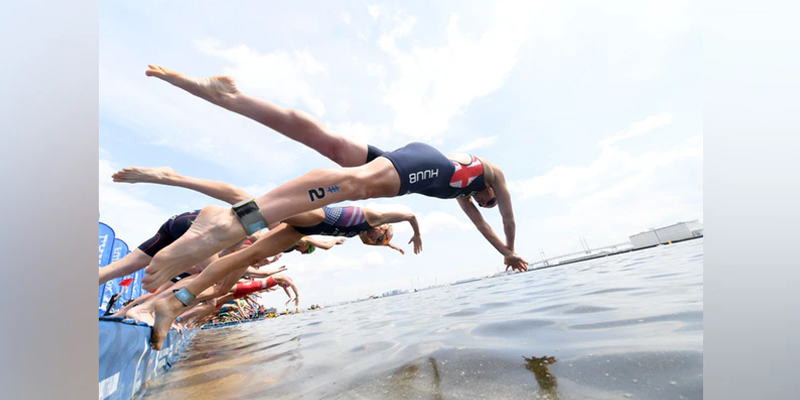 "The 2020 WTS will get underway, as it has become a tradition in the last years, in Abu Dhabi in March for a Sprint race and a Mixed Relay Series event, with triathletes then heading to Bermuda for the first of the 2020 Olympic distance WTS, in the middle of April, and it will serve also as a test event for the paradise island, that will host the Grand Final in 2021.
"In May, teams will have a last chance of qualifying for the Olympics at the Chengdu Mixed Relay Qualification event, a race that will be exclusively for the Nations which haven't secured 2 male and 2 female athletes for the Olympics after the last Mixed Relay Series event in Abu Dhabi.
"And the following week longtime host Yokohama lines up as the third leg of the Series before the circuit then touches down in Europe for stopover in Leeds, UK, for one of the most awaited races of the season.
"And in July, the German city of Hamburg will welcome once again not only the WTS race and the ITU Mixed Relay World Championships, but with also more than 12,000 age groupers as they have done since its inception in 2009.
"The elite triathletes will head to Japan for the one of the most important dates in the 2020 calendar: the Tokyo Olympic Games, that will see triathletes competing on the 27th of July for the Men, 28th for the Women and the 1st of August for the Mixed Relay.
"And once the Olympic champions will be crowned in Tokyo, will be time to head to Edmonton, Canada, for the ITU Grand Final that will decide the World Triathlon champions of the year. After the great success of the Canadian city hosting a Grand Final in 2014, Edmonton will welcome thousands of age group athletes for sprint and Olympic distances, along with junior, U23, & elite athletes for another week of triathlon at its best, enjoying one of the most attractive and rewarding venues of the circuit.
"2020 ITU World Triathlon Series calendar:
Abu Dhabi, UAE – March 6-7 – Sprint and Mixed Relay
Bermuda – April 18-19 – Olympic
Chengdu, China – May 9-10 – Mixed Relay Olympic Qualification Event
Yokohama, Japan – May 16-17 – Olympic
Leeds, Great Britain – June 6-7 – Olympic
Hamburg, Germany – July 11-12 – Sprint and Mixed Relay World Championships
ITU Grand Final – Edmonton, Canada – August 21-23 – Olympic
"Another race is in the process to be added to the 2020 WTS calendar in the upcoming weeks, with dates and location to be announced after the 2019 ITU Congress in Lausanne."

Read More About