[Updated with photos] The Department of Youth, Sport and Recreation is holding their 23rd annual Mini Cup Match today [July 25], and we will have additional coverage later on and in the meantime the live video is below.
Update: The live broadcast has concluded and the 16-minute replay is below
Update 4.21pm: A spokesperson said, "Today, Department of Youth, Sport, and Recreation held their 23rd annual Mini Cupmatch at Devonshire Recreation Club. The event was well attended as many came out to support our young cricket players.
.
"St. George's were first up to bat and after their allotted 20 overs, the game broke for lunch before the Somerset team took to the pitch. After 4 long hours, the teams battled it to the end and were left with a 131-109 score, in favor of a St. George's victory.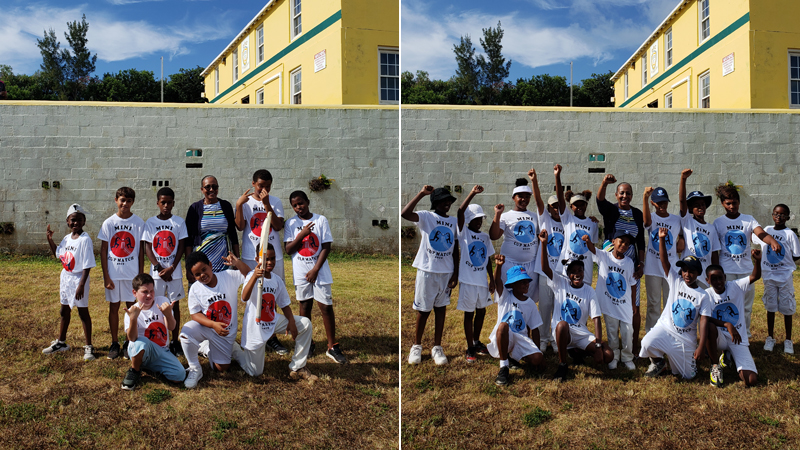 Below are the list of St. George's and Somerset winners who represented their camps today:
St. George's
Zamir Tucker
Sailahn Martin
Zaki Gibbons
Armani Smith
Priyah Denbrook
Muryah Swan
Keith Richardson
Treazi Gibbons
Keshav Butler
Jah-ty Talbot
Csayian Burns
Xy-unn Simmons
Romari Ruddock
Ryan Place-Gill
Coaches: Xyon Outerbridge and Dequan Lodge
Somerset
Skylar Crockwell
Jahsai Bean-Joell
Kieshaun Gibbons-Johnsal
Logan Chadwick
Shuaib Worrell
Zephaniah Demello
Max Lightbourn
Ny-Sir Bremiage
Isaiah Trott
Macario Correia
Zephaniah Talbot
Torano Young
Coaches: Moziah Selassie, Stafari Burrows, and Chevone Armstrong
"Special Recognition goes to Shuaib Worrell and Keshav Butler for Best Batsmen, Logan Chadwick and Zaki Gibbons for Best Bowler, and Torano Young and Armani Smith for Best Fielder.
"Once again, thank you all for coming out to support and stay tuned for Department of Youth, Sport, and Recreation 6-aside youth football tournament coming up in the near future."
Click to enlarge photos:

Read More About