Bermuda's Jade Stewart scored for her Holland College Women's Soccer team in two consecutive matches as they recorded a 3 – 2 win and a 2 – 0 win.
The school's match report said, "The Holland Hurricanes men's and women's soccer teams were in New Brunswick over the weekend for important Atlantic Collegiate Athletic Association [ACAA] regular season games. On Saturday the 'Canes visited the St. Thomas University [STU] Tommies in Fredericton before facing the University of New Brunswick-Saint John [UNBSJ] Seawolves in Saint John on Sunday.
"The women's Hurricanes entered the weekend sitting atop the ACAA standings alongside the Tommies, while the Seawolves were battling for the fourth and final playoff spot in the conference.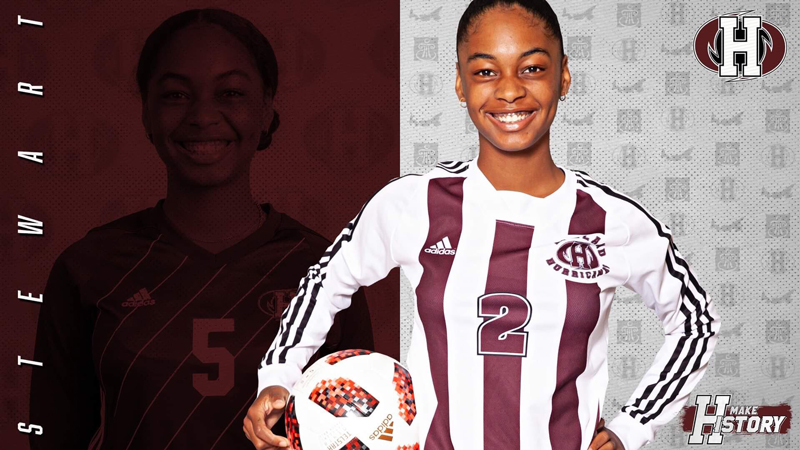 "The 'Canes women used a 3-2 victory over STU, and a 2-0 win over the Seawolves to increase their lead at first place by six points with three regular season games to play.
"On Saturday versus the Tommies, Emily Cormier scored in the 22' to give the Hurricanes the early lead. Jade Stewart added a second 'Canes goal in the 39' to double their lead; a Tommies goal just before halftime cut the 'Canes lead to 2-1.
"In the second half the Tommies would complete the comeback in the 86' to knot the game at 2-2. With time ticking down, the Hurricanes would pick up the exciting victory when Rachel Green scored off a free kick to put the 'Canes up 3-2.
"Nicole McInnis was the winning goalkeeper for Holland College in the match. The 'Canes outshot the Tommies 6-5 in the win.
"On Sunday versus the Seawolves, the 'Canes used a goal in the 44' by Emily Cormier to give them the lead; they followed it up with a Jade Stewart goal in the 87' to secure the shutout win."

Read More About