Planning Factory Bermuda surprised the staff of Sea Venture Ltd. on Friday [May 15] with drop-off lunch boxes.
A spokesperson said, "A Bermuda events marketing and production company surprised staff at a shipping firm with a gourmet lunch as a 'thank you' for handling its routine shipping and through the Covid-19 crisis.
"Sea Venture Ltd.'s office and warehouse staff were surprised on Friday by Planning Factory Bermuda with drop-off lunch boxes by the MEF Group.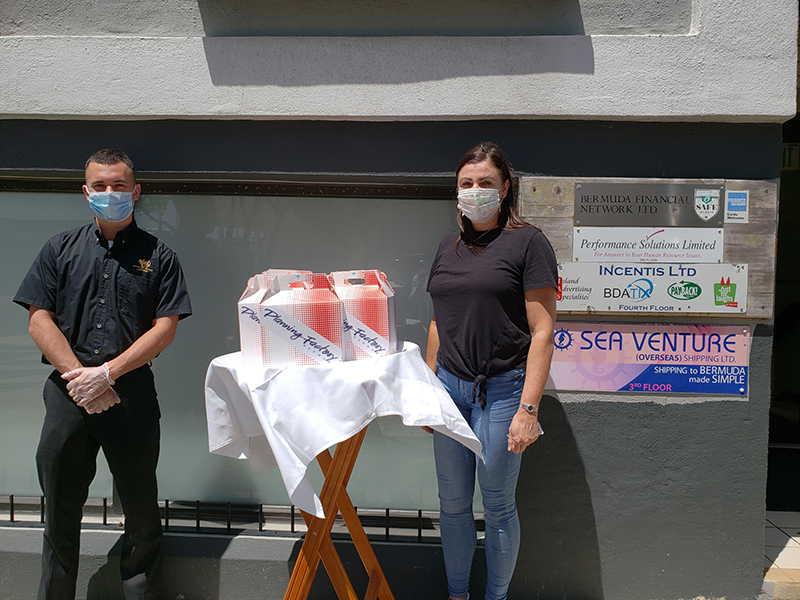 Kathryn Massa, President of Planning Factory Bermuda said, "We have worked with Sea Venture over many years, and they have always done their utmost to get goods cleared for us that become part of our inventory for producing on-island events and meetings.
"In a casual conversation recently with Amanda Corday, who works in the Sea Venture office, she spoke of the many hours their staff, including warehouse workers, put in; and it didn't matter whether it's now under the restrictions of the Coronavirus or during the normal Holiday Season rush. They just work hard and long hours."
Sea Venture staff said, "We can't believe anyone thought to recognize us for what we consider to be our job as a norm. We remained open throughout the first week of curfew and then the four weeks of 'Sheltering in Place'.
Ms. Corday added, "Staying open allowed us to clear essential items such as face masks, gloves, sanitizer, foods for some grocery stores and foods for a few wholesale stores. We also cleared for four registered farmers who were able to maintain a normal business, which in turn provided eggs, fresh vegetables and meats to the local supermarkets.
"Our warehouse staff, being more on the frontline, were able to release these goods to various companies to help sustain a somewhat normal daily function for the community. Some days can be stressful with lots of pressure to get shipments processed, so It feels good to get a surprise thank you from our customers, Planning Factory Bermuda."
Cher Przelomski, VPs of Marketing at Planning Factory, said, "We hope others will feel this was a good idea and way to say 'Thanks!' to essential workers who touch their lives. MEF Group was great about fulfillment and explained their takeout hygiene process, and they knew how to follow Government guidelines for maintaining distance upon delivery, so we were confident to go ahead with deliveries."

As the island and world deals with the Covid-19 pandemic, we are doing our best to provide timely and accurate information, and you can find more information on the links below.
Read More About